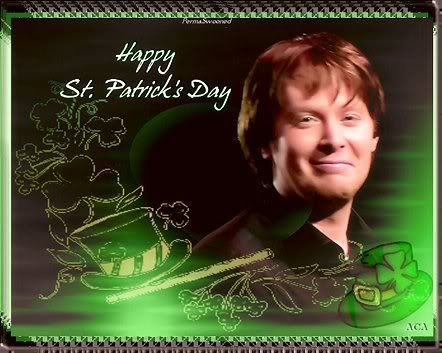 ALL THINGS GREEN -- Clay Aiken graphic by Amazing_CA.

March Honors Irish Traditions
Everyone's a little bit Irish on St. Patrick's Day. This blog commemorates the week with "Spamalot" green, signature color of Sir Robin, Clay Aiken's recent role in the hit Broadway musical.
The most well-known March observance is St. Patrick's Day, honoring the patron saint of Ireland, the man who brought Christianity to the Irish in the 400's A.D. March 17 is truly a day for celebrating Irish history, ancestry, traditions, and customs.
Around the globe, St. Patrick's Day festivities are generally themed around all things green and Irish. The secular version of the holiday is marked by wearing green or orange, eating Irish food and/or green foods, imbibing Irish drink (usually Guinness), and attending parades.
Irish colonists brought St. Patrick's Day to North America. The event was first commemorated in the 13 colonies in Boston, MA, in 1737.
A Month of Varied Observances
Besides this Irish tradition, March lauds everything from Music in Our Schools and women's history to foot health, frozen foods, furniture, hamburgers and pickles, humorists, noodles, peanuts, the Red Cross, science, and youth art. For a full listing, see March Observances.
An amusing listing, Bizarre and Unique March Holidays, reveals this month kicked off with National Pig/Peanut Lover's Day on the lst. There's a day for just about everything, including Old Stuff, 2nd; Be Nasty, 8th; Everything You Do Is Right, 16th; National Goof-Off, 22nd; Chip and Dip, 23rd; and I Am in Control, 30th.
Everyone's a little bit Irish on St. Patrick's Day!
INTERLUDE IN GREEN: Sir Robin's penchant for green lends itself to a clickable St. Patrick's Day interlude. Included are graphics by Amazing_CA with photos by Joan Marcus, 1; Betsy, 2; and Toni7babe, 4; Claystruck, photo by Disneydeb84, 3; and Ambassador or Love, 5.
No One As Irish As Barack Obama
More than 34 million Americans are of Irish descent, nine times the population of Ireland. Among them is US President Barack Obama, whose maternal great-great-great grandfather Falmuth Kearney was born in Moneygall, a tiny village in central Ireland.
Between 1845 and 1851, more than a million people left Ireland on 'famine ships' to escape mass-starvation caused by potato blight; and, according to documents unearthed by an Irish vicar, passenger lists show Falmuth Kearney was among them, arriving in New York in 1850 before settling in Ohio.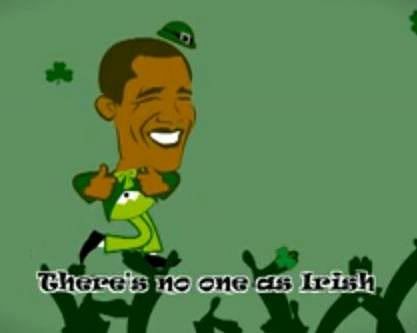 Screen cap links to animated montage.
The song "There's No One as Irish as Barack O'Bama," which was written by Hardy Drew and recorded by the Corrigan Brothers, helps fill in the blanks about President Obama's 3% Irish heritage. The concert and animated versions can be viewed at YouTube.
Everyone's a little bit Irish on St. Patrick's Day!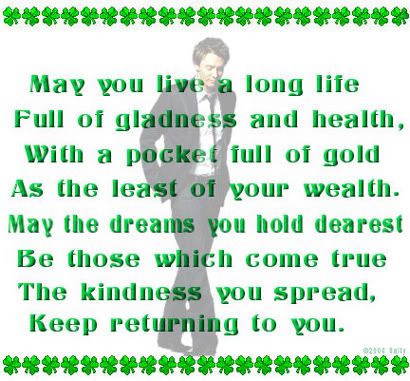 Accompanying this timeless Irish blessing (graphic by Sally) is a special wish for a very Happy St. Patrick's Day!
Caro
RELATED TAGS: Clay Aiken, St. Patrick's Day, Spamalot, Barack Obama, Falmuth Kearney, Corrigan Brothers, Hardy Drew, Irish traditions, Official Fan Club, Clay Nation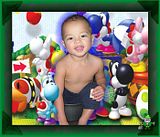 Kai, our clan's pot o' gold, is 18 months old today!
Clickable graphic by Ashes