The Very Best of Clay Aiken 2009 - Montage by Yollie950
Wildcard, 300th Blog Celebrated!
Fans Spread News of TVBOCA
Accompanying fan excitement and Cyberspace countdowns to the 3/31 release of "The Very Best of Clay Aiken" are sharp upturns in plays of the singer's previous performances of the 14 tracks at YouTube and via audio/video links throughout Twitter, Facebook, and the blogosphere.
Yollie950 featured concert and TV performances of the 14 songs in her new montage TVBOCA 2009. The video can be viewed in the above player and on YouTube where it is being rated, favorited, and shared in a whirl of emails spreading the word about the upcoming album.
Popular with fans, the playlist will be loaded with remastered highlights from Clay's mainstream and holiday albums -- Measure of a Man, A Thousand Different Ways, On My Way Here, Merry Christmas With Love -- and singles. They include:
Ashes
A Thousand Days
The Way Bridge Over Troubled Water
On My Way Here
This Is The Night
Solitaire
Here You Come Again
Measure Of A Man
The Real Me
Something About Us
Invisible
On The Wings of Love
Mary, Did You Know
Readers Choose Top Tracks
As soon as the CD was announced, the Carolina blog set up a sidebar poll for fans to vote their favorite choices for the new CD. Overnight the tracks were revealed, and our unscientific survey became even more inconsequential, ending at 7 p.m. Tuesday with 68 participants.
Many thnx to all who voted in the Carolina poll, the results of which are quite interesting and support the choices made by Clay and Sony-Landmark. Seven of the Carolina survey's best vote getters are also on the CD playlist. In order of popularity, they are "Solitaire," "Bridge Over Troubled Water," "Ashes," "Measure of a Man," "Something About Us," "Invisible," and "This Is the Night."
The seven tracks completing the new CD's playlist include "A Thousand Days, "The Way," "On My Way Here," "Here You Come Again," "The Real Me," "On the Wings of Love," and Mary Did You Know.
Carolina pollsters would have completed TVBOCA playlist with these seven songs: "Lover All Alone," "Everything I Don't Need," "Where I Draw the Line," "Broken Wings," "Lonely No More," and "Falling."
You can pre-order the CD at Amazon for $9.49 (eligible for FREE Super Saver Shipping on orders over $25; Target, $9.49; and CD Universe, $9.00, among other sites.
If you want to know just how many days, hours, minutes, and seconds remain until the CD drops, a countdown widget now graces our busy sidebar. The art is cindilu2's graphic of the cover photo.
Here's to the "very best" of Singerman ... SOON!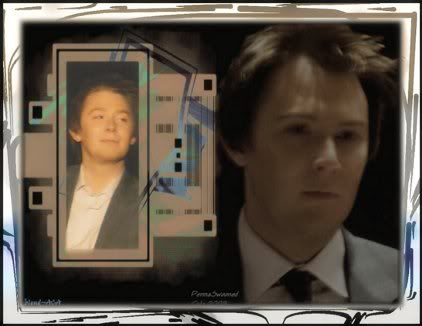 Graphic by Amazing_CA, photo by PermaSwooned
NJU Associates Discover Clay
Always fan favorites, "Not Just Us" stories usually appear like a dessert near the end of an entry. This one, however, serves as an excellent transition between the current CD excitement and a 2003 event we honor this week. Chenoa shared this NJU incident at Clayversity last week:
I've just returned home after dropping at the airport three ladies who attended a three-day seminar here at our corporate office. I had picked them up at the airport Sunday night and while getting reacquainted with them on our 40-minute drive to their hotel, I had forgotten that my On My Way Here CD was still playing softly in the background.

It wasn't until one of the girls said, "OMG, who is that singing? He has the most beautiful voice. Please play that song again. It was "Sacrificial Love," and she commented that she was at that very point in her life.

She knew of Clay but had not followed his career and had never bought any of his albums; in fact, none of the girls had. They were all aware of his success on Broadway, his trips abroad for UNICEF, his Christmas album, but knew very little about his other albums.

Every time we got in the car to go to dinner or back to their hotel, we had to listen to "Sacrificial Love" and "Ashes." Just before boarding their plane I handed each one an OMWH album (which I was fortunate to find at WalMart) and encouraged them to follow Clay's career because, in my view, great things are on the horizon for this talented young man.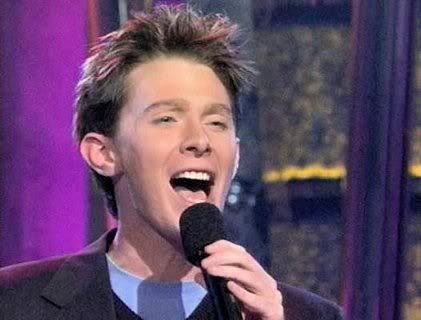 Clay performing at AI2 Wildcard Show in 2003.
Wildcard Returns to Idol Stage

A magical ingredient of American Idol and one CA fans hold dearly returns to center stage this week with Season 8's version of the Wildcard Show. Dropped for the past sevearl seasons, the Wildcard will be revived on the Fox show Thursday night.

Were it not for the Wildcard Show, in which selected contestants are given a second chance to make AI's Final 12, the planet would probably not have experienced the singing and acting talents, as well as the worldwide philanthropic endeavors, of Clay Aiken from Season 2 and Jennifer Hudson from Seasons 3.

In Clay's season, he came in behind Ruben Studdard and Kim Locke in his group and was sent home. As a Wildcard selection, Clay was invited back, returning to the AI stage where his rendition of "Don't Let the Sun Go Down on Me" earned him the American public's vote to continue in the competition.

The rules are a little different; but Thursday night when AI reinstates the Wildcard Show, I'll be watching ... and remembering Clay's Season 2 performance of DLTSGDOM:

Clay advances to finals in AI2 Wildcard Show.
You can read more about American Idol's Wildcard phenomenon in these blogs: Clay Aiken News Network, There Was a Man, Truth Rules, and Shyeyewitness and Friends.
This marks the 300th entry of the Carolina On My Mind journal. Since the initial post on July 13, 2006, visitors from 105 countries have found their way to the blog. Thank you for your visits, the many kind comments you leave, and those who follow or link to the Carolina journal.
Below is a clickable of Amazing_CA's graphic: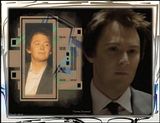 Have a wonderful week, Clay Nation!
Caro

TECHNORATI TAGS: Clay Aiken, The Very Best of Clay Aiken, countdown, montage, poll, On My Way Here, A Thousand Different Ways, Measure of a Man, Merry Christmas With Love, American Idol, Wildcard Show, Don't Let the Sun Go Down on Me, Official Fan Club, Clay Nation