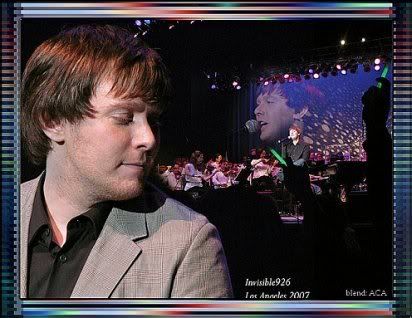 CALIFORNIA MEMORIES -- A highlight of the memorable 2007 CA 4-fer was Pala, featured concert on our current virtual tour. Graphic by Amazing_CA, photos by Invisible926.
Pala Popular with Aiken Fans
Flat Clay Headlines Virtual Tour
A Clay Aiken Virtual Tour would be incomplete without Flat Clay's appearance during the Pala Concert, part of the California 4-fer of the Soft Rock Hard Place Summer 2007 itinerary.
Inclusion of Pala's Flat Clay, a life-size cardboard version of the singer, was among the most popular suggestions for the Carolina journal's trip through memorable tour moments. During the past six years, Flat Clay has attended countless concerts, fan gatherings, and TV tapings.
Featured in the player below, the cardboard's cameo appearance at Pala during When I See You Smile is also posted at YouTube by Noritager.
The video begins with the closing scat singing of "I Want To Know What Love Is." At 3:50 during banter between songs, backup singer Angela Fisher directed Clay's attention to his cardboard counterpart overlooking the show from a hotel window.
As the history of the cardboard replica unraveled, the discussion included audience member-fan Artquest, who explained Flat Clay is always along for the ride. "We just fold him in half and hit the road."
Due to back problems, Artquest's husband had returned to their room during intermission. Clay & Co. proceeded to serenade Flat Clay, whose dance in the window promptly became a permanent fixture of CA fandom lore.

Clay & Co. sing to Flat Clay at Pala Concert
Clayverted Cellist 'Goes Greek'

Attending her second CA concert ever, Luvmysalsie reported a discussion she had with a cellist following the Palomar Starlight Theatre (Pala) performance:
You know that look Clay fans have after seeing him live -- bright eyed, animated, joy written all over our faces. That is the look the cellist had, plus she was talking a mile a minute, just like we fans do.

She said that Clay really has the "chops," meaning his voice is incredible; but what really makes him special is the magical interaction with the audience. He had us eating right out of his hand, and that is what makes him a great entertainer.

Anyone can sing, but not everyone can have that relationship with an audience. She said it felt great to hear the applause because most of the time, they don't even know if their audiences are awake. The orchestra really seemed to enjoy Clay, as they were laughing right along with all his jokes; and he was in rare form tonight.

I asked the cellist if she was a Clayvert? Of course, she didn't know what this meant. I explained to her after seeing Clay in person that most people fall in love with him.

She said, "Oh yes! I'm going to go out and buy his CD's and bring my children to his concerts." Her children had asked her to get Clay's autograph, but he was surrounded by people backstage and she couldn't get close enough.
According to my friend
Sally
, who attended the California weekend's third event at The Greek, the Pala cellist followed through. She purchased tickets and attended her first concert as a member of the Clay Nation!
The
CA 4-fer Slide Show
below includes a glimpse of the four California concerts: San Diego, Pala, Los Angeles, and Indio. At the site, you can opt for "original" or "gallery" views.
Photographers represented are

Invisible926

,

Toni7babe

,

Lindylo

,

FiveGoldens

,

Riversend22

,

Mad4Clay

, and

SmartyPantsSuz

.


New Fans Join Clay Nation
In recap after recap, fans reported "Clayversions" of nearby concert goers. Lovethatguy posted this report at Clayversity:
Gareem and I met two girls who had won tickets to the show from the local radio station -- one of those "we loved him on AI but had no idea what he has done since."

One of the girls noticed my Clayversity badge; so, of course, we launched into the whole explanation of our message board, the Internet, Clay Nation, etc. By the time we said goodbye, Gareem had her e-mail address, and they were very pumped. I am positive they had a great time.

A newbie couple sat next to us at Pala, too. They loved the concert! After hearing that Clay was playing at The Greek and Indio next, they said they were going to get tickets to those concerts also.
In her Pala recap, Saltwaterdog described "newbie" experiences of couples sitting near her and her husband.
One couple had seen an AI 2 show, but this was their first Clay Aiken concert. They were enjoying themselves from the beginning of the show; but when Clay spotted the Flat Clay cardboard cutout in an upper hotel window, they were hooked.
During WISYS, Clay sang to the image as if it were his true love. Quiana and Angela added similar theatrical gestures. At that point, the folks in front of us joined in the fun as if they were longtime Clay fans.
They laughed at Clay's jokes and snuggled during the sweet songs. One of the men even kept a close eye out on Flat Clay all evening.
March Madness Invades Schedule

The NCAA Selection Committee forgot to check with me, and Carolina's 2:50 opener against Radford hits my Thursday teaching schedule head-on. DIRECTV to the rescue, as the game will be recorded while I teach four violinists, at least one of whom shares my enthusiasm for the Tar Heels.
We are preparing for a May 17 Spring Recital with a few twists. My piano and string students will perform at 2, and my sister's woodwind students at 3. In the interim, our strings and winds will present varied selections with harp accompaniment. For many, this will be the first time to be up close and personal with a harp; and they are very excited about that.
The two combined selections are definitely varied: "Ashokan Farewell" from the PBS Civil War special and "Star Wars" by John Williams. I didn't think any of my young charges would even remember the latter, but my seventh grade violist informed me we are "current," as a new triology of Star Wars films has recently been released.
Who knew? But Viola Man said, "We are good to go!"
Below is a clickable of Amazing_CA's opening graphic: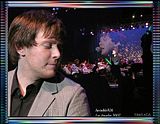 Have an awesome weekend, Clay Nation! Go, Tar Heels!

Caro


Thank you for putting the Carolina blog on your itinerary. Your visits
and comments are very much appreciated.
RELATED TAGS: Clay Aiken, When I See You Smile, 2007 Summer Tour, CA 4-fer, Pala, Flat Clay, Clayvert, March Madness, Carolina Tar Heels, music students, Spring Recital, Official Fan Club, Clay Nation