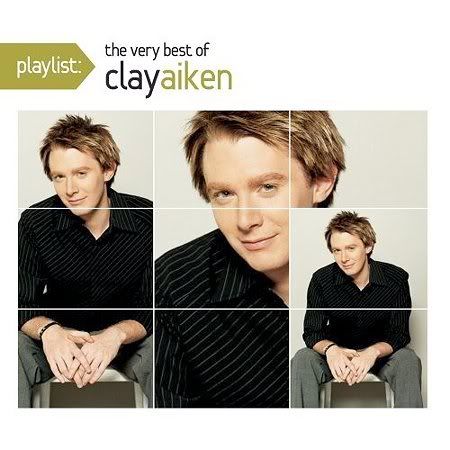 'The Very Best of Clay Aiken' CD will drop next month.
IT Anniversary, Playlist Update

Aiken Album Slated for March 31

On the heels of Sony Legacy's news about the March 31 release of remastered favorites for The Very Best of Clay Aiken, the singer's fans today are commemorating the anniversary of the opening concert of the very popular 2004 Independent Tour.

February 24 may be Fat Tuesday to Mardi Gras enthusiasts; but for the Clay Nation, it's an all-day rewind of the Charlotte, NC, IT show, accompanied by speculation about the TVBOCA.
The Sony Legacy label promises that each gem is given high quality treatment, "
insuring as complete and compelling a package as possible."
By combining state-of-the-art remastering technology with comprehensive liner notes, track information and rare and historic photos, the Legacy name and moniker have become synonymous with musical excellence. Our work is recognized by critics and fans alike as top notch.
.

Not Just Reiussued ... Reimagined!

What fans know about the upcoming "very best" CD are pre-order sites, prices, and the fact that the tracks are remastered songs versus the compromised sound of MP3 files.

But what everyone wants to know is which songs will be included on the "very best" playlist!

UPDATE: Just one day after setting up the sidebar poll, we now have an official playlist. Still, it will be interesting to see how closely the Sony Legacy choices match those by fans. Our "very best" poll results will be posted following the March 3 end date.

Here is the TVBOCA track list released to Amazon:
Ashes
A Thousand Days
The Way
Bridge Over Troubled Water
On My Way Here
This Is The Night
Solitaire
Here You Come Again
Measure Of A Man
The Real Me
Something About Us
Invisible
On The Wings of Love
Mary, Did You Know
What are your 10 favorite tracks from Clay's mainstream albums -- Measure of a Man, A Thousand Different Ways, On My Way Here -- and singles? With the assistance of some CA friends, the Carolina blog created a sidebar poll to determine the 10 songs readers would most like to see on the TVBOCA playlist.
To start our very unscientific survey, friends Ashes, Barb55, and Amazing_CA shared their choices with very little duplication. Hopefully, your 10 songs are listed. Once polling begins, no additions to the list are allowed. However, I will keep tabs of songs listed in the comments and include them in the final tally on Tuesday, March 3.
You can pre-order the CD at Amazon for $9.99 (eligible for FREE Super Saver Shipping on orders over $25; Target, $11.98; and CD Universe, $9.00. Also, if you need a reminder of the songs on Clay's previous CD's, see the titles on his Amazon page.
Here's to the "very best" of Singerman!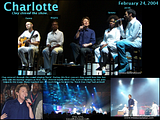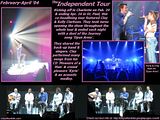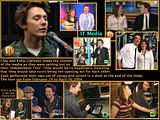 Double clickable IT
wallpapers by Fountaindawg
Looking Back: IT Opens in Charlotte

From Feb. 24 to April 16. 2004, Clay and Kelly Clarkson criss-crossed the country with their Independent Tour, kicking off in Charlotte, NC, and ended in St. Paul, MN.
Singing "Kyrie Eleison," Clay entered the arenas from a different point nightly. During the first concert in Charlotte, the audience could hear him; but only the backup singers were visible onstage. When fans finally spotted Clay singing and making his way to the stage, they cheered madly, reaching out to touch him as he walked by. "Rock Star Clay" had arrived!
After the first concert, the "surprise" entrance was expected with Clay and Kelly alternating as the show's opening act. However, with each venue, the exact entrance location was anyone's guess.
Making the media rounds, the co-headliners shared a bus, as well as backup band and singers. After performing their separate sets, the duo closed each concert with Journey's "Open Arms."
In addition to the popular opening and closing songs, Clay performed tracks from his Measure of a Man CD, an acoustic medley, "Without You" duet with Quiana Parler, and "When Doves Cry."

Independent Tour Set List (Charlotte)
Kyrie Eleison




Perfect Day




I Will Carry You




All About Love




No More Sad Song


I Survived You (Atlanta, but not Charlotte)


When You Say You Love Me


Without You (duet w/Quiana Parler)


Invisible




Run to Me




Measure of a Man




Fields of Gold




Carolina on My Mind




When I Need You




When Doves Cry




The Way


Open Arms (duet w/Kelly Clarkson)
For more information, see Independent Tour at the Clay Aiken Kids site.


Atlanta IT: Kyrie entrance and final bow.
(Clickable photos by Sally, 2/25/04)
Thank you for sharing your top 10 selections in "The Very Best of Clay Aiken" sidebar poll and/or in a blog comment.
Have an awesome week, Clay Nation!
Caro
TECHNORATI TAGS:
Clay Aiken
,
On My Way Here
,
A Thousand Different Ways
,
Measure of a Man
,
The Very Best of Clay Aiken
,
Sony
,
Legacy Recordings
,
Independent Tour
,
Clay Aiken Kids
,
Official Fan Club
,
Clay Nation