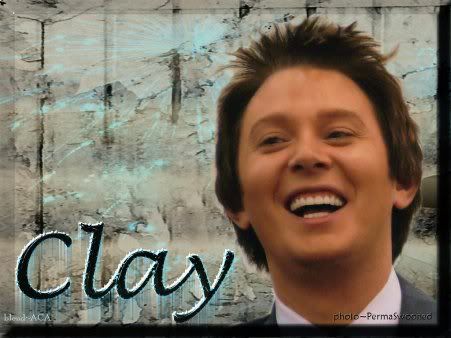 ALL SMILES -- The Clay Nation is celebrating their singer's departure from RCA. Graphic by Amazing_CA, photo by PermaSwooned.
Fans Celebrate News
Clay Aiken Leaves RCA Behind
Clay Aiken fans have known for months that something was up as they detected the gradual disappearance of their singer's presence on the RCA website. Friday in an exclusive release to People Magazine, Clay officially confirmed a parting of the ways with his record label.
Clay Aiken is setting the record straight: the former American Idol has parted ways with RCA Records, Aiken's rep has confirmed exclusively to PEOPLE.

"We were unable to come to terms in a recent contract negotiation, and decided that it was best to move on," the rep, Cindi Berger, said Friday.
Upon the official announcement, Internet fan celebrations commenced immediately with the virtual uncorking of spirits; parades of favorite photos, memorable performances, montages; and elated expressions via posts and emoticons.

Saturday a similar story with a four-picture slide show appeared on the Access Hollywood site.
RCA Makes Critical Missteps

Most fans feel RCA has not supported Clay's recording career in several critical career steps from the lack of promotion and weak follow-up single selections to radio play that has been practically nil.
Despite the lack of backing, the man has sold almost six million albums -- three mainstream CD's debuting in Billboard's Top 5, plus a hugely successful Christmas CD and EP.
The follow-up to the double platinum Measure of a Man was A Thousand Different Ways, a beautifully sung collection of covers when "new" is what counts in today's music scene. Despite that strike, the CD went gold and is beloved by many.
Clay's third album, On My Way Here, contains an extraordinary variety of original songs with outstanding arrangements and exquisite interpretations. However, with very little follow-up promotion, the CD only sold 159,000 units in the US.

Clay has an incredible voice and is blessed with a quick wit and comedic timing, making him a masterful entertainer in live performances and on the Broadway stage. With a mic in his hand and new backing, the world should be able to experience the talent the Clay Nation has enjoyed for the past six years.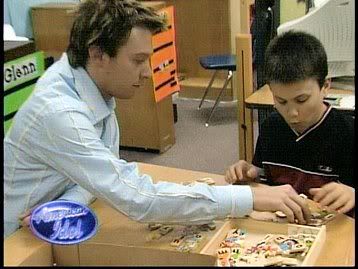 Clay with Michael Bubel prior to his AI2 run.

Expanded Stage for Charities

Since the summer of 2003 when Clay, a special education graduate, and Diane Bubel, mother of a son with autism, co-founded The Bubel/Aiken Foundation to promote inclusion for all children, the singer has used his celebrity to advance philanthropic causes around the globe.

In addition to his projects with TBAF, Clay was appointed a UNICEF goodwill ambassador in 2004 with an emphasis on children and education.

His charitable endeavors are outlined in an article by Dr. Karen Steinberg -- Celebrity Educational Activism: Spotlight on Clay Aiken -- posted at EDUPINION Thursday.
Many celebrities, however, include education in their philanthropic activism. A relatively recent newcomer to this arena is former American Idol singer Clay Aiken, who has been unusually active in furthering educational missions.

As he explains on his website, "My music career has allowed me to do the same thing I was doing before -- work with kids. It has just given me a bigger stage, so I can enact change on a grander scale." [snip]

Through the generosity and activism of celebrities like Clay Aiken, important aspects of and initiatives in education can progress.

The complete article is well worth the read.

Bloggers Applaud Announcement

The ConCLAYve is one of countless blogs weighing in on RCA's loss of Clay Aiken with the current Come Sail Away entry:


The best voices will not be silenced. His voice soars in a recording studio, a television studio, on the concert stage, on a Broadway stage and on the world stage.

Below is a partial listing of other bloggers writing on the topic. Watch the Carolina sidebar for more.


Marhaven Musings: Clay Aiken: Free at Last
Clay Aiken News Network: A Toast to Clay Aiken
The Life and Times of a Clay Aiken Fan: Clay Aiken Leaves RCA
There Was a Man: Free Bird
Hosaa's Blog: Art and Artists
gerra730: Clay Aiken Free From RCA
Chexxxys Pearls: Clay Aiken Says Adios
Clay Aiken News: Clay Aiken Leaves RCA
Shyeyewitness and Friends: Clay Aiken Leaves His Record Label
Truth Rules: Clay Aiken: Rembering Fantasy
All That Is Clay Aiken: Clay Aiken Leaves RCA
Clay Aiken Ruminations: Has RCA Dropped Clay Aiken?

Clay sings 'Fantasy' during AI3 telecast.
In 2004, Clay returned to the American Idol stage to sing lead on Earth, Wind, and Fire's "Fantasy" with the four finalists as backup.
As most videos go, this one from
YouTube
definitely shows its age. Undeterred, the last verse is resounding throughout Clay Cyberspace this weekend:
As you glide in your stride
With the wind as you fly away
Give a smile from your lips and say
Are you free yes I'm free
And I'm on my way!
Below is a clickable of

Amazing_CA

's opening graphic: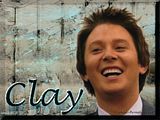 Looking forward to the next chapter! Have a great weekend, Clay Nation!

Caro
TECHNORATI TAGS:
Clay Aiken
,
On My Way Here
,
A Thousand Different Ways
,
Measure of a Man
,
RCA
,
People Magazine
,
The Bubel/Aiken Foundation
,
UNICEF
,
EDUPINION
,
Dr. Karen Steinberg
,
Fantasy
,
American Idol
,
Official Fan Club
,
Clay Nation