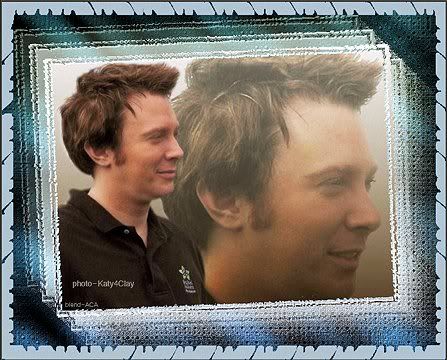 CAROLINA BLUE - The Clay Aiken graphic with Carolina blue frame is the perfect lead-in for this week's Tobacco Road basketball rivalry between UNC and Duke. Graphic by Amazing_CA, photos by Katy4Clay.
UPDATE: Carolina, 101; Duke, 87!!!
Tobacco Road Rivalry Week
Clay + Carolina in Battle of Blues
Since July 2005, I have penned more than 300 blogs about the passions in my life -- family, good friends, music, writing, Carolina basketball, and a very special singer from my home state, Clay Aiken.
I come by most of these penchants naturally. Family and good friends go without saying. With all the musicians in our clan, some of whom have been introduced in this journal (Mama Mac, Aunt Gladys, Aunt Lill, Mr. Caro, my sister and BIL, our daughter, and grandson Kai), music is probably a notation in our DNA.
I have taught band and orchestra, as well as private lessons, in three states and have played oboe in symphonies/ensembles along the way. Mr. Caro and I met while performing in the Florence, SC, Orchestra.
I am not sure how writing became such an important part of me; but as the newspaper editor of then North Carolina's largest high school and a columnist/reporter for the Wilmington Star-News, I entered college planning to major in journalism. Though I later switched to music education, I have written for newspapers in NC, Texas, and Tennessee.
March Madness an Annual Event

From several blog entries, readers know the craze consuming me this time every year is Carolina basketball. As far back as I can remember, I have cheered for the Tar Heels. My father and I listened to games on the radio before we owned a television set. The famous Michael Jordan and I even share the same hometown.
When the 1959 Heels topped Kansas in triple overtime for the NCAA national championship, I retreated to my bedroom and prayed on the Bible before each new bonus period. It worked (LOL!); and to this day when Carolina needs a little extra help, my fellow Tar Heel friend Terri asks if I have the Bible handy. Traditionally, she dons her special Tar Heel sweatshirt for Carolina games.
Texas Alma Mater Wins NCAA
I married a Texan, and we were fortunate enough to attend Texas Western College, now the University of Texas-El Paso, the year the unranked round ball team came out of nowhere to meet and beat Adolph Rupp's #1 Kentucky Wildcats for the NCCA Men's Basketball title.
For the final game in a University of Maryland arena, filled with unwelcoming fans waving Confederate flags, Coach Don Haskins started five African-American players, a first for a Division 1 school from the South, breaking an unspoken barrier and forever changing the complexion of sports in America.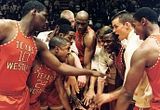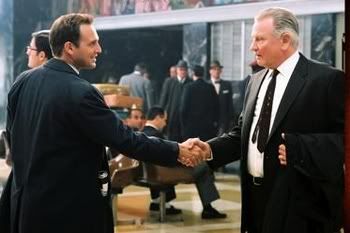 'Glory Road' clickables: TWC team rallies; Haskins meets Rupp
The story of Texas Western's momentous championship season is depicted in the 2006 movie Glory Road, in which Josh Graves and Jon Voight portray Haskins and Rupp, respectively. One of the winningest coaches in NCAA history and a member of the Naismith Hall of Fame, Haskins retired in 1999 and passed away last September.
In 2007, the entire 1966 championship squad was awarded the Naismith honor. Glory Road was shown on TNT last weekend; and despite the fact that I own the movie, I was glued to my TV the entire time.
Tobacco Road Rivalry Tops Headlines
For basketball enthusiasts in this neck of the woods, the hottest event this week is Wednesday's Tobacco Road rivalry between the Heels and their neighbors eight miles down the road, the Duke Blue Devils. Sporting identical league records, the teams are tied for first place in the Atlantic Coast Conference at 7-2. Their overall records are almost identical with the Tar Heels at 21-2 and Duke, 21-3.
In order to snag a ticket to the intense rivalry, hundreds of students annually establish a tent city known as Krzyzewskiville weeks before The Battle of the Blues in Duke's Cameron Indoor Stadium. Rules for K-Ville actually appear in Duke's student handbook.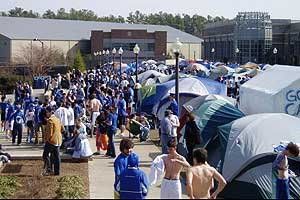 Each tent in K-Ville must contain at least six people from 11 p.m. to 8 a.m. One member of the group has to be in the tent at all times, and everyone must be present for the last 48 hours before the game. When temperatures dip below 20 degrees, students get a bye on sleeping in the tents. Some nights the Duke coach, for whom the village is named, sends pizzas down to the students; and he usually addresses them before the Carolina game.
Carolina holds a 125-96 advantage in the competition that has been an annual event since 1920, but Duke has won 16 of the last 20 games. Both teams are among the sport's most accomplished. Duke has won three NCAA titles and been in 12 Final Fours. North Carolina has won three national championships and appeared in 15 Final Fours.
The fierce battles along Tobacco Road frequently split families down the middle, and "house divided" mats, license plates, and flags are not unusual sights.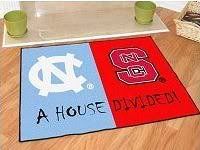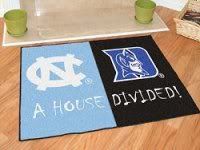 House Divided mats for UNC-NC State, UNC-Duke families
My brother Chuck, a N.C. State graduate, and his sister, the lifelong Heels fan, reside four hours apart; so our round ball contentions transpire via friendly email digs and long-distance phone conversations. After Carolina bested his team last month, a week went by before he spoke to me.
Although there will be many divided loyalties across the state when the Tar Heels meet the Blue Devils Wednesday night, my brother and I will be cheering for the team in light blue. Ditto when Duke comes to Carolina for the season finale on March 8.

However, on Feb. 18, date of the Wolfpack-Tar Heel rematch at Chapel Hill, we will once again be a family divided.
Throughout his stint as Sir Robin on "Spamalot," Clay often wore UNC sweatshirts and hoodies on important game nights. The show is over, so I selected some memorable Carolina blue stage door graphics for Wednesday's very important rivalry.
Hopefully, all this gives the Tar Heels an edge. Win or lose, Carolina-Duke games are always exciting, close contests. Go, Heels!!!
PHOTO INTERLUDE: Featured in this clickable Tar Heel interlude are stage door graphics by Amazing_CA, 1, 2, and 4 with photos by Scrpkym, 1; butterflyshine, 2; and dancerdad, 4; collage by Fountaindawg, 3; and graphic by Artz11, photo by ClayChristina, 5.
Unique Voice Reels in Fans

What more can I say about my enthusiasm for Clay Aiken, one of our state's greatest gifts to the planet? I fell for Clay's unique voice the first night I heard him sing on American Idol six years ago.
As the weeks progressed and we learned more about him, I was there for his charitable heart, intelligence, dedication, and sense of humor, too. Like so many, I came for the voice and stayed for the man.

It's in Everyone of Us - Montage by Emerson032
Fans from all corners of the globe are drawn to this special man who uses his celebrity to make a positive difference in the world. By his actions, he inspires fans and supporters to do the same.
Clay's agenda to make a difference through The Bubel/Aiken Foundation and as a UNICEF ambassador are portrayed in Emerson032's montage in which Clay sings It's in Everyone of Us. View the montage above or at YouTube.
The multi-platinum artist has proved he is the consummate entertainer, displaying incomparable vocals and stellar communication skills in subsequent tour and media appearances. Hopefully, he is enjoying communicating with his son Parker during this down time.
Below is a clickable of Amazing_CA's opening graphic: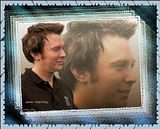 Have a wonderful week, Clay Nation ... and Go, Tar Heels!!!

Caro
TECHNORATI TAGS:
Clay Aiken
,
On My Way Here
,
It's in Everyone of Us
,
montage
,
The Bubel/Aiken Foundation
,
UNICEF
,
Carolina Tar Heels
,
Duke Blue Devils
,
Krsyewskiville
,
Tobacco Road Rivalry
,
House Divided
,
Texas Western College
,
Glory Road
,
Don Haskins
,
Official Fan Club
,
Clay Nation