Spirit Unobtrusive -- Montage by Aspiegirl
Aspiegirl's Latest Montage

Video Features Non-Stop Clay

Wow! Aspiegirl is back with a brand new Clay Aiken montage that is a rush of energy from start to finish. Hold onto your hat, Clay Nation, and enjoy the ride this talented fan provides with "Spirit Unobtrusive."

According to Aspiegirl, approximately half the montage utilizes a backwards gear; so after the first viewing, rewind and see how many flips you can spot in the video clips, photos, and graphics. If you'd like, list your finds in a comment, and we will keep a running tally.
Some hints from Aspie include:

I used a lot of clips running backwards. Many are from Tyra Banks Show, Good Morning America, A Thousand Different Ways, and in Insider photo shoot.


That's not counting reversed pictures. Some are buried in other clips, which means they are in layers. Also, some are dropped into other clips.
LOL, I'm lost already!

Contributing visual artists for the montage include Sally, Moaf99, Gerwhisp, Topaz, Kcudawg, Mustbeeme, Dancermom2, Spotlightlover, and SecretlyLovesClay.

You can view Spirit Unobtrusive here and at YouTube, as well as download the 85-meg montage with this Sendspace file.

Thank you, Aspiegirl, for an incredible ride!



PHOTO INTERLUDE: Featured are graphics by Amazing_CA, two from the recent Golfing for Inclusion fundraiser of TBAF and one that appears in the Aspiegirl's montage. Katy4Clay took the photos in the GFI graphics.

Never a Dull Moment

My Friday afternoon music lessons at Wesleyan Christian Academy are never dull. Following a 1:30 makeup piano lesson, I knew I had a 20-minute break before my scheduled first lesson. Normally very prompt, the student is usually warming up when I arrive.

At five minutes past her lesson time, I dialed her father's cell phone. "We're still in Mexico," he told the surprised teacher. Hopefully, the piano books made the trip and my student is giving lots of "recitals" at her uncle's home.

Many have asked about my "swinging new sax student" introduced in the Feb. 1 blog entry. I sent him a link, and he read the blurb via his BlackBerry.

The poster child of adult students, Mr. Sax travels during the week and takes his instrument to practice in his motel room at night. He has noticed that management doesn't seem to be assigning guests in the adjacent rooms.

After almost a month of home practice in a townhouse that he and his wife are remodeling, my student decided to mention his saxophone lessons to his neighbor.

"Oh, so that's what that is!" his neighbor laughed. "I thought y'all were really getting with it on the renovations."

Despite the laughs, Mr. Sax is progressing very well. We just may have to provide some clack. *g*

Early Valentine Greetings!

Thnx to this graphic by Ashes, grandson Kai stopped by with some candy hearts to wish everyone an early Happy Valentine's Day!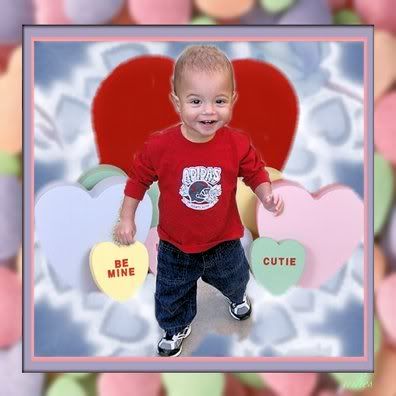 Have an awesome weekend, Clay Nation!
Caro
TECHNORATI TAGS:
Clay Aiken
,
On My Way Here
,
A Thousand Different Ways
,
montage
,
Spirit Unobtrusive
,
Aspiegirl
,
The Bubel/Aiken Foundation
,
Golfing for Inclusion
,
Valentine
,
Official Fan Club
,
Clay Nation