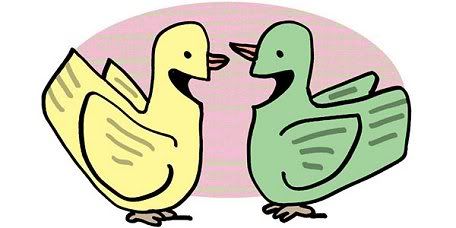 Stuart Goldenberg (New York Times)
Tips from First Three Days
Twitter Mania Takes Over My Life

Three days ago I was successfully juggling a crazy mix of music lessons, two weekly blogs, and passable housecleaning results while staying in tune with the latest news about Clay Aiken, politics, Carolina basketball, and global happenings.

Then my friend Sally casually introduced me to Twitter, the very interesting, very addictive messaging utility for staying connected in real-time; and the kilter of my life has been off balance ever since.

On days I teach at home as the final student departs, I rush back to the den where my laptop is chirping away. TWEET!!!

Talking on the phone with my computer-less friend, I was asked about my new "bird." Try explaining Twitter to someone who is not on the Internet. Another asked me about the submarine sounds coming over the phone. TWEET!!!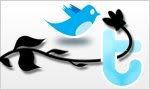 I even hear "tweets" in my sleep and catch myself trying to bring up TweetDeck. TWEET!!!

I'm sure experienced "twitterers" know what I'm talking about. It's the newbies like me I'm addressing. In fact, perhaps some of the pro's on this online community can add to this piece.

The local newspaper, discontinued long ago, has lost its last vistage of hope to ever darken my doorstep again despite a two-year campaign of special offers. I am perfectly content with Twitter, cable TV, and a host of online sites.

That's really a shame since I got my start writing for a local daily at age 16. Sunday I sent my former editor an invitation to join us at Twitter. LOL, we'll see.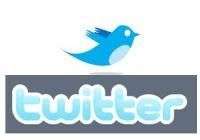 Logo by Visha Gaikar
A Twitterer's Initial Tweets
Since joining Twitter, I have enjoyed chatting and exchanging links with people around the globe. Cable news anchors are communicating with audience members via Twitter, and I think that's pretty neat. Sunday I followed the give and take of Davids Shuster and Gregory with their audiences.

There's quite an active Clay Aiken fan group on board, posting links to the singer's music, concert performances, and video montages. A fan from the beginning, I'm not about to pass up those links, LOL!

In the short weekend we have been on Twitter, my friend and I have located several sites that include helpful hints for others just coming aboard. Be prepared for everything else to go to pot. Sunday afternoon I even forgot a flute choir rehearsal that I had promised the director, my sister, I would attend.



Twitter Love by Collective Thoughts
If you're still game, here are some informative, helpful links:
Twitter? It's What You Make It"
by David Pogue of the New York Times. Great read!

Twitter, in other words, is precisely what you want it to be. It can be a business tool, a teenage time-killer, a research assistant, a news source — whatever. There are no rules, or at least none that apply equally well to everyone.

USE IT HOWEVER YOU LIKE: I've finally harnessed Twitter's power for my own nefarious ends. I pass on jokes. I share little thoughts that don't merit a full blog or article post. I follow links and track buddies. I un-follow people who are boring or post 50 times a day.

And I query the multitudes. Last week, I was writing a script for a TV segment, and needed a great example of "an arty movie that a teenage baby sitter wouldn't be caught dead watching." My followers instantly shot back a huge assortment of hilarious responses.

Other people plug their blogs, or commiserate, or break news; the first report of the plane in the Hudson came from a Twitterer. It's all good.
How to Become a Twitterer
To get started, open a free Twitter account. Click on "join the conversation." Select a username and password, enter your e-mail address, enter the codes on the screen, and click "I accept."

A great start-up walk-through is outlined here: Getting Started with Twitter by Kirsti Scott.
Twitter is a site where you can create a microblog, which isn't a teeny, tiny blog, but a blog consisting of teeny tiny posts. Each post or "tweet" can be no more than 140 characters. Each of these tweets answers a simple question: "What are you doing?"

Your answers can be about your personal life, your work life, an interesting article you just read online, a funny video, a shout out to a friend, or anything you'd like. It really couldn't be easier.
After setting up a free account, members are encouraged to post frequent updates about what they are doing, seeing and feeling. The messages, known as "tweets," are limited to 140 characters (YIKES!!!) and can be sent from a computer or a mobile phone.

Although the updates are available for anyone to see, Twitter users usually set up their accounts to monitor the tweets of people they know or admire. These "followers" are automatically fed tweets from the people they are shadowing.

Another excellent "how to" guide was posted by C.G. Lynch earlier this month here. Covered are the sign-up routine, who to "follow," what you can gain and share with Twitter, etc.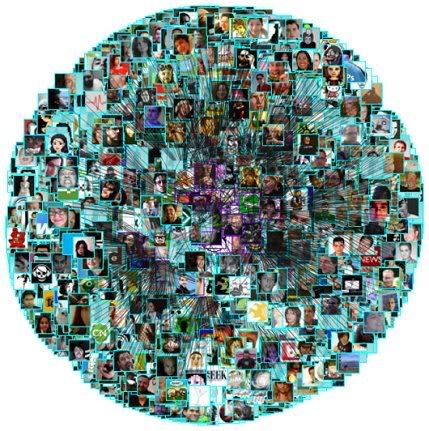 Twitter Network by Nathan
Go Viral with Twitter
Check out
25 Tips for Going Viral on Twitter
by Rodney Rumford, whom I now "follow."

One of the great benefits of Twitter is that it allows for content to spread rapidly and virally across the network and allows for many people to easily discover and share your Tweets.
Who Tweets? A Tweet Census
from Digital Arts describes the community you are joining.


10 Twitter Tips for Bloggers
by Andrew Stark. Great ideas for non-bloggers, too!

Some nitty-gritty tools include:


TweetDeck
. Download this immediately after signing up. The deck splits the main Twitter feed into manageable columns.


Real-time Twitter Search
-- Just what it says.
Twellow
-- Great place to find others who share your interests.
How to Re-Tweet
-- Scroll down for several other helpful newbie links.


Who Should I Follow?
-- Analyzes your choices and recommend others you might be interested in.
Twitpic
-- Allows one to upload/share photos and videos.

Be a DJ with Blip -- Broadcast your favorite music clips with Blip.

Tweet Smarter -- Tweet with easy icons, add a retweet link to any tweet!

Twitscoop -- See what's buzzing right now!

Twitter Tips -- A practical guide to getting started on Twitter.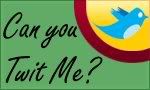 Mr. Tweet -- Discover and get discovered by relevant people. Make him your personal networking assistant.


Tweet Grid: Amazing Race
-- Fans of AR -- and other shows -- can watch and chat in real time. Locate others via the SEARCH mechanisms.


Tweet Tees
-- "Eat. Sleep. Tweet." broadcasts your Tweeter addiction on these custom tee shirts and hooded sweatshirts.

Every time I start winding down this blog I find something new. Here are a couple more quick tips:

Hashtags: Be sure you use hashtags -- keywords preceded by the hash sign, "#". Over the past few months, hashtags have become a great way for other users to find content quickly. Example: #Carolina

Clickable Screen Names: Put the @ sign before a user's SN to create a link. Example: @MissSallysPC
As David Pogue wrote in the above NYTimes article, Twitter is "powerful, useful, addictive and fascinating" but it is OK to close the site. Sometimes you just have to.

A special arrangement for my string students and planning the next day's music lessons await my attention. However, see you on Twitter ... SOON!
Caro
TECHNORATI TAGS:
Twitter
,
TweetDeck
,
Tweet
,
ReTweet
,
networking
,
viral marketing
,
hash tags
,
Clay Aiken
,
On My Way Here
,
A Thousand Different Ways
,
Official Fan Club
,
Clay Nation