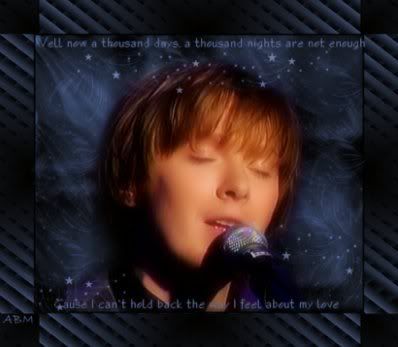 A THOUSAND DAYS -- This elegant graphic by ABeautifulMind highlights one of the four new songs on Clay Aiken's CD, A Thousand Different Ways.
Our Latest Adventure
Trusty Oboe Could Tell Tales
Last Friday morning started like any other -- get dressed, soak reeds, make sure briefcase contains oboe and music needed for the weekly session with high schoolers in Davidson County.
What a shock when I opened my oboe case -- on the sofa, thank goodness! -- and the whole thing literally came unglued. Several wooden girders, particles, and splinters from the bottom of this specially-designed case popped; and the three joints of my unassembled oboe ended up on the pillows of the couch.
Thus marked the end of the line for my oboe's case, designed specifically for this instrument by its previous owner. It has served this oboe well since my college years and no telling how long before that. For Friday's sectional, the oboe stayed home, and I taught class with my flute. With Davidson County Schools out of session this week, my search for a new case received a reprieve, though I have placed an order with a local music store and hope to be back in business soon.
Remarkable Musical Journey
My oboe and its unique case have accompanied me through some amazing musical experiences. During my junior year at East Carolina University, my oboe professor helped me locate the instrument, which was being sold by John Mack, then the principal oboist of the National Symphony.
I met my future husband, a Texas percussionist stationed at Ft. Bragg, when we both played in the Florence, SC, orchestra. After our wedding, we enrolled at Texas Western College, now UT-El Paso, to complete our Music Ed degrees.
My new teacher asked if I would like to audition for the second oboe position with the El Paso Symphony later that week. I fiercely worked on my embouchure, which had literally taken the summer off while I wrote for the local newspaper and planned an August wedding.
Despite stiff competition, I won the position with the first professional orchestra of my life. Once my initial paychecks covered the steep musician's union dues, they were a welcome boost to a college couple's budget. Mr. Caro had no problem returning to his place in the percussion position.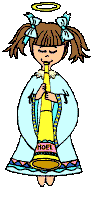 Programmed on our first concert was Bizet's Symphony No. 1 in C Major, the second movement of which features two oboes in beautiful intertwining conversational lines. I can still remember the breathtaking thrill of this superlative orchestra's season opener and being singled out by the conductor for a bow with my teacher following the Bizet.
Since then, my oboe and I have played in almost every imaginable setting from symphonies, church music programs, and pit orchestras to a myriad of events with a popular chamber ensemble in Nashville -- weddings, receptions, bridal shows, park concerts, as well as several performances at the Tennessee governor's mansion.
Orthodontist Determines Fate
I play the oboe today because when I was in the 5th grade, with a couple of years of clarinet under my belt, a Wilmington orthodontist nixed that instrument due to its overbite embouchure. Having taught woodwinds privately and in public schools for many years since, I know that dentists generally run about 50-50 on this point.

Mr. "Red" Dobson, my band director, was beside himself over the news that I couldn't continue the clarinet. He had tremendous respect for my mother, a junior high choral music teacher, and had great plans for me to be his principal clarinetist in the Lake Forest Junior High Band. He also was envisioning similar musical journeys for my sister and brother down the line.

The dentist's verdict came just as our six-week summer band program began. One week went by; and, sadly, I stayed home. Another week came and went. The Sunday night before the third week, Mr. Dobson called our home and excitedly proclaimed, "I've got it! You can play the oboe!" Off I went the next morning to begin studying my new instrument.

True to form, when I left for high school, Mr. Dobson asked my sister, a wonderful flautist, to play the oboe. The same with our brother a few years after that. By then, our mother knew the score and adamantly put her foot down: "Two beginning oboes are enough for any one household to endure!"
PHOTO INTERMISSION: Included in this clickable interlude are graphics from four visual artists -- Ambassador of Love (1, 3); Amazing_CA (2, 4); ABeautifulMind (5); and Galrow, photo credits for #2.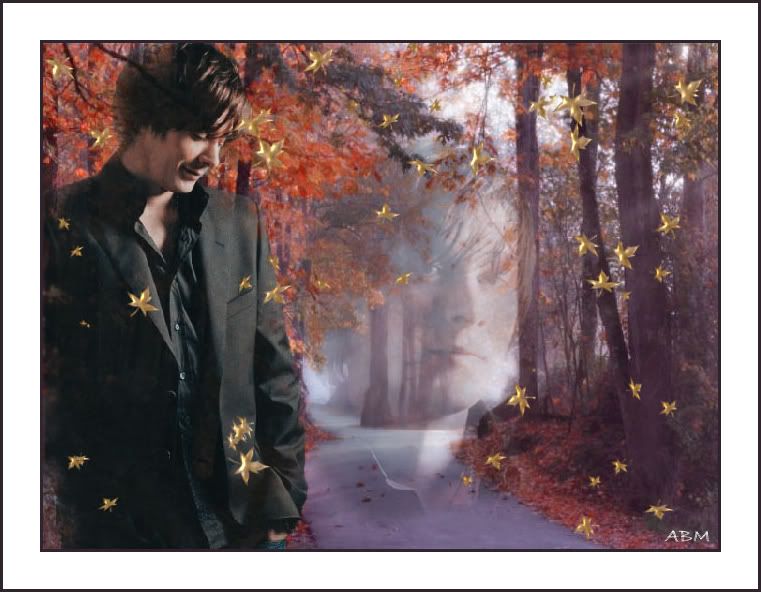 The Last Laugh
We oboists are a rare breed. Musical humorists have dubbed our instrument

the ill wind no one plays well

. I have never been sorry for my orthodontist's decisiveness, however. College scholarships are readily available for those who play the instrument well; and during major religious seasons, an oboist's calendar is filled with gigs and the opportunity to earn extra money.

The oboe is a woodwind instrument of the double reed family. The word "oboe" is derived from the French word hautbois, meaning "high wood." A clear and uniquely penetrating timbre gives the oboe the ability to cut through and be audible over other instruments in large ensembles. Orchestras usually tune to the principal oboist sounding an A-440. The oboe can be heard on "Everything I Have" from Clay Aiken's new CD, A Thousand Different Ways, and from the All Is Well snippets "O Come, Emmanuel" and "My Grown Up Christmas List."


From a distance, an oboe looks like a clarinet; and I am often complimented for my "clarinet playing." However, the oboe's "mouthpiece" is comprised of two pieces of cane bound together and attached to one end of a metal tube. The most desirable cane is grown and harvested in southern France; making/securing good reeds is one of the most difficult parts of playing the instrument. As temperamental as the weather, oboe reeds can be affected by the elements inside, as well as outside.
Oboe Has Been Around
A few months ago as I was assembling my oboe to rehearse for a church gig, a visiting minister looked at the tarnished keys and remarked, "Wow, that instrument looks like it has really been around!" I told her that yes, indeed, it has. She got the abbreviated history about my instrument, which I recently learned was made especially for the renowned Marcel Tabuteau, the most influential oboist in the United States.

Born in Compiegne, France, in 1887, Tabuteau, in 1915, was appointed principal oboist of the Philadelphia Orchestra, where he stayed until his retirement in 1954. He also taught oboe at the Curtis Institute of Music from its founding in 1924 until his retirement. Through his teaching, Tabuteau was responsible for creating the "American" or "Philadelphia" sound that is prevalent in the US today. His oboe students beget other oboists, who beget other oboists; and thus the Tabuteau tradition continues to spread in this manner.
I play a Loree, long considered the cadillac of oboes. Loree oboes are handcrafted in a Paris, France, factory from carefully selected pieces of Grenadilla wood from Mozambique which have been stored for more than five years.
An Intriguing Pedigree
During Tabuteau's lifetime, many Lorees were made to his personal specifications for him and his students, one of whom was John Mack. Though my instrument is insured for its true value, my mother only paid $400 in 1964.
A few years ago I took my horn to John Ellis, the oboe professor at the North Carolina School of the Arts and an excellent repairman. When I returned to pick it up, John informed me he would like to be first in line if I ever decide to sell the instrument.
Apparently, my oboe contains serial numbers from a very rare group of instruments made specifically for Tabuteau. I was amazed to learn this trusty old friend with tarnished keys has such an intriguing pedigree!
The Loree has enjoyed many adventures performing with me throughout the Carolinas, Texas, and Tennessee. I've always wondered what tales it could tell from its inception in France through its early years with Tabuteau and his student, John Mack, perhaps something along the lines of the movie, "The Red Violin."
Guess we'll never know, but I'm sure it would make a great blog!
Caro

RELATED TAGS: Clay Aiken, A Thousand Different Ways, A Thousand Days, Everything I Have, All Is Well, O Come Emmanuel, "My Grown Up Christmas List", Oboe, Loree, Marcel Tabuteau, John Mack, El Paso Symphony