CONGRATULATIONS to CLAY

, who was presented the Outstanding Young Alumnus Award by UNC-Charlotte's Alumni Association Saturday night. Story below!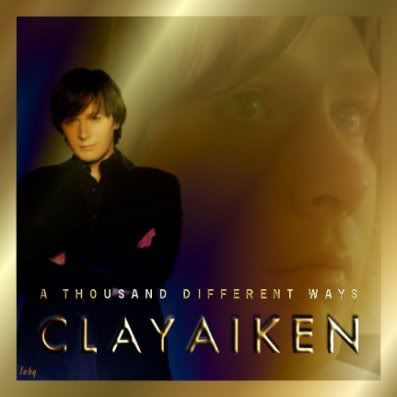 CREATIVE COMBO -- Claystuck's stunning design features the symphony tour photo and a promo screen cap for Clay Aiken's new CD, "A Thousand Different Ways."
November Calendar Check
Clay Aiken, Heels Featured
Accompanied by cooler temperatures and picturesque autumn scenery, this season's trek through November finds some of my favorite activities occupying the calendar -- Clay Aiken appearances, Carolina basketball, and quickie gourmet recipes.

This Friday -- 11/17 -- Clay will visit Live with Regis & Kelly to co-host with Kelly and perform "A Thousand Days" from his new CD, A Thousand Different Ways. CA fans look forward to this week's appearance during which our singer will dip his toe into the talk show stream that is apparently one of his dreams.

Many fans from the New York City area are planning to be in the R&K audience, and several will be present Saturday, 11/18, for the UNICEF Snowflake lighting at the intersection of 57th and 5th Avenue.


Designed by Ingo Maurer with 16,000 Baccarat crystal prisms, the special snowflake will be illuminated by Clay, a UNICEF Ambassador, at 6:30 p.m. EST, officially kicking off the holiday season.
Simultaneously, the city of Beverly Hills, CA, will conduct a lighting ceremony with 20 Baccarat crystal chandeliers at the corner of Wilshire Boulevard and Rodeo Drive. Info on the California ceremony can be read here.
The UNICEF Snowflake is the centerpiece of an ambitious campaign to raise millions of dollars in support of health, nutrition, education, and protection for children in developing countries. For more information, see the UNICEF website.
That's just this week. Other November happenings are listed on a calendar below.
Articles Offer ATDW Insight
A variety of print/online articles about Clay and his new CD emerged this week, some halfway around the world. Aiken's Not Breakin' appeared in the Singapore News Today on 11/11. The full interview by Juliana June Rasul can be read in the clickable below or at Today Online.

This excerpt furnishes insight from Clay about the selection of the ATDW cover songs:
"I was a little apprehensive because as a brand new singer, it's risky to pretend you can sing other people's songs," Aiken admitted.
In the end, he and album producer Jaymes Foster were intent on "changing up the tunes and doing something special with each one of them".
"We weren't trying to be competitive or anything, but we did want to do things a little differently," Aiken said.
Most of the songs are reminiscent of the kind of power ballads the singer specialised in during his stint on Idol: Foreigner's I Want To Know What Love Is is given the Aiken treatment, as is Bryan Adams' Everything I Do (I Do It For You), which received the thumbs-up from Adams himself.
"Yeah, I got some email from Adams as well as Diane Warren, who said they enjoyed my take on their songs," Aiken said with a laugh."I'm fine with being the guy who sings the songs that everybody likes. Now, that's different."
Songwriters Compliment Arrangements
In an 11/10 interview with Christina Fuoco in in Live Daily, Clay shared some of the comments he has received from songwriters whose work is included on ATDW:
"A number of the songwriters have been pleased with what we came up with," he said. "Diane Warren is usually quite picky about the way her songs are performed and she had only great things to say about 'Because You Loved Me' and 'When I See You Smile.' Richard Page [of Mr. Mister] was very complimentary of 'Broken Wings.' He actually said that he never really thought he would be able to appreciate a cover of one of his songs, but that he was impressed with what we did. Bryan Adams was complimentary as well."
For "Broken Wings," Aiken includes an original poem spoken by Erin Taylor. He said he did so because he wanted "to do something ethereal with one of the songs."
"'Broken Wings' lent itself to that type of production more than anything else. I was going to simply have a friend of mine read the lyrics to the song in the background. But she was in the studio with us while we were recording and came up with this amazing poem that really related the message of the song in a whole new way, so we decided to use it."
PHOTO INTERMISSION: This clickable interlude features the talents of six visual artists: Amazing_CA (1, 5); Ambassador of Love (2); Clayquebec1 (3); and Claystruck (4). Photographers represented include KarenEh (1, 2) and Galrow (5).


Clay Receives Outstanding Young Alumnus Award
Clay Aiken was presented the Outstanding Young Alumnus Award by UNC-Charlotte's Alumni Association at a banquet Saturday night. Today's press release about this year's five honorees can be read here. Below is Clay's portion:
Singer Clay Aiken received the Outstanding Young Alumnus Award. While he is famous around the world as the first runner-up in "American Idol," Aiken also has used his degree in special education from UNC Charlotte. He graduated with a B.A in special education in 2003.
He founded the Bubel-Aiken Foundation, which supports the integration of children with disabilities into the life environment of their non-disabled peers through summer camps and other initiatives.
Aiken also served as an Ambassador to the Ronald McDonald House Charities, UNICEF National Ambassador of Education. In September, President Bush appointed Aiken to serve on the President's Committee for People with Intellectual Disabilities.

Congratulations, Clay!
Tar Heels Take the Court
With exhibition games behind them, the Carolina Tar Heels, ranked #2 nationally in the AP Poll, will open the 2006-07 basketball season against Sacred Heart Tuesday night in the NIT Tip-Off in Charlotte.
Coached by Roy Williams, the Heels are led this season by sophomore forward, Tyler Hansbrough of Poplar Bluff, MO, the top vote getter on the preseason All-American team. The most decorated freshman in Carolina basketball history, this amazing young man was recently asked why he decided to return to college instead of opting for the NBA as so many do.


After explaining to the reporter that he wants to accomplish more with his team and individually, he simply summarized:
"I've never really known a player to spend another year with Coach Williams and get worse."
WORD -- one of my all-time favorite responses on the subject! Go, Heels!
Gourmet Meals In Minutes
Plain and simple, I think my friend Sally and I have become winos. (Just teasing!) This all started when I shared some of my favorite soup recipes in a previous (10/25) blog, and Sally said she always adds a little wine to hers.
Thanks to my niece, I have been the recipient of various wines in bottles large and small for several recent birthdays and Christmases; so I added a little to my SIMPLE SOUP for ONE -- and it really is delicious. I have even included a little wine in a lima bean-corn-black bean side dish. Again, I like the distinctive flavor.
Back in the days when I seriously used my stove and delighted in trying gourmet recipes for my family, I always prepared poultry with wine. My cooking prerequisites are now (a) "microwaveable" and (b) minimum prep time, so last night I launched a quickie gourmet chicken dish during the commercial of a movie I was watching.
The frozen chicken portion -- originally nuked with lemon juice, herbs, and spices -- was placed in a single oval serving dish, surrounded by chopped onion, yellow pepper, mushrooms, and a handful of walnut pieces. I added some garlic, Mrs. Dash Italian spice, and a little wine. At the other end of the one-dish platter, I tossed in some frozen broccoli, which no doubt benefited from a little of the wine. In the final minute, I sprinkled a handful of 2% shredded cheese on the broccoli.
VOILA -- dinner just in time for the next movie segment!
I'm off to rummage through a couple of gift bags that just may contain my new favorite ingredient, but here are some reminders for CA fans:
CALENDAR CHECK



11/17

: Live With Regis & Kelly: Co-host and Performer


11/21

: American Music Awards: Presenter


11/22

: Tyra Banks Show -- See Promo Here


11/28

: Release of "All Is Well - Songs for Christmas" EP


12/1 - 12/23

: Christmas Symphony Tour


12/26

: Days of Our Lives (Performance: EIH and OHN)
Have a great week, Clay Nation!
Caro
RELATED TAGS: Clay Aiken, A Thousand Different Ways, A Thousand Days, Live with Regis & Kelly, UNICEF, UNICEF Snowflake, Singapore News Daily, Juliana June Rasul, Today Online, Live Daily, Christina Fuoco, Jaymes Foster, Foreigner, I Want To Know What Love Is, Bryan Adams, Everything I Do, Diane Warren, Because You Loved Me, When I See You Smile, Richard Page, Broken Wings, Erin Taylor, American Music Awards, Tyra Banks Show, All Is Well Christmas EP, Christmas Symphony Tour, Days of Our Lives, UNCC Alumni Association, Outstanding Young Alumnus Award, The Bubel Aiken Foundation, UNICEF National Ambassador of Education, President's Committee for People with Intellectual Disabilities, Carolina Tar Heels, Tyler Hansbrough, Roy Williams