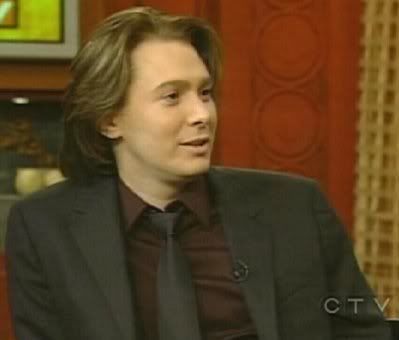 TALK SHOW DEBUT -- Clay Aiken was impressive as he shared hosting duties with Kelly Ripa on "Live with Regis & Kelly" Friday. Screen cap by Gerwhisp.
Co-Hosting Debut on 'Live'
Clay Aiken Talk Show Natural
Sharing co-hosting duties and spirited repartee with Kelly Ripa on Live with Regis & Kelly Friday, Clay Aiken proved he is a talk show natural -- intelligent, funny, chatty, charming, and well-prepared on the topics of the day. Besides trading snarky remarks with Kelly that came across as entertaining and amusing, Clay showed he is a very good listener, an attribute of only the best of hosts.
The audience of 152 was all his, as enthusiastic Claymates made known from the beginning. Still controllable though, as Clay performed a simple cut-off "a la Megan Mullally Show" in the opening minutes. At one point, Kelly suggested that she was going to throw out this crowd and bring in her fans, to which Clay grinned, "All 15 of them?"
There were great plugs for Clay's Christmas tour with eastern US symphonies, as well as his new CD, A Thousand Different Ways, from which he sang "A Thousand Days." Following the show, Clay taped a Christmas song ("Mary Did You Know") for Live and one for Good Morning America ("O Come, Emmanuel").
CLICKABLE CAPS -- These five screen caps by Gerwhisp from Friday's Live with Regis & Kelly show Clay as co-host and performer, singing "A Thousand Days," chatting with Kelly Ripa, and dancing with Katrina Smirnoff, runner-up on this week's Dancing with the Stars finale.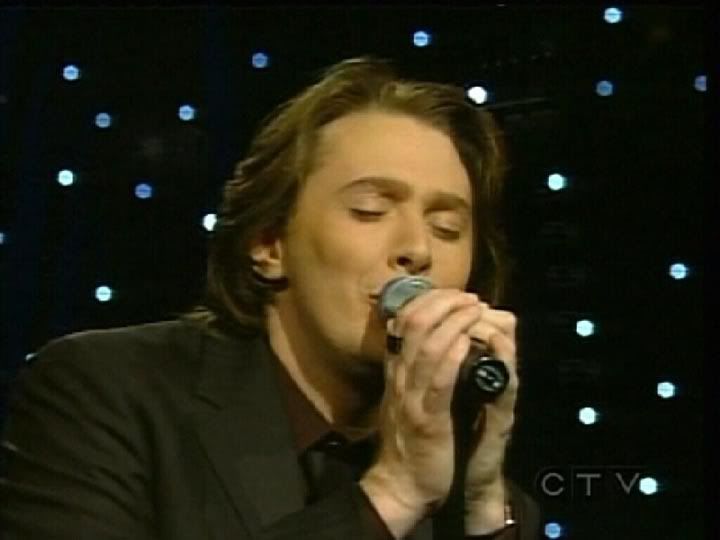 Clay Impresses New, Casual Fans

Even though his mother wants him to cut his hair, general consensus around the message boards is that Clay looked fabulous. I "watched" the show with my mother-in-law 1,467.16 miles away in Odessa, TX; and she certainly concurs with the Internet fans. We conversed on every commercial break and compared notes long after the show was over. "I'm just sorry Clay didn't have the whole hour by himself," she said. A real Claymate, my MIL!

Pink Armchair viewed the show with her boss, a casual fan whose reactions were posted at the Clackhouse. With permission, some are shared here:

"Whoa! He's filled out! He looks great!"
"I can't get over how different he looks. Not wild about the hair, but he looks very mature."
"He's so funny!"
"Oooh, he's so naughty!" [the spanking exchange]
"He's such a hoot. Did she just take his lines?"
"Wow -- he's quick!"
"Mmmm .... he's pretty sexy."
"I thought you said he couldn't dance!"
"I can't believe those FEET! Look at those things. Wonder what size those are?"
"Nice song -- was that all of it?"
"He was really good. I was surprised."
Amidst all the morning's hoopla, a reporter from Raleigh's WTVD interviewed Clay backstage, the video for which can be watched here.
From new to casual to diehard -- fans are applauding Clay's first gig as a talk show co-host! Bravo, Clay!
Clay Featured on DIRECTV Series
New Entry in DIRECTV's Successful Songs of Praise Series Features Inspirational Performances by Clay Aiken, Nicole C. Mullen, Michael W. Smith, the Brooklyn Tabernacle Choir and the Alfred Street Choir.
The above is the sub-head for an 11/16 story about DIRECTV's Songs of Praise for Christmas. According to the article, DIRECTV is "excited to have singing phenomenon Clay Aiken" on the Christmas special's roster.
Songs of Praise for Christmas will take viewers on a musical journey through the story of Christmas. DIRECTV subscribers will be treated to Clay Aiken's rendition of "Silver Bells," Nicole C. Mullen's performance of "O Come O Come Emmanuel," and Michael W. Smith's "Silent Night," among others.
The 90-minute special will air at various times throughout the holiday season (11/24 - 12/31) on DIRECTV.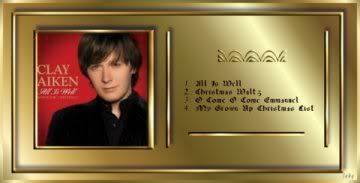 'All Is Well' Graphic by Claystruck
Shipwreck Island's Label Prediction

Most Clay fans feel that Shipwreck Island Studios hit the nail -- i.e., the partnership of CA and RCA -- on the head in this note about the upcoming release of All Is Well. Message board camps long ago suspected a turn of events in Clay's backing by RCA and are looking forward to more favorable support with a new record label when that occurs.

Meanwhile, Shipwreck, which previously published a glowing review of ATDW, provided its readership with this report about All Is Well:
Clay Aiken - All Is Well (Christmas EP)
On November 28th Clay Aiken will release his 2nd Christmas disc of his career. This disc will be exclusively released through Wal-Mart and will feature the songs "All Is Well," "Christmas Waltz," "My Grown Up Christmas List," and "O Come O Come Emmanuel." Look for Clay to hit the road for a selected set of live concerts starting December 1st. In 2004 Clay released "Merry Christmas With Love" as well as a DVD of his special "A Clay Aiken Christmas."
This exclusive Wal-Mart EP may signal the end of Aiken & RCA Records as there's talk that his contract runs out with this release. The promotion by RCA this year for Clay's recently release has been slim to none so it makes perfect sense for him to shop his material elsewhere if he so chooses. Look for Clay to go out on tour in '07 to promote his music.
As if on cue, not long after Clay's appearance on Live today, ATDW jumped from #179 to #111 and into the 18th slot in Amazon's Movers & Shakers, somewhat proving Shipwreck's point about promotion.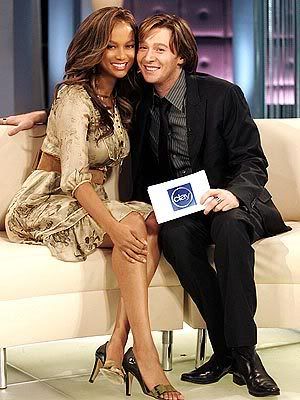 Tyra Banks and Clay Aiken - Photo by Dan Steinberg
Thanksgiving Arrives Early for Claymates
Thanksgiving promises to come a day early for Clay fans with the much-anticipated airing of our singer's appearance on the Tyra Banks Show Wednesday, 11/22.
According to the promos, Clay will get another taste of hosting duties, complete with his own personalized cue cards, during his guest appearance on Tyra's show. Taped weeks ago, our singer will discuss his hair, his new album, meet his biggest fan, sing ATD, and dance with Tyra.
For a sneak preview, click on CLAY at Tyra's web site.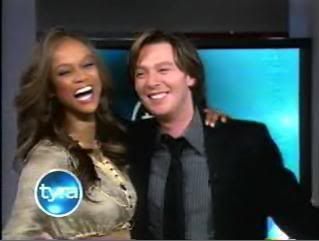 Tyra + Clay= Amazing Chemistry
CALENDAR CHECK

11/18: Clay Illuminates UNICEF Snowflake, 6:30 p.m. EST, New York City
11/21: American Music Awards: Presenter
11/22: Tyra Banks Show
11/28: Release of All Is Well - Songs for Christmas
11/24-12/31: Songs of Praise for Christmas, DIRECTV Channel 103 (Silver Bells), various times
12/1 - 12/23: Christmas Symphony Tour
12/14: A Clay Aiken Christmas, Bravo, 9 p.m. EST
12/15: ACAC, Bravo, 12 a.m. EST
12/17: ACAC, Bravo, 10:30 a.m. EST
12/22: Megan Mullally Show (SB duet with Megan)
12/26: Tyra Banks Show (MDYK)
12/26: Days of Our Lives (Performance: EIH and OHN)
TBA: Good Morning America (MDYK or Emmanuel)
TBA: Live with Regis & Kelly (MDYK)

Have a great weekend, Clay Nation!

Caro

RELATED TAGS: Clay Aiken, A Thousand Different Ways, A Thousand Days, Live with Regis & Kelly, UNICEF Snowflake, American Music Awards, Tyra Banks Show, Shipwreck Island Studios, All Is Well Christmas EP, DIRECTV Songs of Praise for Christmas, Christmas Symphony Tour, Days of Our Lives, A Clay Aiken Christmas