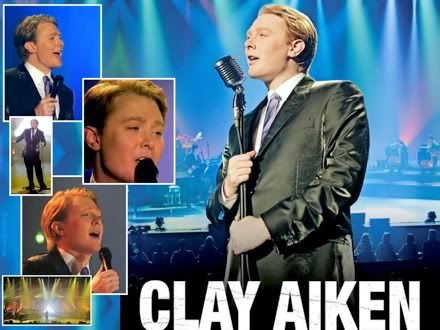 Clay Aiken: Tried & True LIVE! Cover - Graphic by Fountaindawg
Singer Makes Talk Show Rounds

Aiken Scores 5th Top 10 Debut

Clay Aiken's "Tried & True" CD debuted at No. 9 on the Billboard 200, scoring the singer's fifth Top 10 on the chart and earning the third highest arrival on this week's list.
According to Nielsen SoundScan, the standards album entered the music industry listing with sales totaling 22,000. T&T also debuted at #2 on Top Internet Albums. Part of the Billboard press release is printed below:
Clay Aiken earns the third-highest arrival on the list this week with his debut album for Decca Records, "Tried & True."

The covers album, which features the singer's take on such standards as "Mack the Knife" and "Moon River," enters at No. 9 with 22,000 copies sold. "Tried" is Aiken's fifth top 10 set and first since departing RCA Records. Aiken's last studio release, "On My Way Here," opened at No. 4 with 94,000 in 2008.
Chart Beat Spotlights Feat of Clay
Billboard's
Chart Beat
column also recognizes Clay's fifth Top 10 debut as tops among American Idol alum:

With "Tried & True" becoming his fifth top 10 on the Billboard 200 with a debut at No. 9, Clay Aiken passes Kelly Clarkson for most top 10s on the tally by an "American Idol" graduate. [snip]

Aiken first appeared on the Billboard 200 with "Measure of a Man," which spent its first two weeks at No. 1 in November 2003. He revisited the top tier with "Merry Christmas With Love" (No. 4, 2004), "A Thousand Different Ways" (No. 2, 2006) and "On My Way Here" (No. 4, 2008).
CA fans will want to login to
Chart Beat
, listen to the featured T&T track, click on the heart, leave a comment, and help create some buzz.

BRING IT ON! - Clay talks CD, talk show with CNN.
Clay Promotes T&T, Timeless Tour
Currently, Clay is out promoting the new Tried & True CD and the July-August Timeless Tour with appearances on various television shows. On some, he also sings a selection; on others, clips from the PBS Special are shown. On all, he proves what an articulate interviewee he is.
In the CNN interview above, he hints again -- "Bring It On!" -- how much he would like to have his own talk show. Video links to other appearances are featured later in the blog.
Just as important in spreading the word about the music on this beautiful CD are the promotional experiences of Clay's fans, planned or otherwise. Not.Just.Us and conversion stories don't appear in press releases, but they abound on message boards devoted to the North Carolina singer.
Fans Report NJU Album Response
They also support the fact that the T&T album is ageless, scoring with people in many walks of life, and steadily sprouting legs. Mixed with the NJU reports are screen caps from Clay's CNN chat with Shannon Cook and the E! channel interview with Chelsea Handler.
If you have a NJU story, please add it in the comments. It just might find its way into the the blog, too!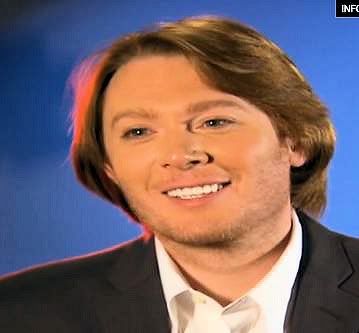 An admitted CNN junkie! - Cap by mustbeeme
adrienne1954: My husband, who is not a fan, went to work out in our home gym. He put on the TV, and it wasn't working. He called me downstairs and, with panic in his voice, asked me to fix the TV. I tried to figure out what the problem was and couldn't.
Instead, he decided to listen to a CD. While fiddling with the cable remote, I jokingly asked, "Do you want to listen to Clay's new album?' "OK." (Words I never thought I would hear in a million years!)

I can't tell you how fast I ran upstairs to grab the CD before he changed his mind. In the old Bose CD player, Clay's TnT went right to "Unchained Melody." I waited for his reaction.

"I love this song. This is one of my favorite songs," he said. (Who knew?) "He really does have a great voice. Oh, and shut it off."

I reached to turn off the CD, not wanting to push my luck or Clay's voice.

"No, not the CD player -- the TV! I want to listen to the whole album."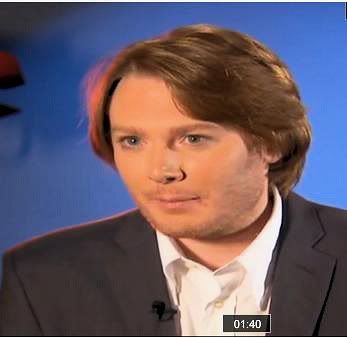 Clay at home on CNN. - Cap by mustbeeme
rskid: I sent a TNT CD/DVD to my daughter. We have attend a few Clay concerts and "Spamalot" together. She loved the shows, but this is not really her kind of music, etc. My daughter is married to a sweet Dominican who manages a bodega in Bed-Stuy. She called late last night to say they really enjoyed the CD, Ramone especially, who took it to work with him on Sunday.
She met him Sunday night to do laundry as they usually do; and when she walked into the bodega, Clay was blasting on their sound system!

The guys that work there love it, it seems. This is the kind of place where there is usually a card game going on behind the counter, while in the background Clay was singing his heart out. It seems he has conquered a small corner in Bed Stuy.

I don't think I have never heard a word of English spoken in that little store, and now there is Clay.
janfan821: I just got back from going to the stores to try to pick up copies of TnT for friends and family. None at Wal-Mart. None at Best Buy. Target had four, so I took two of them. I went to the checkout counter; and the cashier, who is in her early 20s, picked up the CDs, turned them over to see the front and stared -- I mean STARED at it.

She then looked up with a huge smile on her face. "I love him so much. I didn't know he had a new CD." I told her it was a great CD. Finally, she rang up the two customers behind me. I left with a huge smile on my face, too.

Siol: My daughter, son, and daughter-in-law were visiting yesterday. They usually make fun of Clay and how I'm so crazy about him. I decided to force them to watch Clay's "Unchained Melody" from The View.
They were quiet through the whole performance with none of the usual funny remarks. Later my daughter said she would love to go to a Clay concert with me. I think they were stunned by the performance. This is big for me.
jamar1700: When I purchased my second CD at Target today (the one that will stay unopened), the cashier smiled and said, "Clay Aiken - now that's when American Idol was gooooood. I like him. He's such a nice man."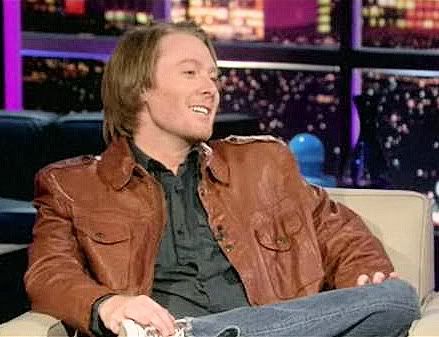 Clay chats with Chelsea. (Screen cap by LovesClaysVoice)
MaryJoanne123: I had three friends over for dinner last night and TnT was playing when they arrived. I could see that at different points they were listening to the songs. One finally asked who was singing and I told them Clay.
None of these ladies are Clay fans or knew that I was. They were all surprised. When we got to the table, I had a regular CD for each and they were very happy.

After dinner I played the deluxe again, and all of them fell in love with "Breaking Up Is Hard to Do." One is going to order a deluxe copy for each of them through Amazon.
Ijust: When I purchased TnT at FYE the other day, the sales clerk, a young girl in her 20's, asked about the CD. When I told her it was standards with a big band sound, she got so excited and told me how much she just loves big band music.
I don't think we can have any idea how this CD will appeal to any demographic unless and until it can be heard on a popular prime-time shows.

claybuttons: I am floored. My garbage disposal broke, and the maintenance man from the apartment complex came to replace it. He is Hispanic, 28 years old, and recently married.
I had TNT on my stereo, and he told me he LOVES this music. "It is very pretty, relaxing, and a great singer. Btw, who is it? I told him the singer is Clay Aiken, and he said he has heard of him.

When he left, he asked if I ever burned copies of CD's and I replied, "Not this one, but I have an extra copy. Would you really listen to it?"



He said he would, so I gave it to him. Just goes to show that age and sex don't mean anything as far as taste in music.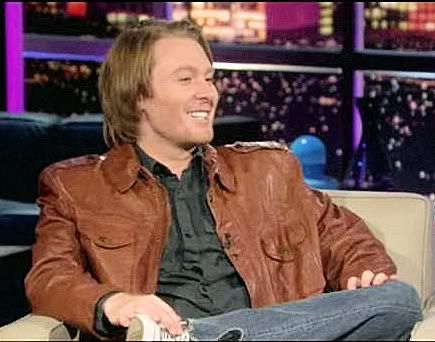 Clay, Chelsea discuss assorted topics. (Cap by LovesClaysVoice)
MFforCA
: The secretary at my school asked me today if I'd seen Clay on Joy Behar's Show (as if I'd miss it!). She said she fell in love with him all over again and thought he was just adorable. She had been somewhat of a fan during AI2, bought MOAM and MCWL, but was never on fan boards.
She also said she thought she'd treat herself to his new CD, so I let her listen to my iTunes burned copy while she was at school and she said she liked what she'd had time to hear.

I really think she is just the kind of person being targeted, those who still remember Clay and wish him well.
coopersgirl
: I stopped by Best Buy on my way home -- Zilch! -- but the Walmart next door had three copies. Since these stores are a good distance from our house, I popped the CD in and -- what do you know? -- Clay has a new fan!
My husband loved it; he really really loved it. He has always been supportive of me, but I don't think he ever really liked many of his songs. When he heard "Crying." he said, "I like Roy's better; but, man, that is tender!"

If Clay can win my husband over, he will get more fans, this I am sure.
lynnie171
: I have a friend who is young; but, like Clay, she is an old soul into nostalgia and old, old movies. So, I don't usually discuss Clay with her, but I emailed the review with the list of songs and asked if she wants that for her birthday.
I got the reply: "Please, please! I love every one of the songs on that list!"
amazed_in_nj
: I let my second graders listen to TnT today while they were working. After "Can't Take My Eyes Off You," I had to replay it again for them ... and again and again. By the third time, they were all singing along.
They loved "Unchained Melody," would wait for THE NOTE, and then take their hands from low to high in the air as Clay went up on that note. Again, when it was finished, they said, "Play it again!" So, of course, I did.

They loved the "rock song" ("Suspicious Minds"), too. I think they were getting a kick out of seeing me sing and dance around the room as the songs were playing. What fun!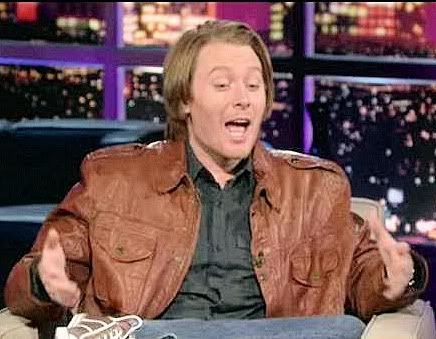 Clay visits 'Chelsea Lately' on E! (Screen cap by LovesClaysVoice)
Websites Link Videos of Interviews
Below are links to recent videos that can be viewed on the network websites or at YouTube:
June 10: 'Tried & True': CanadaAM: Clay Aiken, singer
June 8: Chelsea Lately on E!
June 8: Clay Aiken's Dream Job? CNN host?
June 8: Artisan News Service: Clay Aiken Hopes To Be Number 2 Again
June 3: Artisan News Service: Clay Aiken Takes on Elvis, Valli, Orbison


Screen cap from Thursday's CanadaAM. - gerwhisp
MARK YOUR CALENDAR
THURSDAY, JUNE 10: Canada AM (video linked above)
* Canada AM catches up with American Idol runner-up Clay Aiken in New York. See canadaam.
FRIDAY, JUNE 11: Access Hollywood (check local listings)
* Exclusive Clay Aiken

SATURDAY, JUNE 12: WTTW-Chicago PBS, 7 PM CDT
* Preview of Clay Aiken Tried & True Live! at Chicago PBS station ONLY.
SUNDAY, June 13: Chelsea Lately on E! 11:30 PM (rerun)
* Clay Aiken is here, seriously, with his new CD Tried and True. Comedians Ben Gleib, Loni Love, and Gary Valentine also guest.
Monday, June 14

:

Siriusly Sinatra 6 PM ET
* Clay Aiken stops by to play some of his new recordings along with performances by our stars that he loves. Sirius XM Radio

OTHER Chelsea Lately Reruns: Monday, June 14, 3 AM; Tuesday, June 22, 12 AM and 3 AM.
SATURDAY, JUNE 21: Bringing Broadway Home, 8 PM
* One Night Only, Raleigh Memorial Auditorium Ticket Info
July 27: Release of Clay Aiken: Tried & True Live! DVD
* Pre-order at Amazon now.
Clay Aiken Named Top AI Runner-Up
Jessica Eisenberg, freelance Arts & Entertainment writer from Chicago, has ranked Clay the best of the nine
American Idol Runner-Ups
:
1. Clay Aiken: (Season 2) Clay didn't need any bells and whistles or lighting effects to get to this spot in this list. With one of the most impeccable voices we've heard on the show, all he really had to do was sing. He still has the vocals that have really only been rivaled by David Cook in range and consistency.

No one on this list can match the finesse and power of Clay Aiken's belting range, not even Adam and his constant falsetto. Of course, we don't know if Clay can scream, but how much screaming do we really want to hear?
She lists the remaining runners-up in this order: Adam Lambert, Crystal Bowersox, Bo Bice, David Archuleta, Diana DeGarmo, Justin Guarini, Katherine McPhee, and Blake Lewis.
I definitely agree with her frontrunner, but I'm not sure about the eight others. What do you think?
Below is a clickable of Fountaindawg's opening graphic:
Have an awesome week, Clay Nation!
Caro