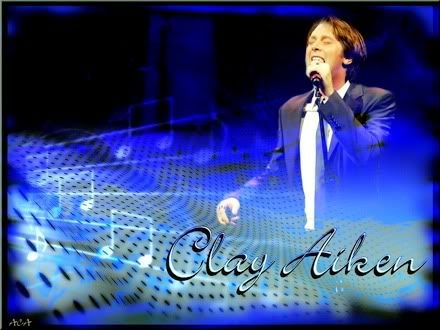 Clay Aiken graphic by AmazingCA
Singer To Share News in Blog
Album Buzz Soars in Clay Cyber
The excited buzz and anticipation levels circulating through Clay Aiken Cyberspace match the singer's enthusiasm for the upcoming CD and PBS Special shared on Twitter, Facebook, and his fan club blog.

Speculation about which songs will be on the new Decca album continues at full throttle as fans await the news Singer Man seems dying to tell. So far he is "biting his tongue" to keep details under wraps. According to his latest blog, news is coming soon.
We are almost finished with the album, and I love it. I think you will too. These songs, the arrangements, the orchestrations are the most amazing I have ever gotten to record.
As a musician, that seals the deal for me!

The casual or Not.Just.Us fan sector is also on alert, as CA message board members are spreading word of the new CD via various modes. In case news breaks when fans are away from their computers, various contingency plans -- texting, cell phones, the good old-fashioned land line -- are in place.

National Inclusion Project rolls out YouTube channel.
Fans Spread TNIP News, Too
The National Inclusion Project, the charity co-founded in 2003 by Clay and Diane Bubel for all children, benefits from the unofficial P.R. activities of CA fans. Two of the three NJU stories below are about Clay's charitable endeavors for children.

The above video can also be viewed on the new Inclusion Project channel page at YouTube. Supporters are encouraged to subscribe to the site and follow the organization on Facebook. See National Inclusion Project.

Hopefully, others will share their NJU experiences in the comment section so I can add them to the blog. As always, thank you for helping to tell the story of Clay Aiken.

ISEEME: I was getting my nails done, and the woman next to me was talking about "teaching her kids to make grilled cheese sandwiches." I asked her how many kids she had. She explained she is a junior high special ed teacher for children with severe emotional problems and was shocked at how many of them had never been in a kitchen. She believes in teaching them life skills as well as reading and writing.

Naturally, I had to tell her I was a big Clay Aiken fan and asked if she knows about his foundation. Before I could get "National Inclusion Project" out, she interrupted and said, "I know! It's about inclusion, and it's a wonderful organization!"

She asked me about Clay's background and how he chose that particular cause to support. (HA -- a captive audience!) So I told her about his special ed degree, work at the YMCA, the little girl who wasn't accepted because she had special needs, Michael Bubel, and so on.

She said she had heard about the foundation in an in-service session last summer. As an afterthought I said, "Oh, and the guy can sing, too!" She knew that, too. It was a good moment.

Clickable graphics are by cindilu2, 1 and 3, and Ashes, 2.
NCWANNABE
: My NJU story began a few months ago when a co-worker was in my office talking about a work issue. Suddenly she stopped mid-sentence and said, "OMG, is that Clay Aiken?!?!?"
She had spotted the picture(s) of Clay and me in my office and asked if I had met him. I told her about my "meet and greet," concert reading, and the special dinner in 2009. She was quite impressed.

Last week the same co-worker dropped by to ask a question. As she started walking away, she said "Oh, I saw an article on Huffington Post that your friend Clay Aiken wrote. I was impressed. He is a UNICEF Ambassador! Wow!"

I explained that Clay has been a UNICEF Ambassador since 2004 and has traveled to Somalia. She just kept nodding her head and saying, "I am so impressed."

Definitely made my day!

RAINLOVER
: When I picked up a prescription at our pharmacy drive-through, "Something About Us" was playing on my CD player.

Female Pharmacist: "Who is that?"
Me: Clay Aiken
FP: I've never heard that song before. What's the name of it?
Me: "Something About Us". It's on his last CD.
FP: What's the name of the CD?
Me: On My Way Here
FP: I need to get a copy of that. That's a beautiful song!
From the headlines:
Clay will release his 1st album on @deccalabelgroup in summer 2010! It will be a collection of classic songs from the 50s and 60s.

COMING IN JUNE: American Idol superstar alumni and TV personality CLAY AIKEN sings great romantic favorites in "Classic Memories". Tapings for this International Media special will take place in February. Look for the show to be aired on public TV this June!

Clay Aiken is in the Decca house! Such a nice guy.
The above tweets/posts are from decca label group and International Media at Twitter and/or Facebook. Admittedly biting his tongue, Clay passed along this information in his blog, now on the public side of the OFC:
If I were making travel plans, I'd be sure to be in Raleigh by 7PM on Friday, March 12th. I'm just sayin' ....
Below is a clickable of the opening graphic by AmazingCA: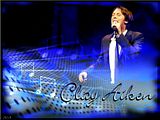 Here's to an exciting ride on the Clay Train in 2010! All aboard -- the best is yet to come!

Caro