HUMANITARIAN IN ACTION - 'Grace' montage by LovesClaysVoice.
Memorable Scenes, Music
'Grace' Captures Charitable Clay
During all my years in -- or on the outskirts of -- journalism, I have never been accused of writing too few words. This may be the day!
No doubt my former editors -- with nods to the appropriate desks in the Wilmington Star-News, Lubbock Avalanche-Journal, and The Odessa American newsrooms -- would also appreciate the added irony of neutral newspaper hues.
Clay Aiken fans know they are blessed with a very talented brigade of photographers, videographers, and graphic artists, affectionately known as "clack goddesses," who have brilliantly documented the singer's performances, appearances, and humanitarian endeavors with the National Inclusion Project and UNICEF since 2003.
On another plane are the skilled artisans who creatively select from the vast array of images, videos, and music to produce extraordinary and varied memorable montages.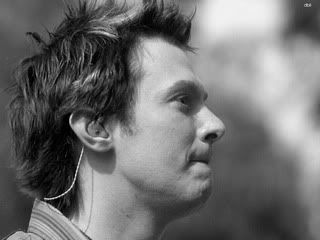 Clay Aiken in opening frame of video.
Featured in this entry is the montage Grace by LovesClaysVoice, which portrays the compassionate, sensitive, caring man Clay Aiken is. Accompanied by pianist-composer William Joseph, the montage can be viewed in the above player or via the Yahoo video link. You can download the montage with this Sendspace file.
William Joseph was the opening act for Clay's 2005 Joyful Noise Tour, which covered 36 cities in the US and Canada during November and December. In 2004, he opened for Josh Groban's Closer Tour. "Grace" is the final track from his 2004 album, Within.
Clay Nation Recalls Spamalot Finale
January 4, 2009, is a date Clay Aiken fans will not soon forget. The Clay Aiken Kids site recaps the week's events leading to the singer's farewell as Sir Robin in Spamalot.
For a walk down memory lane, see Broadway Events and the double-clickable wallpapers by Fountaindawg commemorating the finale week.
Similar to the final performance night in May, Shubert Alley was crowded with fans. Once again, Clay saluted from the ledge above the theater. This time, it was final. There would be no future return to the role for Clay as the play itself would close a week later. -- from Clay Aiken Kids site.


Have a wonderful opening week of 2010, Clay Nation!
Caro