PREPARING FOR THE GREENS -- Clay Aiken practices his golf stance in preparation for the 2010 Golfing for Inclusion event. Graphic by AmazingCA.

'Retro 3' Montage On a Roll

NIP Sets Golfing for Inclusion

Clay Aiken and his fans are brushing up their golf swings in preparation for the 3rd Annual Golfing for Inclusion hosted by the singer and PGA professional Wayne Player.

Some supporters even admit to taking a few lessons prior to the fundraiser slated for Monday, Feb 1, on the greens at Mirasol Country Club, Palm Beach Gardens, FL. The event will benefit the National Inclusion Project, which provides opportunities for all children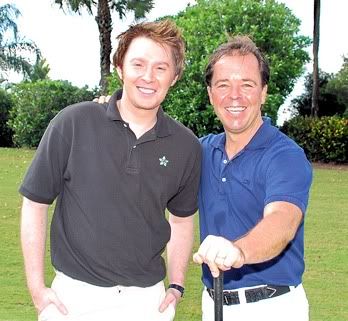 Clay Aiken and Wayne Player, GFI co-hosts.
Golfing for Inclusion 2010 will feature a clinic by Player; hole-in-one contests and a golf tournament (shotgun start/scramble format) with prizes for individual/team winners; live/silent auction, extraordinary cuisine, and a special performance by Clay Aiken, co-founder of the charity.

Online registration for GFI provides several avenues of participation, as well as well as a variety of sponsorship or underwriting opportunities. Online auction items can be viewed here.
Forget the hole in one -- fans are hoping Clay's performance will include new song premieres from his upcoming album with Decca Records!
PHOTO INTERLUDE: Below are clickable graphics and a photo from previous GFI events, including AmazingCA, 1; photo by Katy4Clay, edited by Sally, 2; and Clayquebec1, 3.
Youth Slate Inclusion Campaign
Twenty young people from across the country will gather at Imagination State in Bethesda, MD, Jan. 8-10, for the National Youth Inclusion Summit to develop an advocacy campaign that builds awareness and support for the full social and educational inclusion of people with disabilities.
Diverse in their backgrounds, experiences, and abilities, the youth leaders are united in their vision of a world where people of all abilities have the same opportunities.

The National Youth Inclusion Summit is organized by the Including Samuel Project, a program of University of New Hampshire's Institute on Disability, along with Imagination Stage, the Mitsubishi Electric America Foundation, and the National Inclusion Project.
Partners in the effort include the Boys amd Girls Clubs of America, Kids Included Together, Girl Scouts of the USA, Victor Pineda Foundation, and VSA arts.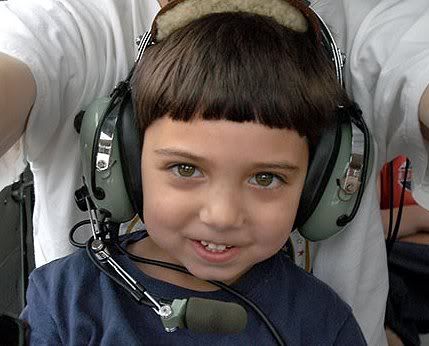 TAKING FLIGHT -- Samuel Habib sits on his father's lap behind
the controls of his grandfather's sea plane, as the two
prepare for a flight. Photo by Dan Habib.

Every participating teen has already played a role in advocating for inclusion in his/her school or community. Most recently, they have each facilitated discussion among their peers by coordinating a screening of Including Samuel, a documentary broadcast nationwide on PBS stations in the fall of 2009 that looks at five families' stories of inclusion.

"By hosting screenings, such as the one for the film Including Samuel, which is a powerful documentary, we bring awareness to this issue," stated Liane, a sophomore at Yale and a Summit participant.


At the Summit, participants will share their personal experiences, hear from advocacy experts and work together to build a coordinated viral campaign on inclusion that engages youth nationally.

Sarah, an 11th grader from Iowa and a Summit participant, says about the Summit, "I believe that it is critical for teens to stand up and speak out about the importance of social inclusion for students with disabilities. I feel that awareness and education are powerful tools and can really change the way we think about inclusion."

"Including Samuel is resonating with this young audience and I hope it can be a catalyst for their generation," added filmmaker Dan Habib, creator of Including Samuel. "Without them, we cannot achieve the film's vision of inclusion in our schools and communities."

Tia, a Girl Scout in 7th grade from North Carolina, adds, "Disabilities should make our bonds with society and people in our community stronger, not weaker."

Tia and the other nineteen participants will work toward this goal at the Summit.
'Retro 3' Spotlights Appearances
For anyone who has spent the past few days on the moon, SueReu's third Retrospective montage features an overview of Clay's 2003-09 special appearances.
In addition to YouTube, the video has found its way to countless Facebook walls, Twitter tweets, and message board posts.

Clay Aiken - A Retrosepctive, Part 3, A Special Guest
Montage by SueReu
Among the highlights are several national anthem performances, Christmas specials, Are You Smarter Than a 5th Grader?, Capital One Holiday on Ice, Ed ("This Magic Moment" and "Ebay gold"), Scrubs ("Isn't She Lovely?"), Days of Our Lives, A Capital 4th on PBS, Saturday Night Live and the "Aiken wink," 30 Rock, and "Solitaire" from American Idol 3 and the 2007 Neil Sedaka Tribute.

To download the RETRO-guest montage, use this Sendspace link. I understand #4 is already in the works!
Have a wonderful week, Clay Nation!
Caro