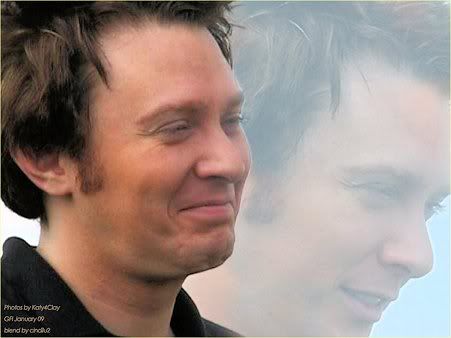 MAKING A DIFFERENCE - Golfing for Inclusion, Feb. 1 fundraiser of the National Inclusion Project, is represented in this graphic by cindilu2 from the 2009 event. Photos by Katy4Clay.
Heart of Clay's Singing Career
Star Influence Benefits Charities
From the start, making a difference and using the celebrity influence of American Idol have been at the heart of Clay Aiken's career.
Throughout the 2003 competition, admirers of the geeky Carolina crooner's voice steadily grew, evolving into a nation of ticket/CD-buying fans for the Season 2 runner-up.

The multitudes of Idol Found-Game Over followers became the Clay Nation, directing talent, time, energy, and financial support towards the singer's humanitarian goals, adopting his charitable causes and joining his campaign to make a difference for children around the globe.

Clay during AI2 Hollywood Auditions
"... the biggest thing about being an American Idol is
the influence someone has when they are well known."
Contestant a Man of His Word
In July 2003 in the middle of the AI2 Tour, Clay's advocacy for children with disabilities resulted in the formation of The Bubel/Aiken Foundation, bridging the gap that exists between young people with disabilities and the world around them.
In 2009, the foundation was renamed the National Inclusion Project to better portray its mission.
The health and educational needs of children around the world became central goals of Clay's 2004 appointment as a UNICEF Ambassador.

In addition to projects in the US, he has represented UNICEF in several countries, including Indonesia, Uganda, Afghanistan, Mexico, Somalia, and Kenya.
Inclusion Project Slates 3rd GFI
On Feb. 1, Clay and PGA professional Wayne Player will host the 3rd Annual Golfing for Inclusion fundraiser at the Mirasol country Club, Palm Beach Gardens, FL. In addition to a clinic by Player, GFI 2010 will feature a golf tournament, hole-in-one contests, live/silent auctions, extraordinary cuisine, and a special performance by Clay.
In addition to the live auction at Monday, online bidding is provided for several attractive items. Various avenues of participation are available through online registration at the Inclusion Project site.

The Gift of Life - Montage by SueReu
'Grace of God' by Clay Aiken
The colossal relief required by Haiti, rocked by a 7.0 magnitude earthquake on Jan. 12, immediately became a project of the Clay Nation. Spearheaded by SueRue, the singer's fans are donating through a special link at UNICEF: From the Heart of the Clay Nation.
When the original goal of $2,000 was reached, a second was set at $3k. That met, CA fans are now 78% towards achieving the third goal of $4,000. One hundred per cent of the donations will aid the children of Haiti.
The "Gift of Life" montage, accompanied by Clay's "Grace of God" track, can also be viewed at YouTube.

International Media Promises News

An upcoming CD from Decca and a March PBS taping has the Clay Nation on guard. According to the latest Facebook post by International Media, production company for public television, the next two weeks will be anything but calm in Clay Land:

BIG Clay Aiken announcement coming in two weeks: venue, date and location information will posted here and on our website. Stay tuned. Thank you for sharing your interest and excitement with us!
One of the best descriptions of fan excitement level and angst for March 12 details was posted Monday by
mumm fums
at the Clayversity message board:
Clay's invented a whole new meaning to "March Madness"!!!
Ironically, the Atlantic Coast Conference College Basketball Championship is March 11-14, the same weekend in question, 60 miles west of Raleigh in Greensboro. March Madness indeed!!!
Below is a clickable of
cindilu2
's lead graphic: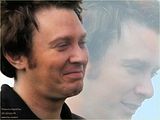 Have a wonderful week, Clay Nation!
Caro