Memories of 2009 - Montage by LovesClaysVoice
Fans Anticipate 2010, Decca Decade

Montage Bids 2009 Farewell

The old year is winding down; and, like everyone the world over, Clay Aiken fans are recalling highlights of 2009. Even more pronounced, however, is the immeasurable anticipation of 2010!

"Memories of 2009" by LovesClaysVoice replays the departing year with a parade of events including Clay's final performance of "Spamalot"; Golfing for Inclusion fundraiser of the National Inclusion Project; GLAAD presentation; judging stint on "America's Next Top Model" with Tyra Banks; Family Equality Council Award; guest performer with "David Foster & Friends" Concert; "30 Rock"; Capital Awards; Champions for Change Gala; and a second surprise appearance at another DF&F Concert.


BULLETIN: In his capacity as UNICEF Ambassador, Clay posted an excellent essay at 6:23 a.m. 12/29/09 on The Huffington Post: Progress in Somalia Despite Difficult Circumstances. Readers who click on Clay's byline are taken to his UNICEF bio.

The 2009 montage plays to the beautiful song "Shine," performed by William Joseph, pianist-composer. LCV has provided a Sendspace link for those who would like to download the video. Memories of 2009 can also be viewed at YouTube.

William Joseph was the opening act for Clay's 2005 Joyful Noise Tour, covering 36 cities in the US and Canada during November and December. His latest album, Beyond, is in stores now.

The song "Shine" is from the multi-artist album EFY 2009 - Be Thou an Example. Originally produced for Especially for Youth participants, the CD was released to the public at the end of the summer. Individual songs can be downloaded at the site link.

PHOTO INTERLUDE: In honor of 2009's "Very Best of Clay Aiken" compilation, the clickable overview begins with the artistic cover and features graphics by cindilu2, 1; Fountiandawg, 2, 4, 6, 8, 10; AmazingCA, 3, 5, 7, 11; and Ashes, 9. Photographers include Katy4Clay, 5, and BigAppleforClay, 10.

New Decca Chapter Blasts Off

During down time, Singer Man's fans reminisce about past performances, stream, vote, chat, share favorite videos, photos, graphics, even recipes.

All the while, alert sentries maintain Internet vigils via Google, Twitter, and other news/social networking sites for any hint the tide might be turning. In the late afternoon of Aug. 27, a simple tweet -- Just met Clay Aiken! -- sounded the alarm throughout Cyberspace.

Within minutes, message board sleuths knew the twitterer's name, rank, and serial number: Drew Farrar, music publicist for Decca Records in New York City. Ten minutes later Clay's new label posted a photo via TwitPic of the singer with David Novik, head of A&R for @deccalabelgroup.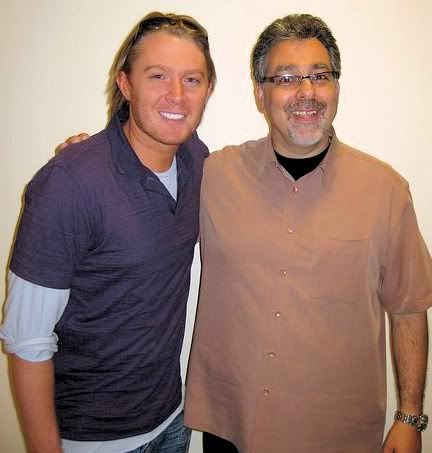 DECCA JOURNEY BEGINS - Clay met with Decca vice president David Novik in late August. - Photo from TwitPic.
Global Fan Response Surprises Decca
Views at the TwitPic site, which hit 10,000 by midnight, are closing in on 32k. Fans discovered YouTube video blogs in which Novik was interviewed about the music business. Twitter and TwitPic were flooded with excited comments from fans from around the globe.
Faithful Japanese fans chimed in at TwitPic: All the Clay fans from Japan are looking forward to his new music. Please get him to come over to Japan!
Apparently surprised with the outpouring of excitement from CA fans worldwide, Decca at Twitter responded with this tweet:

With apologies to VP Novik, visual artists immediately converted Clay's portion of the pixels into graphics, banners, avatars, and other designs. The clickables are by
AmazingCA
,
Fountiandawg
, and
cindilu2
.
The Clay Nation bids 2009 a fond farewell and knows the best is yet to come! Bring on 2010!

Caro