Clay Aiken: O Holy Night and More
Montage by SueReu
Joyful Noise 2004-07
Cyber Tour Embraces New Video
In one fell swoop, SueRue's new montage of Clay Aiken singing "O Holy Night" and 'O Come, O Come, Emmanuel" steered the "virtual tour" bus through seven concert performances across the country and four holiday seasons, 2004-07.
OHN videos included are Atlanta 04 (Scarlett); Louisville 05 (Secretly Loves Clay), Portland 05 (Spotlightlover); and Erie 07 (Scarlett). The 2006 Emmanuel videos by SLC are from the Red Bank, Englewood, and Williamsport concerts.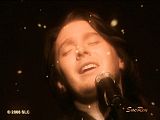 Clickable OHN screen cap
Secretly Loves Clay/SueRue
My students and I have performed both songs in a variety of solo and ensemble settings. The Russell Mauldin arrangement of "O Come, O Come, Emmanuel" will be part of the Lessons and Carols choral-orchestral program my oboe and I will play this weekend.
The histories of O Holy Night and Emmanuel could not be more different. These brief background sketches are from Wikipedia:
"O Holy Night" ("Cantique de Noël") is a well-known Christmas carol composed by Adolphe Adam in 1847 to the French poem "Minuit, chrétiens" (Midnight, Christians) by Placide Cappeau (1808-1877), a wine merchant and poet. Cappeau was asked by a parish priest to write a Christmas poem. It has become a standard modern carol for solo performance with an operatic finish.
In the carol, the singer recalls the birth of Jesus. It was translated into English by Unitarian minister John Sullivan Dwight, editor of Dwight's Journal of Music in 1855, and lyrics also exist in other languages.

On 24 December 1906, Reginald Fessenden, a Canadian inventor, broadcast the first AM radio program, which included him playing "O Holy Night" on the violin.
"O Come, O come, Emmanuel" is a translation of the Catholic Latin text ("Veni, veni, Emmanuel") by John Mason Neale in the mid-19th century. It is a metrical version of a collation of various Advent Antiphons (the acrostic O Antiphons), which now serves as a popular Advent and Christmas hymn.
Its origins are unclear, it is thought that the antiphons are from at least the 8th Century, but "Veni, veni Emmanuel" may well be 12th Century in origin.

The text is based on the biblical prophesy from Isaiah 7:14 that states that God will give Israel a sign that will be called Immanuel (Lit.: God with us). Matthew 1:23 states fulfillment of this prophecy in the birth of Jesus of Nazareth.

It is believed that the traditional music stems from a 15th Century French processional for Franciscan nuns, but it may also have 8th Century Gregorian origins.
In addition to the player above,
Clay Aiken - O Holy Night and More
can be viewed at YouTube. You can download the montage with this
Sendspace
link.
PHOTO INTERLUDE
:
These clickables highlight the 2007 Christmas in the Heartland Tour. Included are

AmazingCA

's graphic

, photos by

Riversend

, 1; concert photos by

Five Goldens

, 2, and

Invisible926

, 3; graphic by cindilu2, photos by

toni7babe

, 4; and

ACA

's graphic, photos by

ClayIzzaQT

, 5.
Internet 'Aunties' Create Montages

With the huge bundle of photos and videos received during Thanksgiving Weekend, two online "aunties" -- Ashes and Aspiegirl -- surprised me with montages of grandchildren Kai and Lia.
Punchy from a full day of visiting, the two were entertaining themselves before bedtime. Thankfully, their mother grabbed her camera.
Lia giggles throughout most of the montage by Ashes. Upon receiving a preview, a North Dakota auntie-friend suggested that Kai is his sister's personal comedian, while a Canadian counterpart remarked, "You can't help but laugh out loud when babies laugh right from the bottom of their tummy. Kai is really a great little brother!"

Montage by Auntie Ashes
Big brother, who has always been intrigued with buttons on all devices, understands speed-dialing, last caller, redial, etc., at aged 2. Last week Poppy, in the midst of substituting at a local high school, was flabbergasted to receive a phone call from our two-year-old grandson. I need to make sure he knows Grandma Caro's number, too!

Aspiegirl's montage, which also incorporates scenes from Kai's first year, is accompanied by Clay singing "On the Wings of Love." Many thnx to our grandchildren's special, talented aunties!

Montage by Auntie Aspiegirl
12/11 ADDENDUM: Happy Birthday to the mother of Kai and Lia! In years past, I have blogged about the mid-December morning that Santa came early. The 2006 entry was titled Musical Weekend Alters Birthday.
Have a wonderful week celebrating this holiday season, Clay Nation!