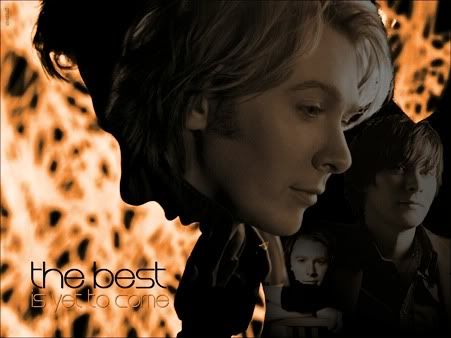 BEST IS YET TO COME -- As the Wrapping for Inclusion campaign winds down, Clay Aiken fans look to 2010 and the singer's new album with Decca Records. Graphic by cindilu2.
Holiday Introduction to Inclusion
WFI Raises Funds, Awareness
We are, as they say, the product of the choices we make. I challenge each of you to make the choice that leads to full access, celebrating the human rights we all deserve. When you see a child in a wheelchair, will you choose to see the child? Or the chair?

When you stand in the presence of someone who cannot speak, will you choose to hear only silence? Or will you choose the tapestry that is found in the language without words?

When you're facing parenting or teaching a child with a disability, will you choose to be overwhelmed by the challenges? Or will you choose to recognize a different kind of hero who brings you one of life's most precious gifts, hope?" -- Clay Aiken, Voices for Change, 2005
No fundraiser of the National Inclusion Project, founded six years ago by Clay Aiken and Diane Bubel, parallels a unique, nationwide appeal with one-on-one introductions to the foundation's mission better than the Christmas season's Wrapping for Inclusion campaign.

As stated on the foundation's website, the goals of the volunteer WFI effort seek to raise awareness and support for the National Inclusion Project, spread holiday cheer, and have fun. In compiling experiences from some of this season's wrappers, I would say the participants are accomplishing all of the above.
Originally the Buble/Aiken Foundation, the National Inclusion Project underwent a name change in 2009 to better identify its purpose.

You can learn more about the programs, resources, and activities for making a difference through the National Inclusion Project by visiting the charity's website. Our Story outlines the organization's history. Specifics on the holiday project are available at the WFI link.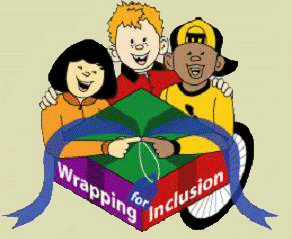 These reports from three Clay Aiken message boards have been abbreviated but not much. There are hundreds of CA fan boards with equally compelling experiences to share from WFI this season. I hope others will be add theirs in the comment section.

PLAYBILLER
: I worked a WFI stand alone in a book store. There was not much action, the store paper was not very festive, so most people were asking directions to the rest rooms.

One man came by, looked at the banner, had two gifts wrapped, and donated. He reacted to the usual spiel about this wonderful organization with a knowing nod. He returned later with another book to be wrapped and commented that he has a disabled child and understands the need and benefits of inclusion.

We talked about how the typical child is helped by being in an inclusive environment. While wrapping still another book, I told him about the K-12 syllabus. He said he was aware of it and that his son was not in the norm spectrum.

The word "spectrum" alerted us that he is well aware of the work needed for inclusion. He talked about the difficulties he confronted before his town finally got with the program.

We mentioned the grant program for disabled children to participate in community aid. He then told us that his eight-year-old son, determined that all children receive toys this Christmas, asked his friends to donate used and "lightly used" toys.

The project became a very successful school program, and a rental truck was needed to deliver the toys. We congratulated the proud father on his amazing son and urged him to contact TNIP and tell his story.

It was the perfect end to the day. Stories like this make me think that the name change was a very good idea. People can see in the name just what the foundation stands for -- inclusion.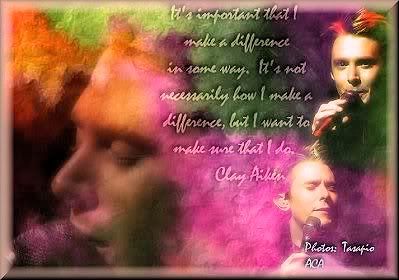 Making a Difference: Graphic by AmazingCA, photos by Tasapio
AIKIM: The best thing Clay ever did was change the name of the Foundation because the word "inclusion" is like a magnet. Today two women saw the word, and their eyes lit up. They both have boys with autism and were very interested in the Foundation and its work.

We had lovely conversations with them, and that is what it is all about -- getting the word out and seeing the interest.
CLAYLOVE: Friday I had two groups of volunteers signed up for shifts at Borders while I was at work. Unfortunately, one of the scheduled wrappers did not show up, leaving a volunteer who is hearing-impaired to manage the shift.

Instead of texting me in a panic, she contacted a friend who is also hearing-impaired but has some limited hearing and speech abilities to come work with her.

The two worked the four-hour shift completely on their own and communicated quite well with the public using alternative methods such as writing on pads and passing them back and forth, pointing, using hand gestures, etc.

The volunteer and her friend may not have been able to describe in audible words what the National Inclusion Project does, but they represented the mission of full inclusion beautifully. They did a fantastic job, and I hope both pf them will join us again next year.

RCKNRLLMOM: Nine days of wrapping and four to go, weather permitting! I wrapped one present for a woman, and she asked about our charity. When I said "National Inclusion Project," she exclaimed, "Oh!" ... and gave me $20.

This season we have enjoyed working with young people, and they have said how much fun the project is. My daughter explained to a man about the NIP, and he told her of his nephew who was included and how he was able to keep up with other kids. The man asked if he could just make a small donation that might put a smile on a child's face.

In the photo of our mall setup, you can see a couple of the guys who volunteered. The mall gives us the space and tables every year at no cost to us.
Today a couple of people asked me if I ever go home, LOL!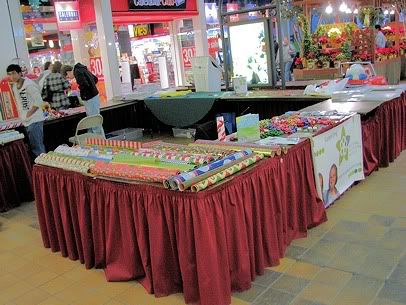 Double-click to expand WFI in Mason City, IA - Photo by Rcknrllmom
RHODE ISLAND FAN: Last night was my first time to wrap for inclusion. When I explained that supporters are Wrapping for Inclusion all over the country, people are very impressed. Their faces lit up when we outlined the goals of the National Inclusion Project.

One man explained he is very pleased about the project because his son has Downs Syndrome. Another woman told us of her niece who is blind and has participated in inclusive camps.

RI is the smallest state, and it turns out I taught at the school the niece attended 10 years ago. I was so happy to learn that she will be entering college as a freshman to major in journalism.

A lovely young teenager picked up our information card. Even though she didn't have anything to be wrapped, she beamed as she read about the project and showed it to her mother as they left the store.

It felt so good that not only were we raising money for the project, but we were also getting the voice of the project heard.

Every year since 2004 Clay has been such an important part of my Christmas because of his beautiful songs and his concerts and because of who he is.

Now WFI will also be a part of my Christmas every year. I look forward to doing it again next year. It's one of those times where you get more than you give.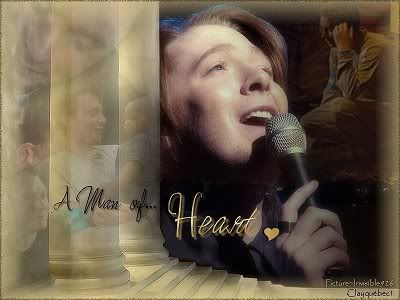 A Man of Heart: Graphic by Clayquebec1, photo by Invisible926
CABLEGIRL
:

I have wrapped everyday, each with new volunteers and new adventures. Saturday was a long 12-hour day with three different sets of volunteers working four-hour shifts.
The first group included two sisters and a woman who just moved from Texas to Illinois and loves the snow. They are very nice ladies who really got into the wrapping and loved what the Project is doing.
My second group of thee included a mother and her two daughters. The older daughter, a sophomore and part of a new local youth service group. She signed up and convinced her sister and mother to join her. Last summer she helped build homes in Costa Rica.

The last group of three were teens, two boys and a girl from a local church service group. The boys were not the best of wrappers, but they tried. I asked them if they would switch with me and be the ones to stand by the door and direct people over to our wrapping area. They jumped at the chance.

We were located in a Barnes & Noble store that was really busy and so were we. The customers we wrapped for were in a festive mood, generous, and impressed with the work the Project is doing. The conversations generated by the word INCLUSION in the name have been incredible.

A few folks Saturday knew a child with a disability. The one that stands out most from this full day was the woman who, after we discussed the Project and what the NIP does, talked about her son who is disabled.

She became very emotional and with tears in her eyes said, "Thank you, thank you for what you are doing and for what the NIP is doing. You have made my day, and you should be proud of yourselves."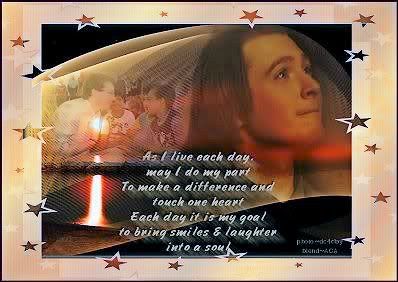 To Touch a Heart: Graphic by AmazingCA, photo by dc4clay
AIKIM
:
At the end of the evening Saturday, we were preparing to close up when a woman stopped with several gifts to be wrapped. While wrapping, we told her about the Project. She was very interested and then became quite emotional telling us about her brother with special needs and how much the Project would have meant to him when he was younger.

She described their attempts to send him to camp and then being told to take him home. He is 19 now, but she was so excited about The Project that she actually volunteered right then to help us wrap next year and took information to pass out at her church.

She left us names and numbers and said her mother would also be interested. It was such a wonderful and heartwarming way to end the evening. We are very excited to have additional wrappers next year because this means we can schedule more days!
SUEREU
: It's wonderful to talk about the Project. Most people are so impressed with the mission and the vision. It makes me very proud to be a fan of Clay Aiken.

While I was wrapping, a woman who has a disabled child was thrilled to see the word "inclusion" in the name. She's been working hard to make it a part of the vocabulary of the schools her child attends.

I finished up my third round of WFI Sunday. As we were getting ready to leave, my 11-year-old son pulled $5 out of his pocket, part of his Christmas present from his grandparents, and placed it in the donation jar. I told him that was very kind and he just looked at me and said "I believe in the cause, and I want to help".

I wish I could thank Clay personally for everything that he's given not only to me but to my family. My son is now giving without blinking an eye because it's the right thing to do.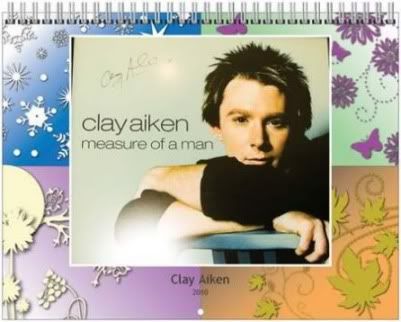 2010 National Inclusion Project Calendar cover
Calendar Raises $718 for Inclusion
The 2010 National Inclusion Project calendar produced for CA fans by Rosa Shurtz raised a total of $718. Included with the check mailed to Aron Hall at NIP headquarters in Raleigh was a list of names and addresses of those participating in the fundraiser.
According to Rosa's report, 111 calendars featuring photos by toni7babe were sold. Theh cover is shown in the picture above.
Below is a clickable of cindilu2's opening graphic: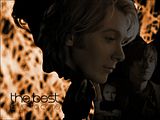 Wishing all a joyous Christmas Week!