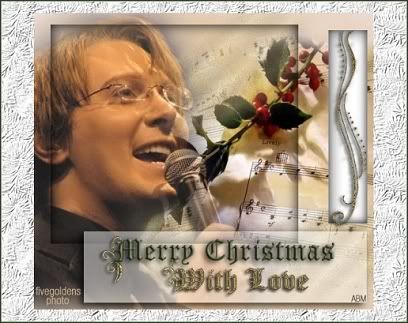 MUSICAL GREETING -- A Beautiful Mind created the MCWL holiday graphic with a Clay Aiken photo taken by fivegoldens during a Joyful Noise concert.
Merry Christmas With Love

Student Recitals Greet Holidays

Holiday student recitals have become a giant "Merry Christmas With Love" greeting card, celebrating the season and honoring the parents who make music lessons possible throughout the year.
From scheduling and supporting to coaching, encouraging, and cajoling, parents play vital roles in the music lesson cycle. This week's performers represent young musicians from my home studio and Wesleyan Christian Academy's program.
In this blog's intermission, Clay Aiken sings holiday greetings in a montage of "Merry Christmas with Love," title track of his 2004 holiday album. The platinum MCWL was recognized by Billboard as the Best Selling Christmas Album of 2004 and the Best Selling Christian Album of 2005.
Pianists Play to Packed House
In Wednesday's holiday recital, piano students played to a living room packed with a friendly audience of 21 receptive parents, siblings, and friends.

All available seats -- sofa, chairs, bass stool, floor pillows -- were crowded into the modest "concert hall" for the occasion. Appropriately, an old stool once belonging to our family's musical matriarch was even called into service.
The program consisted of a variety of holiday songs mixed with piano literature, a show tune ("Beauty and the Beast"), and an original composition by Caleb, sixth grade student, entitled "Arabian Knight."
Perhaps the most excited performer was Chase, who has studied less than a month at the academy. He and his five guests arrived early, so I asked if he would like to practice our duet selections and try out the grand piano.
As he approached the bench, I noticed his arms were visibly shaking. Touching his wrists, I asked if he was nervous; but he shook his head, "No, just cold!" Sure enough, the minute we started playing he was cool, calm, and collected. No doubt, one or more of his guests captured his piano debut on camera.
Musicians Boost Holiday Repertoire
Since we have devoted much of December to Christmas music, most students have acquired an extensive repertoire of carols and holiday tunes to share with their families during the school break.
The afternoon's final performer was Emily, a high school senior who was 10 minutes late due to extra heavy traffic. Almost everyone hung around to hear her play a Rocherolle arrangement of "What Child Is This?" and the exposition of Mozart's Sonata in F, K. 332.
Imagine the expression on this student's face as she stepped into a room filled with a wall-to-wall audience quietly waiting. Calmly, Emily put down an armful of literature books, reversed the order of her pieces, and warmed up with the slower, softer carol. Later at her piano lesson, senior cool evaporated and she exclaimed to the teacher, "Now that was pressure!!!"
This teacher is always pleased when musicality shines through. Despite some nerves, dynamic differences, shadings, and echoes were present. High fives to Jeremy, Noah, Chase, Christian, Jessicca, Joseph, Caleb, and Emily for the gifts they shared with their families and each other.


Merry Christmas with Love - Montage by iloveclay101
Clay Aiken's Merry Christmas with Love CD was released by RCA Records on Nov. 16, 2004. The album was re-released on Aug. 18, 2009 on the Sony label and is available through Amazon and other online sites.
Featuring videos by Hippoga, SecretlyLovesClay, Scarlett, and Clack Unlimited from the 2004-06 Joyful Noise tours and television appearances, the Merry Christmas With Love montage by iloveclay101 can also be viewed at YouTube.
Written by Greg Wayne Davis and Bill Smiley, the MCWL was first recorded by Sandi Patti for a 1983 Christmas album.
Merry Christmas With Love

She leaned with her head on the window
Watching evergreen bend in the snow
Remembering Christmas the way it had been
So many seasons ago.

When children would reach for their stockings
And open the presents they found
The lights on the tree would shine bright in their eyes
Reflecting the love all around.

This year there's no one to open the gifts
No reason for trimming the tree
And just as a tear made it's way to the floor
She heard voices outside start to sing.

Merry Christmas to all who may dwell here
Merry Christmas if even just one
May the joy of the season surround you
Merry Christmas with love.

Carolers sang as she opened the door
Faces of friends in the crowd
And all of the shadows of lonely reminders
Driven away by the sound.

Now the heart that for years had been silent
Was suddenly filled with a song
As she clung to their hands like a child in the night
She found her self singing along.

Merry Christmas to all who may dwell here
Merry Christmas if even just one
May the joy of the season surround you
Merry Christmas.

Merry Christmas to all who may dwell here
Merry Christmas if even just one
May the joy of the season surround you
Merry Christmas with love!
Below are clickables of MCWL graphics by

AmazingCA

, photos by

Riversend

, 1;

A Beautiful Mind

, photo by

fivegoldens

, 2; and Ambassador of Love, photo by

toni7babe

, 3.
Strings Share Holiday Sounds

Thursday's program starred a trio of sixth grade violinists, one who started just last summer. Video for a grandmother unable to attend commenced at the downbeat. Although smaller in numbers, Thursday's audience still created plenty of applause.
For this session, students usually rehearse for 30 minutes and perform during the second half of the class. Sharing harmony lines and solo sections, the trio played nine carols, opening with "Adeste Fidelis" and ending with "We Wish You a Merry Christmas." Suzuki, Handel, and Lully were also represented as each programmed a piece from her fall literature studies.

To me, a heartening note was the young ensemble playing together for the first time and sounding as if we had a week of intense rehearsals under our belts. Applause to Anna, Erica, and Ora, whose afternoon of joyful music set the tone for the season.
Students Lobby for Gift Bag Goodies
As an aside, the contents of the annual gift bags from the teacher apparently have attained levels of monumental importance. Students know that a new pencil for marking music is an automatic.
However, the past week's lessons yielded some intense lobbying in the stream of hints for such goodies as hot chocolate with marshmallows, candy canes, and pop corn.
The colorful bags decorating the grand piano earlier this week are now gone. Hopefully, their contents and the music learned for the Christmas season will be re-opened often in the coming days.
A Beautiful Mind surprised me with these Christmas designs of grandchildren Kai and Lia.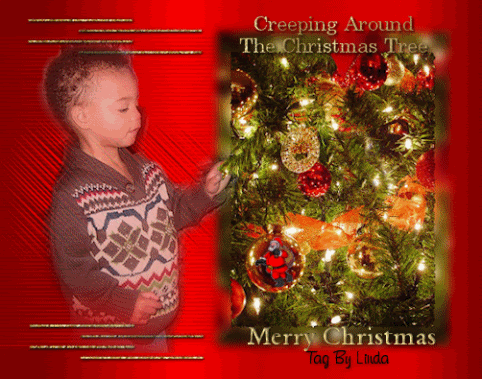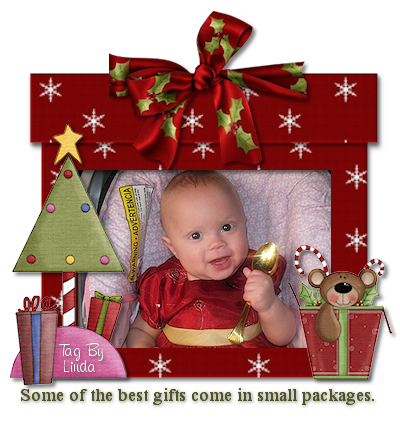 Have you performed in a holiday student recital, been the music teacher, the parent, or all of the above? Do share your experiences in a comment below.
Have a wonderful week, all. Merry Christmas With Love!