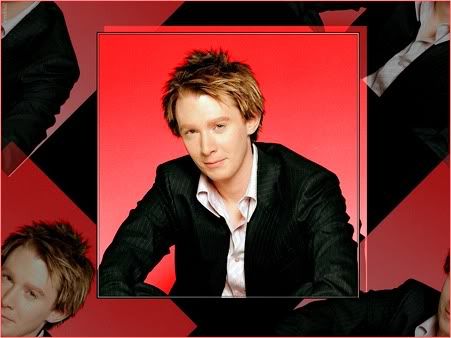 DECEMBER DESIGN -- With the dawn of the year's final month, cindilu2 created a December 2009 calendar with and without dates. Clickables are in the interlude.
There's Music in the Air
Clay, Christmas Perfect Match
Ring Christmas bells ... Christmas time is here!
Evidence that Clay Aiken and Christmas music are synonymous is everywhere during the holiday season -- radio playlists, shopping mall speakers, loops of songs resounding from my computer.
The latter take a break during afternoon music lessons when violin/piano students are preparing for this season's holiday recitals. December is always such a fun month with technical studies, theory pages, and even legitimate literature take a back seat while we polish two programs of Christmas selections.
Most of the pianists will play duets with their teacher, and the violinists will enjoy playing carols in three-part harmony. The programs will also include a bit of Bach, Lully, Mozart, and Schumann as students perform solos from their fall studies.
The grand piano is scheduled for an early morning tuning Wednesday, after which housecleaning and decorating will top my TO DO list. On Dec. 16-17, my modest living room will once again realize its limitations as we host performers, parents, and siblings who don't mind sitting on floor pillows.
We have two weeks to weed out any wrong notes. Christmastime is here again!

Christmastime - Montage by Aspiegirl
The Christmastime montage by Aspiegirl features music and images from Clay Aiken's Joyful Noise Tour of 2005. I love this song, as the holiday preparations embody the activities of my music students and children everywhere. It also inspires visions of my grandchildren many miles away.
The montage can be viewed in the player above or at YouTube. These are the opening lyrics:
Christmastime Is Here

Ring Christmas bells
Ring them loud with the message bringing
Peace on the earth
Tidings of good cheer
Come carolers
Come and join with the angels singing
Joy to the world
Christmas time is here again

Children gather around and listen
You'll hear the sound
Of angels filling the sky
Telling everyone
Christmas time is here
Tree, Snowflake Flip Holiday Switch
Lighting of the Rockefeller Center Christmas Tree and the UNICEF Snowflake annually signal the beginning of New York City's festive season. The snowflake's switch was flipped on Nov. 19, the eve of Universal Children's Day, and this December's tree lighting was Wednesday.
In 2004, Clay co-hosted and sang for the ceremonies at Rockefeller Center. He was joined by Darryl Dawkins for the 2006 lighting of the UNICEF snowflake.
Featured in the photo interlude are clickables of the December calendar and lead graphic, cindilu2, 1 and 5; Christmas in Rockefeller Center 2004, Fountaindawg, 2; Joyful Noise Tour 2005, Invisible926, 3; and the 2006 UNICEF Snowflake lighting, Clayquebec1, photos by butterflyshine, 4. For wide screen versions of cindilu2's graphics, link to her Yuku page.
A Special Thanksgiving for Kai, Lia
Any normal person with a TODO list like mine would stop right here and wish you a happy weekend, but I'm a grandmother with a few more photos to share. The clickable pictures of Kai and Lia were taken by their mother during a Thanksgiving gathering with friends.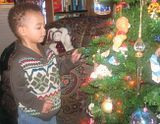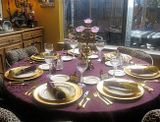 Before Thanksgiving dinner, Kai took a
closer look at the Christmas tree.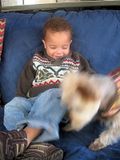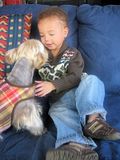 ... and roughhoused with the host's dog.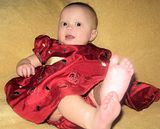 Fashionable in Christmas red, Lia carried her own
special gold spoon to the dinner. Then it was time
to rest: "Oh, could someone pass me a grape?"
Thursday I received the handsome 2010 Clay Aiken Calendar that

Rosa Shurtz

printed as a fundraiser for the National Inclusion Project. Like last year, she placed the final five calendars on Ebay and will sell the group to the highest bidder. This is an excellent gift for CA fans.

If you are interested, see Clay Aiken Calendar at Ebay. Bidding ends Sunday, Dec 6, at 14:05:26 PST. Each month features a different photo by

toni7babe

, all of whcih are visible at Ebay. Below is a clickable of the cover photo: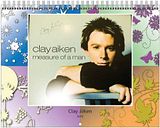 Many thnx to
A Beautiful Mind

for my festive siggy!
Have a wonderful weekend, Clay Nation!