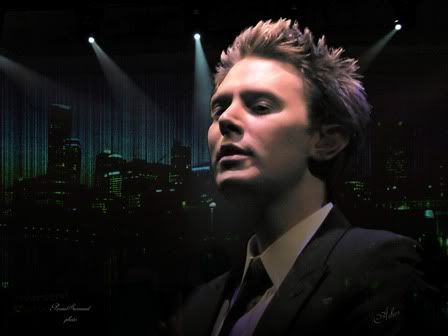 CITY LIGHTS -- Ashes featured a photo by PermaSwooned in this handsome graphic.
Fans Anticipate 2010 Album
Clay Aiken a Worldwide Success
Press on Clay Aiken's Nov. 30 birthday was especially positive, one article even going so far as to hint that Singer Man is contemplating trying his hand at a rap album.
This is from the
MTV
story about celebrity birthdays on Nov. 30:
Even if he didn't win "American Idol," there's no question that Clay Aiken is one of the most successful talents to emerge from Fox's musical phenomenon. From a number of widely acclaimed albums to a hilarious run on Broadway as Sir Robin in "Monty Python's Spamalot," Clay has deservedly earned attention and adoration from fans all around the world.


Honestly, there isn't much that Clay hasn't accomplished already in his relatively short career, though I'd personally love to see him try his hand at a rap album. Not only would it be hilarious, but I bet it'd be surprisingly good, too!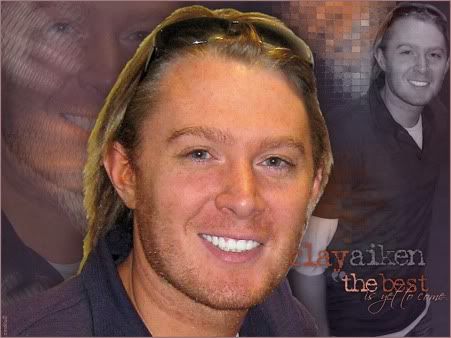 THE BEST IS YET TO COME! -- Graphic by cindilu2
An outstanding overview of Clay's entertainment career and humanitarian work was posted with birthday greetings on the American Idol News site:
Clay Aiken, the popular Season 2 runner-up, has done everything from releasing albums to touring to performing on Broadway to acting on TV. The 31-year-old Raleigh native's more recent debut is becoming a father to son Parker.


After a successful run on American Idol's second season, Clay was signed to RCA Records. He released five albums on the label, the multi-platinum debut album Measure of a Man in 2003, Merry Christmas with Love in 2004, A Thousand Different Ways in 2006, the 2006 EP All Is Well, and On My Way Here in 2008.

On March 31, 2009, Clay released Playlist: The Very Best of Clay Aiken, a compilation of some of his greatest hits which included "Solitaire" and "Bridge Over Troubled Water," songs that Clay sang as a contestant on American Idol.

Clay has launched eight tours and authored a New York Times best-selling book called Learning to Sing: Hearing the Music in Your Life. He's also had a number of television appearances including the 2004 televised Christmas special A Clay Aiken Christmas which he also executive produced, Scrubs, Saturday Night Live, and 30 Rock.


In January of 2008, Clay made his Broadway debut as Sir Robin in Monty Python's Spamalot. We caught up exclusively with Clay in 2008 to learn more about his role in Spamalot. Read the 1/15/08 interview.


Before becoming an American Idol superstar, Clay tutored a child with autism. Due to his passion to help children with autism, Clay co-founded the National Inclusion Project in 2003 with the mother of the boy he tutored.


In 2004, Clay was appointed to National Ambassador for the U.S. Fund for UNICEF, and in 2006 he was appointed for a two-year term to the Presidential Committee for People with Intellectual Disabilities. UNICEF has sent Clay to countries around the world.


This month, Clay posted a blog that revealed he's been traveling to record music for his new album. "I am quite happy with what we are doing this time, and extremely satisfied with the direction we are headed in on this album," Clay said.
A great read with much promise for an awesome new Clay Aiken album with the Decca label in 2010 -- probably minus the rap angle, however!


WORLDWIDE STAR - Clay Aiken fans span the globe. (Carolina ClustrMap)
134 Countries Dot 'Carolina' Map

Thought unscientific, indicators of Clay's worldwide popularity appear daily in the Carolina blog's ClustrMap and Feedjit Live Feed, which register home countries of this site's visitors. Since December 2007, residents of 134 nations have dropped by this corner of the Internet for the latest Clay Aiken news.

In the past 24 hours, due in part to a link at Clay Aiken - The Ideal Idol, a whopping 438 fans came to the Carolina site to read and wish Singer Man a Happy Birthday.

New countries this month's list include Nepal, Yemen (Asia); Cote D'Ivoire, Ghana, Congo (Africa); and Kazakhstan (Europe). The 134 countries representing every continent except Antarctica suggest Clay's fanbase is definitely global:
ASIA: Guam, Hong Kong, India, Indonesia, Israel, Japan, Korea, Malaysia, Micronesia, Oman, the Philippines, Saudi Arabia, United Arab Emirates, Singapore, Thailand, Brunei, Qatar, Republic of Korea, Taipei, Taiwan, Vietnam, Pakistan, Iran, Bahrain, Kuwait, Azerbaijan (Baku), Bangladesh, Cambodia, Mongolia, China, Sri Lanka, Lebanon, Maldives, Palestinian Territory, Brunei Darussalam, Asia/Pacific Region, Jordan, Nepal, Yemen

AFRICA: South Africa, Egypt, Morocco, Madagascar, Seychelles, Somalia, Kenya, Nigeria, Mozambique, Algeria, Uganda, Mauritius, Burkina Faso, Tunisia, United Republic of Tanzania, Djibouti, Angola, Cote D'Ivoire, Ghana, Congo

EUROPE: Austria, Czech Republic, Denmark, Estonia, Finland, France, Germany, Great Britain, Greece, Hungary, Iceland, Ireland, Italy, Lithuania, Netherlands, Norway, Portugal, Sweden, Romania, Scotland, Slovenia, Spain, Switzerland, Bulgaria, Belgium, Poland, Russian Federation, Luxembourg, Slovakia, Croatia, Serbia, Ukraine, Turkey, Malta, Georgia, Federation of Bosnia and Herzegovina, Sicilia, Andorra, Latvia, Europe, Moldova, Albania, Kazakhstan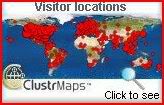 Thumbnail Carolina ClustrMap
Click to view larger version.
NORTH AMERICA: Canada, Costa Rica, El Salvador, United States, Mexico, Panama, Puerto Rico, Jamaica, Bermuda, Saint Lucia, Guatemala, Nassau, The Bahamas, Grenada, Trinidad and Tobago, Dominican Republic, Anguilla, Honduras

SOUTH AMERICA: Argentina, Brazil, Chile, Colombia, Paraguay, Peru, Uruguay, Venezuela, Ecuador, Bolivia

AUSTRALIA: Australia, New Zealand, Tasmania, Solomon Islands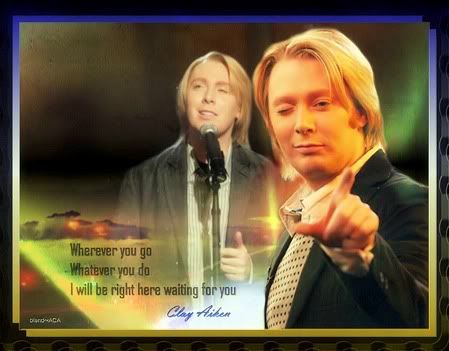 Right Here Waiting - Graphic by AmazingCA
The ClustrMap will be archived on Thursday, Dec. 3, and a new blank slate open to receive another year's worth of visitors. Hopefully, your red dot will show in an upcoming issue ... SOON!
This "Idol Found, Game Over" CA fandom excitedly anticipates the singer's upcoming chapter with Decca Records. For Clay and his Nation, the best is yet to come!
Below are clickables of the graphics by Ashes, cindilu2, and AmazingCA:
Have a wonderful week, Clay Nation!

Caro