Graphic by Cotton

Wishing all a joyous Christmas!
Recommended Playlist: 'Merry Christmas With Love' by Clay Aiken

Merry Christmas to all who may dwell here
Merry Christmas if even just one
May the joy of the season surround you
Merry Christmas with love!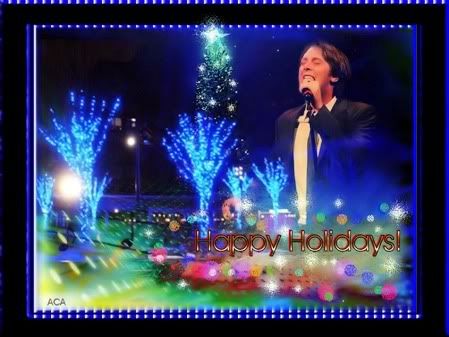 Graphic by AmazingCA
If "Merry Christmas With Love" is not filling your holiday airwaves, the solution is a click away with mp3 downloads at Amazon or other online outlets.
MCWL Playlist

Merry Christmas With Love
Mary, Did You Know
Hark the Herald Angels Sing/O Come All Ye Faithful
O, Holy Night
Don't Save It All for Christmas Day
Joy to the World
Sleigh Ride
Have Yourself a Merry Little Christmas
Silent Night
The Christmas Song
Winter Wonderland
What Are You Doing New Year's Eve?
Clay's 12/21/04 performance of "Mary, Did You Know" from MCWL is among the Christmas Day videos featured on the MSN website.
The clickable graphics below are by Lindylo, AmazingCA, and Cotton. Photographer of the first photo is zippy888.
Special thnx to the faithful who visit the Carolina blog throughout the year. Wishing you and yours peace, love, and all of the wonder of the season!