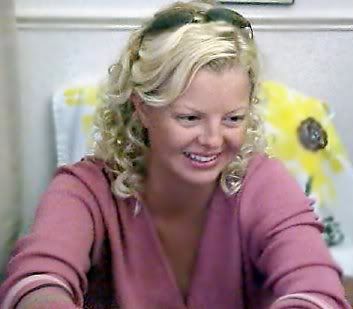 Jennifer during a visit to the Piedmont
When Christmas Came Early

Musical Weekend Alters Birthday
The second weekend of December has always been prime time for special Christmas music programs in Protestant churches. It was also the boon of our daughter's youth.
The most likely weekend of the year that both musician parents would be playing in church orchestras, complete with Saturday morning rehearsals and performances Sunday morning, afternoon, and/or evening, is not conducive to the celebratory staple of young girls everywhere -- a birthday sleep-over.
Even though Jen's life is now miles away, this past weekend I couldn't help but recall the times her father and I arranged special birthday parties and still managed to fulfill our orchestral obligations. While parties ran the gamut of skating, bowling, attending Nutcracker Ballet performances to gathering a flock of young girls for food and fun at the "in" pizza or hamburger hangout, the sleep-over phase always had to be postponed a week because even Super Mom and Dad couldn't provide breakfast, clear the premises, and be sitting in the oboe and percussion sections, respectively, for a 9 a.m. downbeat.
In 2006, the pattern is still the same. Both parents spent Saturday morning in rehearsals with performances on Sunday morning. Thirty-two years ago the birth announcement proclaimed that Christmas had arrived early for our family on December 11.


Three Generations Cheer for Clay
Longtime readers may recall that stories involving my mother are classics within our family; and Jen's 1974 birth date, described below, was no exception. During the second season of American Idol, all three generations shared an enthusiasm for a certain singer from North Carolina. With the assistance of Clay Aiken's talented fans, intermission reflects segments of his current Joyful Not a Tour.
TWO TOUR NOTES: Hampton Roads TV's video -- The Concert: Clay Aiken Christmas at Chrysler Hall -- includes portions of the Norfolk performance, as well as an interview with his mom, Faye Parker. The review of Sunday's Wilkes-Barre, PA, concert -- Aiken Injects Holiday Performance with Humor -- is certainly a keeper.
PHOTO INTERMISSION: This clickable interlude features graphic designs and photos from several visual artists, including MNmeesh, photo by Ambassador of Love, (1); Artz11, photo by Princessjodita, (2); Claystruck's attractive tour schedule with photo by Butterflyshine, (3); Amazing_CA, Baltimore photo by SmartyPantsSuz, (4); and concluding with "Merry Christmas With Love" by ABeautifulMind, (5).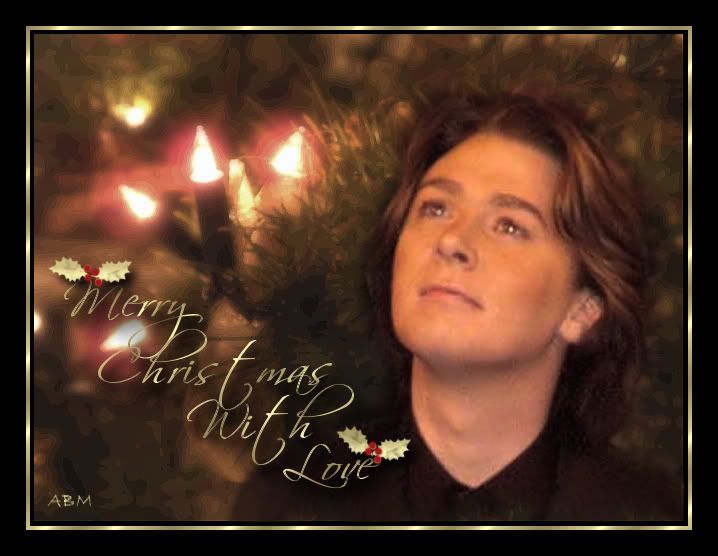 Stork Finally Finds Us
Mr. Caro and I were married nine years before our daughter arrived. For half that time, I was busy graduating from college, teaching band, and writing for newspapers while my husband, a percussionist, completed his music education degree. We had barely moved to Nashville -- midway between families in Texas and North Carolina -- when the stork finally found us.
For me, childbirth was a snap -- no morning sickness, hardly any labor, the birth of a first child within an hour of our arrival at the hospital. We had taken Lamaze Classes for prepared/natural childbirth and had faithfully practiced breathing techniques.

Rush Hour Hospital Run
During the harrowing 30-minute drive to the hospital in rush hour traffic, Mr. Caro dodged trucks while I put to use the breathing lessons we had learned. Once there, he calmly went through the routine of hospital admissions and his requisite morning cup of coffee while I logged in with eight centimeters dilation that quickly progressed to 10. He then entered a waiting room filled with haggard expectant fathers whose bloodshot eyes and morning beards spelled their sleepless night.
Before he could even locate a chair, the door opened and an obstetrics nurse barked, "Are you Mr. Caro?" He nodded. "Well, if you want to see your baby being born, you'd better come with me right now!"
Sure enough, about 15 minutes later at 9:05 a.m., we welcomed our daughter into this world. The drummer later asked me if I ever used any of the breathing techniques.
Proud New Dad
The proud new father spent many an hour gazing through the nursery window while our infant daughter slept. She must have known he was there because she often awoke and smiled back at him. On more than one occasion, he just grinned and listened while others "oohed" and "ahhed" about how pretty this baby was. December 11 must have been the birth date for the nucleus of a football team in this Nashville hospital because several visitors seemed to think Caro Jr. -- a very healthy 6 lb. 9 oz. -- was too tiny.
When one overly-concerned new grandmother finally asked if she was premature, Mr. Caro couldn't resist: "Nope, she was 10 years late." Of course, with a mother at 5'2" and a father claiming every bit of his 5'4 1/4" stature, our daughter was pre-programmed petite.
With family members 14 and 18 hours away, the new dad proceeded to try to alert the new grandparents. Early morning on a workday didn't help matters. Sitting by the phone, his folks in Odessa, TX, were easy to reach and elated at the news. Mine were a different story.
Spreading the Word
Frustrated with no way to reach my mother, who was teaching fifth grade in Wilmington, NC, at the time, Mr. Caro finally called the main office of the New Hanover County school system to determine her location and phone number. That plus a clever principal was all he needed.
Mama Mac had planned an important unit that day, and her presentation had already been interrupted several times. When the principal inquired by intercom if she would mind his making an announcement before she proceeded, we're told she replied, "If you must."
Delighted, the principal then opened up the intercom to the entire school and passed along the news:
"I've just received a phone call from Nashville, TN, and we'd like to congratulate Mrs. McDonald on becoming a grandmother at 9:05 a.m. today. Mother and daughter are both doing fine."
Following that brief celebration, the new grandmother no doubt completed her lesson as planned.


A Niche in the Arts
Though she tried taking piano from her mother for two "traumatic" years, our daughter later found her musical niche singing and playing the cello. Besides school ensembles, she performed as a cellist with the Nashville Youth Symphony through her senior year. Gifted with a beautiful voice and much better pitch than either of her parents, she sang in church choirs, as well as an excellent high school show choir.
Ballet and modern dance played a huge role in Jen's life from age five through high school. As a seventh grader, she was the youngest member of the Nashville Contemporary Ballet Company, which "pirouetted" across England before performing at the Shrewsbury International Music Festival. Mom also made the 10-day tour as a chaperone.
Jen's enchantment with Hawaii dates back to her childhood. Studying hotel management and travel at UNLV no doubt rekindled the flame. Following a series of youthful detours, she eventually adopted the islands as "her state."
Prior to that, she worked as an extra in the Wilmington film industry while taking classes and living with her grandmother. She can be spotted in several scenes of the Muppets from Space movie. My high school orchestra students were most impressed their director's daughter appeared weekly on Dawson's Creek. I literally spent an entire season watching background scenes only.
One of my favorite pictures of Jen was snapped by a photographer at a Music City holiday party when she was three years old, Christmas cookie crumbs embellishing her smile.



Christmas at the Keyboard, Age 3

Happy Birthday Week, Daughter!
Meanwhile, Mom has another gig tonight. Have a great week, Clay Nation!
Caro

RELATED TAGS: Clay Aiken, Christmas Symphony Tour, Joyful Not a Tour, American Idol, December 11 Birthday