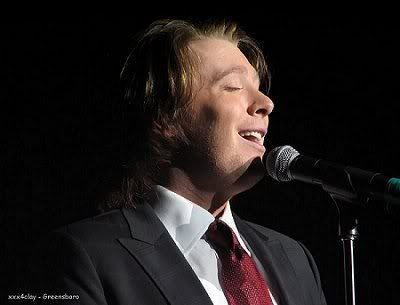 HOME CROWD -- Clay dazzles the North Carolina audience in this handsome photo taken by xxx4clay at the final Christmas Symphony Tour concert in Greensboro Saturday night.
Visual Memories in Photos, Graphics
Blogs Chronicle Holiday Tour
From countless new fan conversions, the special Bubel/Aiken-sponsored "Our Friend Mikayla" student authors' assembly in (Nazareth) Pennsylvania, and the many positive media reviews to the homecoming atmosphere of the concluding duo of Carolina concerts, bloggers have logged hundreds of words chronicling Clay Aiken's 18-city Christmas Symphony Tour during December.
For this edition, I am turning the journal over to an old adage and the wonderful photographers and graphic artists who not only keep this corner of Cyberspace decorated throughout the year, but who also have provided a visual memoir of the Joyful Not a Tour 2006. When possible, a link to the photographer's album or web site is included in the screen name so readers can peruse even more of these pictures that are "worth a thousand words."
Hopefully, you will welcome this stroll back through the JNaT as I honor the gifted artists who share their talent -- and friendship -- with the CA fan base all year long. New to this blog, this collection of photos and graphics is also clickable.
Snow storms arrived in the Midwest for the opening curtain; but Clay, musical director Jesse Vargas, and the touring crew were soon treated to more pleasant seasonal weather as the entourage made its way up and down the eastern seaboard Dec. 1 - 23.


Southern Concerts Escort Clay Home
The seven clickable photos in this section represent the final leg of the JNaT concerts. Photographers include xxx4clay (1), All4Clay (2), Simonncharge (3), and ClaysCharlotteGirl (4), Greensboro, NC; PinkCocoa/Ztilb (5, 6), Charlotte, NC; and Tasapio (7), Jacksonville, FL.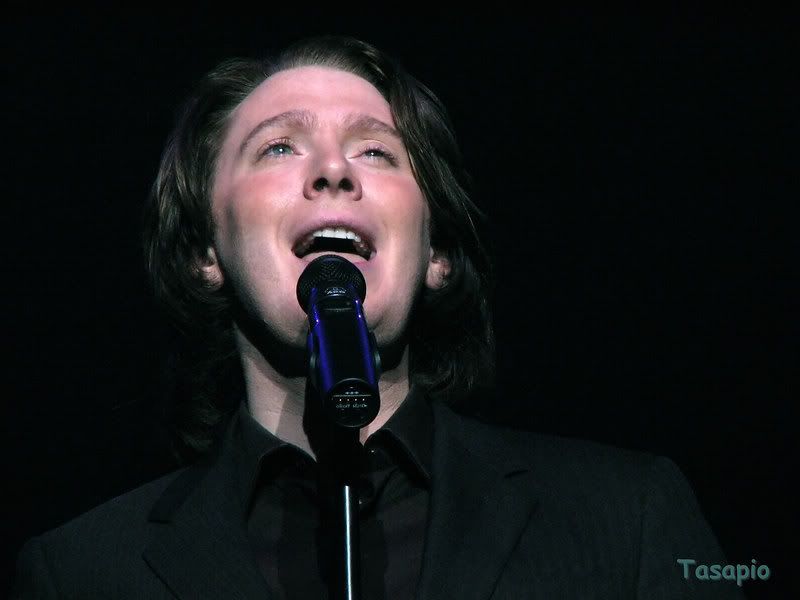 Graphics, Photos Replay Tour
Three graphics and four photos are spotlighted in this section, including Amazing_CA's colorful blend (photo by Scrpkym), 1; Invisible926, Red Bank, 2; dc4clay, Waukegan, 3; Katt45 graphic (photo by PermaSwooned), 4; Clayzthe1, when Clay danced with his mother in Norfolk, 5; KarenEh, Waukegan, 6; and Ambassador of Love's graphic (photo by Scrpkym), 7.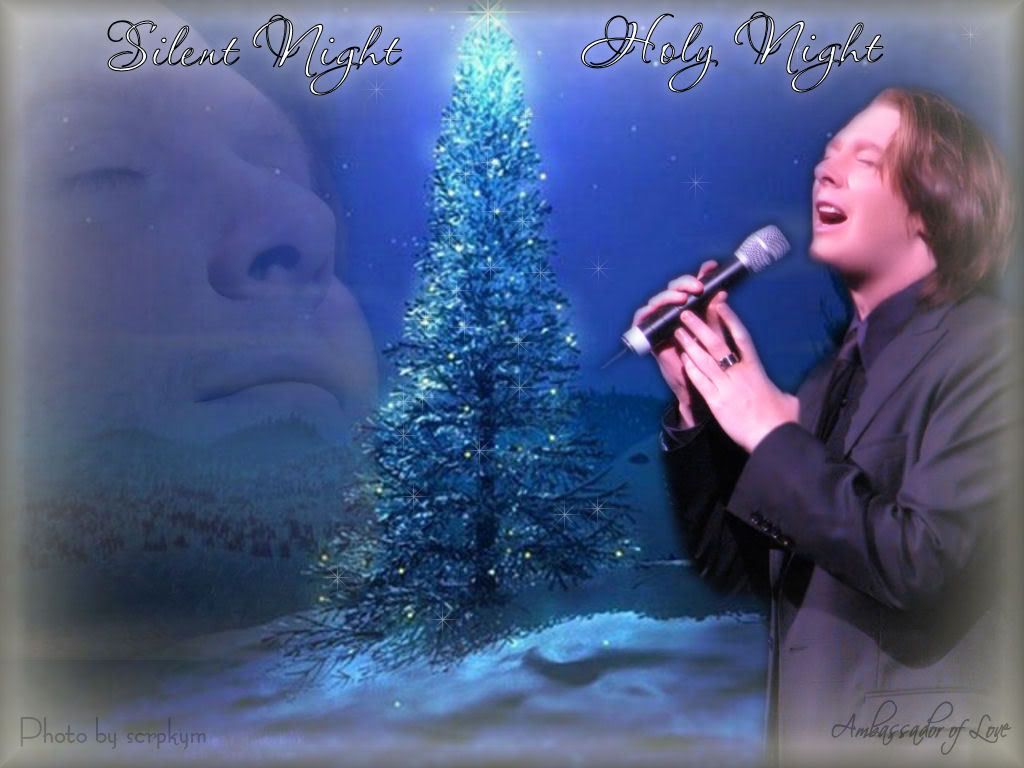 Concert Expressions Run the Gamut

This third segment begins with Clayquebec1's classic, "A Man of Heart," sporting a new photo by Invisible926 and encompassing several of Clay's humanitarian endeavors with UNICEF. An unending repertoire of facial expressions can be found in the collections of CA fan visual artists. Also featured below are Scrpkym, 2 and 5, West Point, and 6, Baltimore; Fairfield2002, 3, West Point; DeniseBernadette, 4, West Point; and Claystruck's "All Is Well" graphic with photos by LauraQ, Clayzthe1, and Butterflyshine.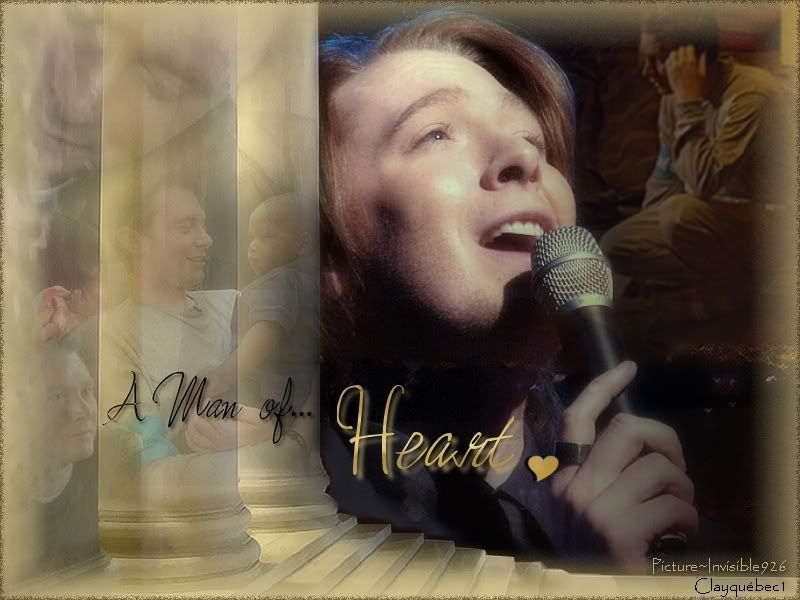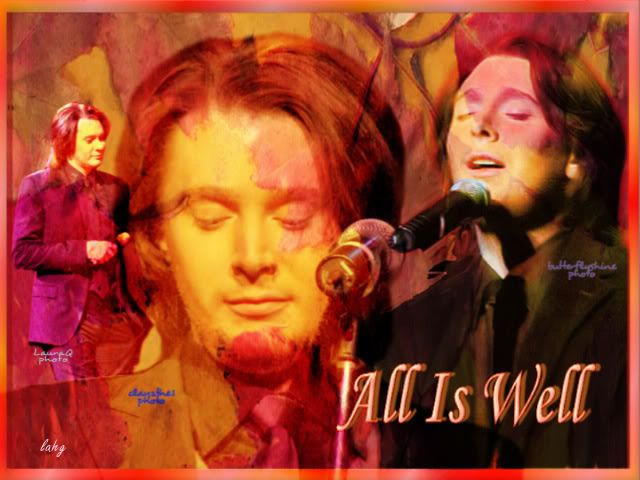 I hope you enjoyed this mini walk down the JNaT memory lane. Let's celebrate the final week of 2006 with Claysmelody's beautiful blend of caps from the [11/22] Tyra Banks Show and one of Jojoct's amazing concert videos.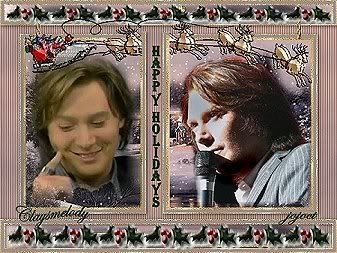 Whew, I believe writing a thousand words might have been simpler! Happy Holidays, and have an awesome close to 2006, Clay Nation!

Caro
RELATED TAGS:
Clay Aiken
,
Christmas Symphony Tour
,
Joyful Not a Tour
,
'Our Friend Mikayla'
,
Lower Nazareth Elementary School
,
Mikayla Resh
,
The Bubel Aiken Foundation
,
UNICEF
,
All Is Well
,
Clay Nation