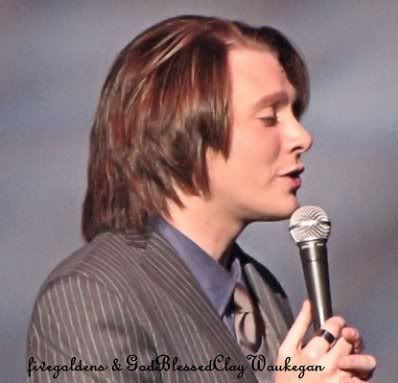 CHRISTMASTIME -- Nothing goes together like Clay Aiken and Christmas music. This photo by Fivegoldens/GodBlessesClay was taken on opening night of the18-city Christmas Symphony Tour in Waukegan, IL, Friday.
All Is Well!
Curtain Rises on Christmas Tour
Friday was definitely an "All Is Well" day for the Clay Nation!
Turning off my car following my return home from a weekly woodwind workshop in another county, I noticed an oversized envelope was propping open the mailbox by my front door. This had to mean the mail had come. I grabbed my oboe and briefcase and made a beeline to the front porch.
And there they were -- not one, but two copies of All Is Well! After my sad fate in locating the new Chistmas EP this past week, Clay friends in North Carolina and Georgia wasted no time in sending me an extra copy. I promptly ripped into one as fast as anyone can. I think they package these things to test whether a person really wants to hear the music or not. Two kitchen utensils later, the glorious voice enveloped my home with "All Is Well."
In the midst of non-stop loops through the four songs, I called my mother-in-law in Odessa, TX, and played parts of the first cut over the phone. "Pure heaven!" she exclaimed. No telling what she will think when she receives her copy and hears the voice on her own player.
Clay fans are the greatest. I understand there are copies still coming from Texas and Colorado. Many thnx to Sally, Brightstar, Madaelynn, and smz80219!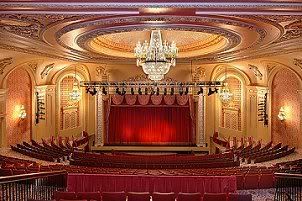 Genesee Theatre in Waukegan, IL

Christmas Tour Opens in Waukegan
The magnificent voice and charismatic personality of Clay Aiken were on full display Friday night as he opened an 18-city Christmas Tour with the FullScore Chamber Orchestra at the Genesee Theatre in Waukegan, IL.
As I listened to one of the many cellcerts beamed back to Clay Land, I was overwhelmed again by the beautiful vocals and ease with which our singer interacts with his audience. As a classical musician and former symphony player, I don't doubt Friday night's audience -- and orchestra -- thoroughly enjoyed this change of pace.

2006 Christmas Tour Set List:
Christmas Waltz
The First Noel
Merry Christmas With Love
Winter Wonderland
The Christmas Song
Have Yourself a Merry Little Christmas
Sleigh Ride
Mary Did You Know
Hark the Herald Angels Sing
Oh Come All Ye Faithful
My Grown-Up Christmas List
O Come O Come Emmanuel
Don't Save It All for Christmas Day
All is Well (encore)

Winter Storm Adds to Holiday Spirit
CA fans know Christmas is this singer's favorite time of year musically. The winter storm that wreaked havoc with travel plans of both the featured artist and the audience also helped put everyone in the holiday spirit. Clay praised the FullScore Chamber musicians and conductor for their talent and professionalism, as well as the tour's musical director, Jesse Vargas, who performed at the piano.
Known for his ability to interact with his audiences, Clay was playful, educational, and relevant in his running banter. During an appropriate segue into Don't Save It All for Christmas Day, he briefly talked about his work with The Bubel/Aiken Foundation and UNICEF, the importance of remembering children and donating to favorite charities during the holidays, as well as all year long.
Referring to a recent, well-televised moment during his co-hosting stint on Live with Regis & Kelly Live, he grinned, "My hair's not the only thing that's changed in the past year. I've also gotten pretty brazen; I'm sticking my hand over people's mouths everywhere I go. Seriously, I walked through the airport the other day and five people wanted their picture taken with me with my hand over their mouth. So I have a new calling in life -- making people be quiet."
A huge thank-you to those who braved the area's wintry weather conditions and shared the evening with Clay Cyberspace. The tour opener can be downloaded in audio and video form at Clack Unlimited.
Next stop for the Clay Aiken Christmas Show is Merrillville, IN, at 8 p.m. Saturday in the Star Plaza Theatre. The audience is in for a treat, as are the fans listening from home.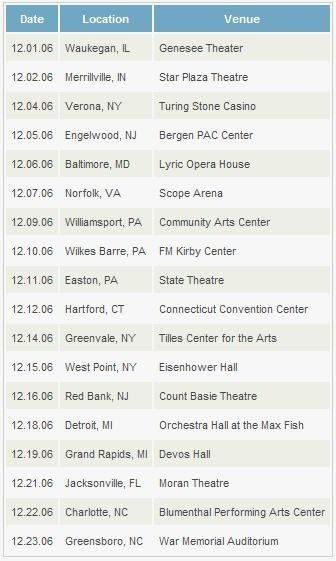 PHOTO INTERMISSION

: This clickable interlude includes photos from the Christmas Symphony Tour opener in Waukegan. Photographers featured are

ImFeelingItDawg

(1, 5);

dc4clay

(2);

Invisible926

(3); and

Karen Eh

(4).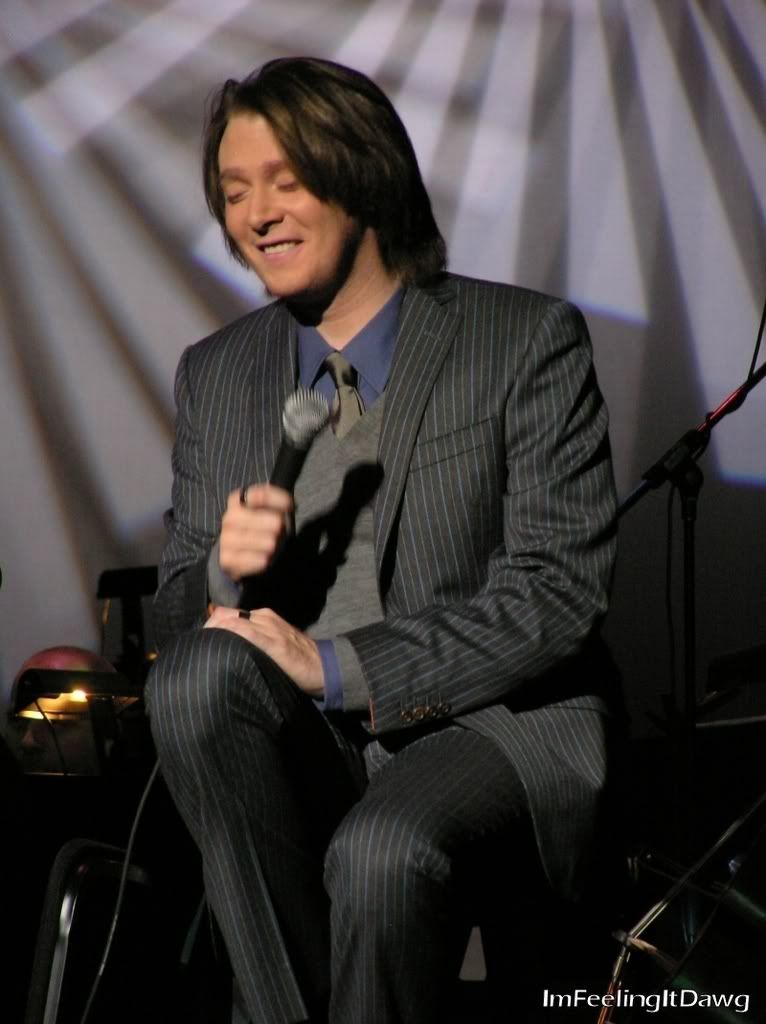 WALK Hosts Comprehensive Interview
As promotion for Clay's 12/14 performance with the Chelsea Symphony Orchestra in Greenvale, NY, an engaging interview with the singer by K.T. Mills of WALK-FM Radio (Long Island/CT) was made available on the station's website Friday.
The lady obviously did her homework, asking intelligent, meaningful questions on an array of topics. Well-spoken and introspective, Clay discussed the song selection process for A Thousand Different Ways, along with as his philanthropic endeavors, his thoughts about the American Idol platform (drawbacks, pluses, both), his writing credits for "Lover All Alone" and "Lonely No More" lyrics on the sophomore CD, etc. In addition to plugging the 12/14 tour appearance, Ms. Mills gave props to Wal-Mart's exclusive Christmas EP by Clay.
Fans of Clay will not want to miss this interview at WALK-FM. K.T. Mills, who rightfully joins the ranks of venerated TV hosts Tyra Banks and Jimmy Kimmel with this interview, receives email here.

Wal-Mart is advertising All Is Well in this weekend's circular, already posted on many CA message boards. Hopefully, this means stores everywhere will be well stocked with the Christmas EP, which will make lovely gifts or stocking stuffers.
The Carolina Tar Heels won today's basketball game against Kentucky, the Christmas Tour's second concert is just hours away, and Wal-Mart is finally making some real noise about their exclusive AIW gem. Yep -- all Is well!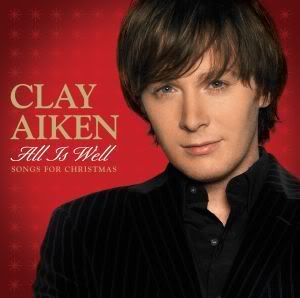 For a wonderful recap of the Merrillville, IN, concert experience, read The Power of a Nation at The ConCLAYve.
Have a great weekend, Clay Nation!

Caro

RELATED TAGS: Clay Aiken, All Is Well Christmas EP, All Is Well, Christmas Symphony Tour, Genesee Theatre, WALK-FM, K.T. Mills, A Thousand Different Ways, Lonely No More, Lover All Alone, Wal-Mart