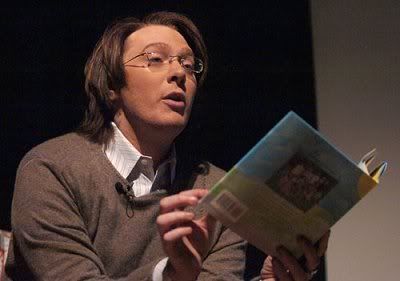 SURPRISE GUEST -- Singer Clay Aiken reads to the students of Lower Nazareth Elementary School from the book, "Our Friend Mikayla." Photo by Betty E. Cauler
'Our Friend Mikayla' Biography
Clay Honors Student Authors
It's for sure this blog is not striving for the scoops of its author's past stints as a newspaper reporter. More often, these semiweekly installments provide perspective of relevant, sometimes interesting, happenings of both recent and bygone varieties. Today is no exception since the lead story happened four days ago while this journal was still celebrating an important birthday.
As their older counterparts (i.e., Claymates) might have done, two young girls fell out of their front row seats in surprise as Clay Aiken, multi-platinum recording artist and American Idol runner-up, strode onto the stage at a special assembly Monday honoring 19 student authors from Lower Nazareth Elementary School in Nazareth, PA.
The student body of 680 children had gathered at the Northhampton County High School auditorium to celebrate the young authors and illustrators of "Our Friend Mikayla," a biography about their classmate, Mikayla Resh, who has brain damage and cerebral palsy.
The singer read from the book published earlier this year by the Bubel/Aiken Foundation, hosted a private question-and-answer session with the authors, posed for photographs, and sang a few lines of "When I See You Smile" to Mikayla. He presented each author an inscribed copy during the assembly. An autographed copy will also be given to every student in the school.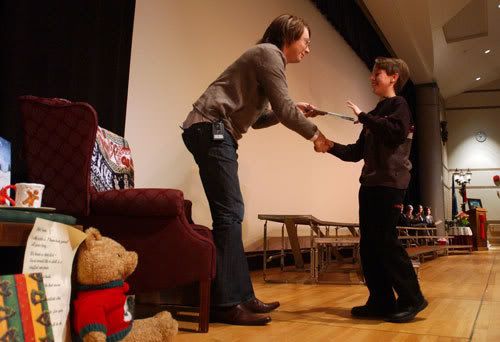 Clay Presents Autographed Book
Limo Ride Back to School
The singer's final treat for the 19 authors was arranging their return trip to the elementary school in limousines.
One of the authors, Michael Allen, was just about burst when he heard the news. "Oh, my God! Thank you! Is this a dream?" the student exclaimed. "A limo is the best. It is like the first time I'll be in a limo. It is so awesome."
"Limos are for classy people," Clay replied, "and you are classy people."
Co-founder of TBAF, a nonprofit organization with the goal of fully including children with disabilities in everyday activities and events. Clay explained to reporters, "This is a prime example of what we want to do … spreading the word of inclusion. These fifth graders are perfect messengers."
A gallery of Betty E. Cauler's photos from the event can be viewed here.
Variations of the Lower Nazareth story were picked up by wire services and featured on hundreds of news sites. Among the headlines were:
Clay Aiken reads students' book, treats young authors like American Idols
King of Clay Nation brings smiles to young authors
Clay Aiken's visit to Lower Nazareth class no idle lesson
Clay Aiken Helps Kids Celebrate Biography They Published
Typical of the many comments readers posted at the CBS Showbuzz site above was this one:
Clay Aiken not only has the 'pipes of perfection' that would melt all of Alaska, and a wit and charm that leaves you rolling in the aisles but he is a phenomenal, caring SUPERSTAR! Clay is a born entertainer and made for the stage. If that isn't enough, he is really showing that he wants to make a difference with his many philanthropic endeavors! Clay Aiken is God's love in action!
Readers can still leave comments here.

JNaT Bus Rolls On
This week's Joyful Not a Tour concerts continue with performances Dec. 14-16 in Greenvale, NY; West Point, NY; and Red Bank, NJ.

UPDATED CALENDAR

12/1 - 12/23: Christmas Symphony Tour [JNaT]
12/14: A Clay Aiken Christmas, Bravo, 9 p.m. EST
12/15: ACAC, Bravo, 12 a.m. EST
12/15: Live with Regis & Kelly (MDYK)
12/17: ACAC, Bravo, 10:30 a.m. EST
12/18: Tyra Banks Show (MDYK)
12/22: Megan Mullally Show (SB duet with Megan)
12/26: Days of Our Lives (Performance: EIH and OHN)
PHOTO INTERMISSION: This clicakable interlude highlights December's Christmas Symphony Tour appearances. Visual artists featured include Clayquebec1 (1); Solitaire30, Wilkes-Barre photo (2); Amazing_CA with photos by KarenEh (3); Scrpkym, Englewood photo; and Claystruck with Merrillville photos by Ambassador of Love (5).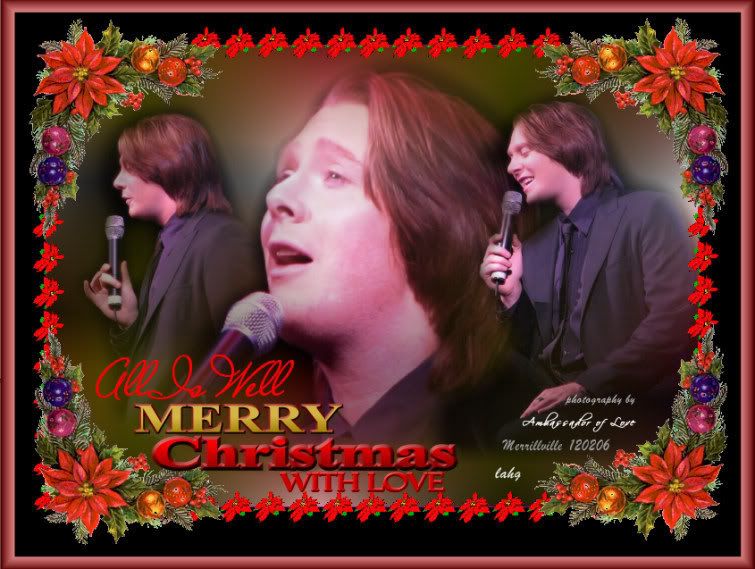 Carolinians Seek To Make a Difference
Three North Carolina men are among those investing their capabilities toward potential resolutions for the heinous atrocities and health hazards of Northern Uganda and the Darfur region of Sudan. All have stated that the global threats of poverty, malnourishment, disease, and genocide in these countries are a place the United States government could make a difference.
Clay Aiken fans learned of the abhorrent conditions in Northern Uganda from his travels and congressional reports as a UNICEF Ambassador.
As a sports fan and a resident of Joey Cheek's hometown, I have followed his stunning donation of his 2006 Winter Olympics speed-skating medal earnings and tireless fundraising activities for the Right To Play humanitarian organization in underprivileged areas of the world.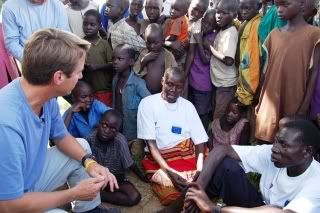 Sen. John Edwards in Uganda -- One America Photo
Tuesday night Chris Matthews brought his Hardball College Tour to "the southern part of heaven" (his phrase, but I so agree!) -- UNC-Chapel Hill -- and former Senator John Edwards reiterated much of what Clay and Joey have communicated in interviews, speeches, and congressional hearings. During the past two years, Sen. Edwards has been involved in humanitarian work with the International Rescue Committee (IRC), speaking with leaders, as well as the common man, in Africa, the Middle East, India, Asia, and Europe.
The setting was totally Tar Heel Blue, as both John and Elizabeth Edwards and their host earned degrees at UNC. Mrs. Edwards presented Matthews a "Go, Heels" button and politely informed him that the women's basketball team is just as highly ranked as the men's squad about which he was raving.
If you are interested in Tuesday night's installment, five videos from the Chapel Hill Hardball program are featured on Pages 1-3 here. Of particular interest to the situation in Uganda and Darfur is the "Edwards: McCain-Feingold a Failure" segment. In October, Sen. Edwards posted a blog entry -- My Trip to Uganda -- at his One America site.
The senator and the Carolina celebrity advocates are correct -- the United States could make a difference in Uganda and Darfur. I appreciate that three men I highly respect have taken the interests of this part of the world to heart.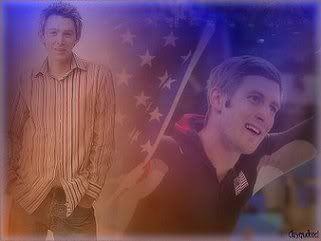 Aiken, Cheek: Men of Heart -- Graphic by Clayquebec1
Blueprint for 'Lesson Impossible'
As two young brothers, a 1st grade piano student and a 4th grade violinist, entered my studio for Wednesday's final lessons prior to next week's holiday performance, they were serenaded by distant screaming sirens. Executing a crescendo that would make "Teacher Clay" proud, the intensity of the squealing of three fire trucks steadily increased until there was no doubt they were wholeheartedly headed in our direction. All trucks and auxiliary vehicles stopped directly across the street from this teacher's house.
Can you imagine anything more appealing to two young fellows than a front row seat as axes are being hauled into a neighbor's home, a school bus is blocked and temporarily rerouted, etc.? Stir this commotion for about 15 minutes before the squadron determined all was safe from a faulty heater and vehicles slowly, one by one, began their departure.
No surprise that the very excited 1st grader could hardly concentrate as he tried to play his two concert duets. By the second lesson, the violinist calmly rehearsed his solo and ensemble selections with his teacher at the piano. Everything was back to normal though as little brother promptly fell into his usual deep sleep, adding an occasional pedal point accompaniment of soft snoring sounds to the mix.
Lawd Jesus, what an afternoon! Have an awesome week, Clay Nation!
Caro

RELATED TAGS: Clay Aiken, Christmas Symphony Tour, Joyful Not a Tour, American Idol, Claymates, 'Our Friend Mikayla', Lower Nazareth Elementary School, Mikayla Resh, The Bubel Aiken Foundation, Senator John Edwards, Elizabeth Edwards, Chris Matthews, Hardball College Tour, UNC-Chapel Hill, Northern Uganda, Darfur, International Rescue Committee, One America, UNICEF, Joey Cheek, Right To Play