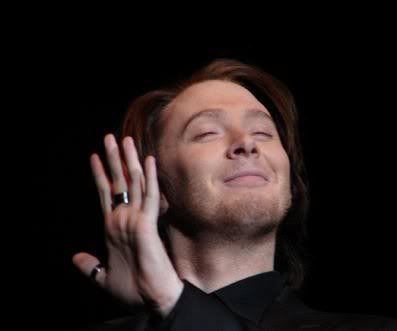 MAKING A CONNECTION -- An entertainer in every sense of the word, Clay Aiken enjoys interacting with the Norfolk audience during the Joyful Not a Tour Concert. Photo by dlh7777.
With Song and Laughter
Clay Aiken Captivates Audiences
When I listen to audio or watch video of Clay Aiken's captivating connection with the audiences from this week's Joyful Not a Tour concerts, I am reminded of an "educated guess" a principal once shared with our faculty.
In one minute, a teacher makes up to 75 instantaneous decisions; during a single class period, the tally is approximately 250 on-the-spot decisions; and by the end of the day, the total is 1,000-plus. The band director, Doug Powell, and the orchestra conductor grinned at each other across the faculty meeting room, nodding in agreement as both music teachers and performers.
I think Clay's extraordinary comedic timing, quick wit, and special talent for interacting with a different audience every night are reflective of some of these same qualities. Sure, teachers are generally not as stand-up funny as Clay weaving variations of his nightly shtick, fine tuning his narrative with ease to the makeup of each new audience. Fans -- longtime, casual, and new -- are not only praising the undeniable, beautiful voice, but also the man's natural ability to make people laugh.
The montage "Clay Aiken - Singer or Comedian?" by GoodBabyBrush with video by Scarlett explores the mulitiple facets of this entertainer's talent.


Clay Aiken - Singer or Comedian?


Reviewers, Musicians Note Connection
Reviewers and the orchestral musicians sharing the stage with Clay are noticing these characteristics, too. Parts of Malcolm Venable's Norfolk review -- Clay goes a-carolin' at the Scope -- from The Virginian-Pilot are printed here:
Clay Aiken is a phenomenon.
He is a force. He is a movement, one led by a tribe dubbed "Claymates." These people came to see Clay – Clay is on a first-name basis with his fans – sing Christmas standards Thursday night at Norfolk's Scope.
He emerged wearing a slim ebony suit and pointy black boots with high chunky heels. His thick hair was razor-sharp and teased; he gently swept locks from his face with a finger all night. He sang "The First Noel" with control and verve, and later "Chestnuts Roasting on an Open Fire" and "Hark the Herald Angels Sing." Clay's renditions were superbly done – potentially flawless – yet it's enough to cause sudden pangs of numbing boredom.
But here's why Clay is savvy: he knows this. He had the confidence of a minister. He wooed the shrieking women and cracked jokes, some at his own expense. He asked men if their wives dragged them there. He said the Enquirer would soon have a story about his love child.
"I am the sultan of scandal," he said. "This business about putting hands over people's mouths – not that there's anything wrong with that. Sometimes people need scandal."
Clay, a North Carolina native and former schoolteacher with a philanthropic bent, walked into the crowd. He danced with his mother, and gave a shout-out to his brother and other relatives in attendance. He called his audience his family. He called someone rude for using a cell phone.
"It took me 20 minutes to squeeze into this sweater, and you're on the phone."
The world, with its pornographic Internet and bossy lesbian talk-show hosts, could flood again or burn to ashes, but Clay would always be there as a reminder that some things never change and good always prevails.
Certainly, there's nothing wrong with that.
Oh, Lawd Jesus, let's have a round of Amen's and pass the plate on that one! While at the The Virginian-Pilot site, take a look at the "It's a Clay Aiken Christmas in Norfolk" video. On Monday, a video of Clay singing and an interview with Faye will be featured.
Reporter Quotes Clay's Fans
Also on Friday, Sam McDonald of the Daily Press interviewed several fans for his article, Clay Aiken Tops at Norfolk Show.
According to Diane Estes, "He opens his mouth and out comes magic."
Bill and Patty Higgins of Newport News attended the concert because they held tickets to a canceled performance of the musical "Cats." They decided to hear Clay sing in place of a refund.
PHOTO INTERMISSION: Featured in this clickable intermission are six visual artists, including Clayquebec1, photo by KarenEh (1); dlh7777, photo from the Norfolk concert (2); snow graphic` by ABeautifulMind (3); HeatherW, photo from the Baltimore concert (4); and Ambassador of Love, photo by Karen Eh (5).


Mutual Admiration Society

The Ed Walters Orchestra accompanied Clay at both the Baltimore and Norfolk concerts, and the mutual respect on the part of soloist and musicians was apparent. This story was retold by HappyClayDay in her recap at Clayversity:

The maestro said he does some teaching, and he was telling his students that they were going to be playing for Clay Aiken. His students asked if the symphony members were excited and he said he wouldn't say excited, that they had played with many big names. They were probably curious about Clay, interested, but he wouldn't say excited. During rehearsals, one of the symphony members asked if she could have her picture made with Clay and Clay said, "Yeah, sure." The maestro said after she asked, it was funny to watch them all line up like little children to have their picture made with Clay. "I guess they were excited!"


HappyClayDay and her mother not only ended up sitting on the front row, but right next to Faye Parker and Aunt Francine. When Clay danced with his mother during Have Yourself a Merry Little Christmas, they had one of the best views in the house. HCD added this addendum to her recap:
When the concert was over, a guy came up to Faye and told her that he had not followed Clay and had never seen him in concert before but he wanted to tell her how much he enjoyed the show and that it was a blessing. You could tell he was really impressed with Clay. As we left, my mom said to Faye, "You must be so proud of him. He is awesome." Faye answered, "Yes, I am."
Next three stops for the Clay Aiken Christmas Show are Williamsport, Wilkes Barre, and Easton, PA, 12/9 - 12/11. Audiences are in for a treat, as are the fans participating via CLACK.

An Unexpected Ad-Lib Session
Speaking of "winging it," my sister and I found ourselves in the midst of an ad-lib session of our own at Brown Middle School Friday. We had completed our final rehearsal with the East Davidson High School woodwind ensemble for a Monday night concert and decided to practice the flute-oboe duet we will perform on the program. The middle school band room was vacant, so we planned a quick run-through before heading home.
We had just switched our fast movement from 2 to 4 and played through the piece one time when the band director walked in and asked if we would perform for her class. From run-through to dress rehearsal in a matter of minutes, we played our Schulze duet, discussed our instruments, and doled out tips to the fledgling musicians.
Not quite the same as dishing out the golden vocals and rollicking interchanges of Clay Aiken in concert, but our impromptu "show" was well-received. Of course, we have both taught instrumental music and logged our fair share of those multiple on-the-spot moments.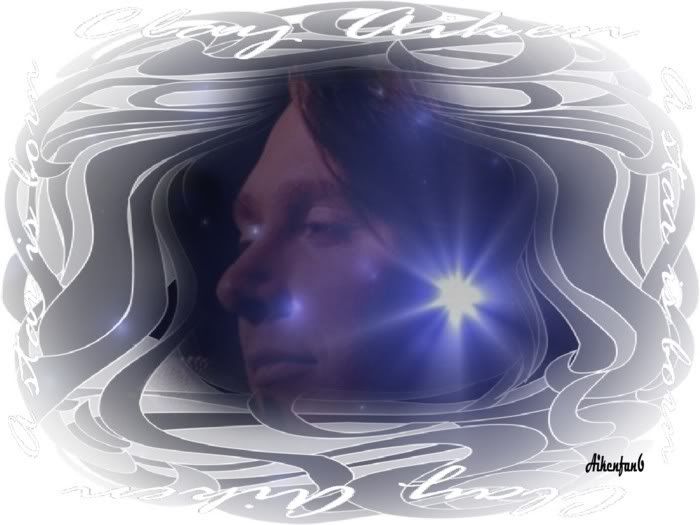 Clickable Graphic by Aikenfan6
Tis the season -- I am running between rehearsals and gigs. Have a wonderful weekend, Clay Nation!
Caro

RELATED TAGS: Clay Aiken, Christmas Symphony Tour, Joyful Not a Tour, The Virginian Pilot, Daily Press, Ed Walters Orchestra