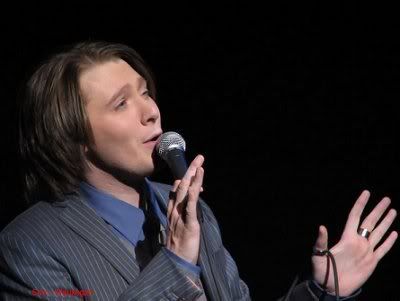 MUSICAL MOMENT -- Snix captured an "expressivo" moment during the Joyful Not-a-Tour concert in Waukegan. In keeping with Clay's nightly vocabulary lessons, this musical term means "to perform expressively."
Fulfilling Clay's Tour Shtick
Fans Welcome Newcomers Into the Fold
On his current Christmas Symphony Tour, Clay Aiken speaks at great length about faithful concertgoers embracing new fans and welcoming them into the fold. I wonder if he realizes just how close to the truth his shtick really comes.
The phenomenon was never more prevalent than at this weekend's opening performances of the 18-city lineup, affectionately dubbed the "Joyful Not-a-Tour" by Internet fans.
This first experience has been shared throughout various avenues of Clay Cyberspace by a trio of fans who post at Clayversity. All three contributed to this summary:
Momof3boys, Aikim, and Jazzgirl: While waiting in line to go to our seats, we met a very special couple. The husband fell in love with Clay's voice on AI2; and after his wife watched the show, she also became a fan. However, they have not seen a live show nor followed Clay's career since.
On the afternoon of the Merrillville concert, the couple was shopping for hunting gear at the mall across the street, happened to notice the marquee flashing Clay's appearance that night, and decided to try for tickets. They ended up sitting across the aisle from us.
After the show, we asked what they thought. The man was very impressed, praising Clay and his beautiful voice. They were amazed about his charity work, and the husband commented about how down to earth Clay is even with all his success. His wife walked out of her aisle in "full cry." Not just tears, she was crying and repeating over and over, "I love him." Clay had touched her soul, and she was in awe.
Just As Clay Predicted

We didn't disappoint Clay either. We exchanged email addresses and other contact information to follow up with some CLACK, including a DVD of the evening's concert. We urged them to look for the Christmas EP "All Is Well." When we asked if they had "A Thousand Different Ways," the husband said they didn't but that they would be getting it very soon.

Clay is right -- his fans bond from the moment they meet. In the aisle, this woman reached over others to hug us all. We walked out of the venue arm and arm. The husband commented that he has seen other Christmas shows, including Andy Williams, but that Clay's was by far the best. He also kept talking about how his seat mates really "love" Clay in contrast to just liking him and basically said that he and his wife were ready to be initiated into the fandom. Clay's fans aren't half-hearted either!

The ladies behind us were concert virgins, too. One commented several times about how distinctive Clay's voice is and that he is one of the few performers where you really feel the emotion of what is being sung.

P.S. from Momo: The couple returned home a little late because the wife insisted on a stop at Wal-Mart She scored, and they report they love the EP. We hope that amazing man knows what he does to people. It was truly an awesome night, one we won't soon forget!

PHOTO INTERMISSION: This clickable interlude features the talents of five visual artists, including Ambassador of Love, photo by dc4clay, from the Waukegan concert (1); MarLovesClay from the Verona concert (2, 4); Invisible926 from the Merrillville concert (3); and Amazing_CA, photos by dc4clay, from the Waukegan concert (5).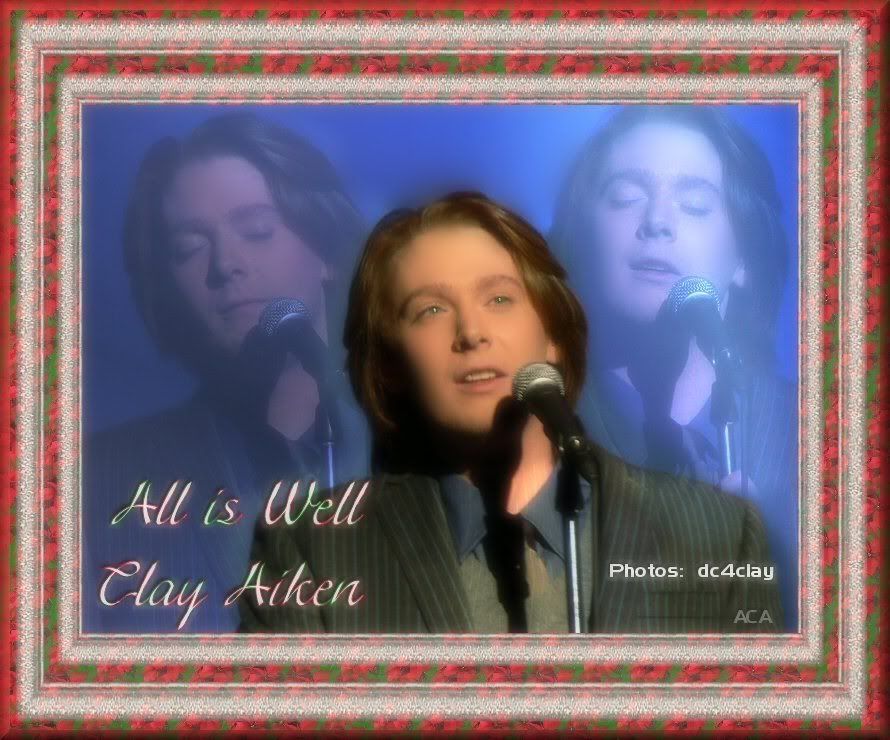 Claymates Greet New Fans Nightly
These magical vignettes are representative of hundreds that occur every concert along the trail of a Clay Aiken tour. Enjoy the replays.
Nekia: Sitting behind us were a man and his wife who liked Clay on AI but had never been to one of his concerts. They were amazed that we have attended so many.
I could tell they were really enjoying the show. When Clay was singing DSIAFCD, they thought the concert was over and were getting ready to leave. I told them there would be another song. When it ended, they both stood up and began hugging us and talking about what an amazing experience it was for them. They immediately said they will attend all other concerts anywhere near them.
It is always so much fun to see people experiencing Clay for the first time and to see the absolute joy they were feeling after the concert.
ClaysRainbow: Our neighbors Saturday night were two sisters. They are both disabled and had a hard time getting to the concert. They had discovered Clay on AI, but had only attended one concert previously. The gal next to me has tried to get info online and has seen him on all the latest TV programs.
I asked her if she would like some DVD's and more information. She immediately got out her pen and wrote down all her info. When Clay did his spiel that anyone sitting next to a Claymate would be giving out all kinds of contact info by the end of the evening, she and I looked at each other and burst out laughing. It was truly a funny moment, but I have already prepared packages with DVD's, socks, pins, etc.

Song-By-Song Clay Conversions
Artz11: I took a concert virgin/semi-Clay fan to the Merrillville concert. My friend knew very little about Clay, but she loves beautiful voices. She had only heard Clay perform on the AI5 Finale. After HTHAS/TFN, she asked if we could take him home. After MGUCL, she wanted to know where the next concert is. After AIW, she jumped up and hooted louder than I did.
When we were trying to go to sleep, she asked me which song I enjoyed most; and we ended up naming all of them She then made a very insightful remark: "You know, Clay isn't near where he's going to go with that voice. I can't wait to see what happens next."
When I dropped her off the next morning, she asked me to send her CLACK, which I have. Right now, my friend is probably at Wal-Mart trying to find everything Aiken.
Rcknrllmom: We invited a casual fan to the Merrillville concert. The ride home was a blast -- she couldn't stop asking questions about Clay; was planning to spend the next day on the Internet learning more about him; and said she loves his quick wit, good heart, and the person he is.
She was amazed at the fans and very impressed by everyone she met, their kindness and the sharing with one other. She wants to attend the next Clay tour because she wants to be a part of it. I would say this Clayversion is complete.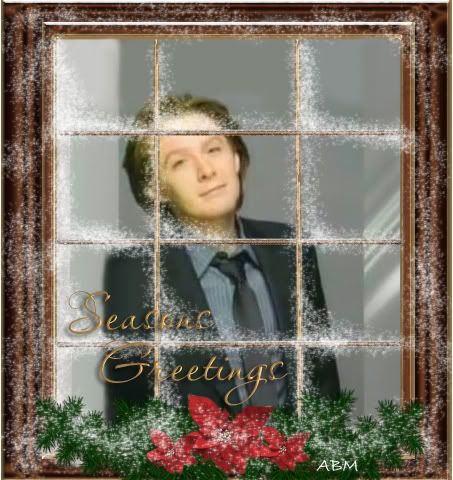 Clickable Season's Greetings,
Graphic by ABeautifulMind
Next stops along the JNAT trail are Englewood, NJ, (12/5); Baltimore, MD (12/6); and Norfolk, VA (12/7). Have an awesome week, Clay Nation, and savor the ride!
Caro

RELATED TAGS: Clay Aiken, Christmas Symphony Tour, Joyful Not a Tour, Claymates, All Is Well Christmas EP, All Is Well, A Thousand Different Ways