COMING HOME --Clay Aiken performs his final two concerts of the Christmas Symphony Tour in North Carolina. He is pictured here in the Grand Rapids (MI) Concert. Photo by KarenEh.
At Greensboro JNaT Concert
Fans To Celebrate Clay Home
The last time Clay Aiken came to the Gate City was the eve of my July 04 birthday for the Not a Tour -- and what a mighty fine present that was! In a few short hours, our favorite singer will be in Greensboro again for the final concert of the Christmas Symphony Tour.

Until a couple of days ago I was planning to miss this event at War Memorial Auditorium, a whopping five minutes from my house, due to a rehearsal right in the middle of the concert. But the stars suddenly aligned, my rehearsal was moved to an earlier hour, and a good friend from West Virginia just happened to have a spare ticket for sale.

So -- EEEEEEEEEE!!!!! -- I am now among the fortunate folks who will help celebrate Clay home to North Carolina in a hall full of southern accents at Saturday's "Joyful Not a Tour" Concert. What an awesome turn of events! Those stars are still lining up because the expected cold, wet weekend in Greensboro is now forecast to begin clearing around noon with high-low temps of 66-41.

CLACK from the JNaT has been phenomenal, but I will gladly trade my cellstream seat for a live concert this season. My enabler -- xxx4clay -- upgraded her ticket to the front row, and I look forward to enjoying Clay's beautiful voice and hilarious banter from Row B, Seat 10 or 11. Another West Virginia fan purchased the second spare ticket and will be by seat mate.

Tongue-In-Cheek Tactics Exchanged

Excitement ran rampant at Clayversity Thursday, as members made plans to meet for a pre-concert dinner, winding their way through many tactics for recognizing one other. Clay fans know each other by screen name online and even share many "real life" joys and sorrows; however, most of us have never met in person. The following exchange, totally in jest, only hints at the level of frivolity following a Wednesday night tease that wearing "blinkies" -- heaven forbid! -- might be a perfect means for locating our group.

This is just a taste of the day's linear conversations:

CTLover: Oh, don't put them away! I'm wearing a Christmas wreath around my neck that lights up and spells C L A Y one letter at a time. It will go well with my blinking tiara and my earrings that flash on and off and on and off and ...well, you get the picture. I just hope they don't clash with the rings I'm wearing on two fingers of each hand -- each one is a different blinking color and they're so classy. Do you think Clay will notice me and maybe talk to me and maybe jump down off the stage and take both my binoculars and my cell phone and pose while someone takes pictures of us? I promise not to turn on the flash! Oh, I'm just so excited!

After much discussion, xxx4clay, as usual, had the final word: Pffft! No guts, no glory. I can take charge of this little CV roundup. I'll stand out front wearing my very special Clay Christmas concert outfit. Here's how you'll know me: I'll wear my Clay tiara, specially decorated for Christmas with red and green blinkies that spell out C-L-A-Y.

My top is a crimson red sweatshirt with mistletoe appliqued to the neckline and a large picture of Clay across my chest. Below the picture, I have hot-glued gold glittery letters that say "Merry Christmas, Baby!" If you approach me from the rear, I will be wearing tight black stretch pants with "I LOVE CLAY AIKEN" in matching gold glittery letters across my butt. And, yes, my butt is wide enough to accommodate all that. If you still can't find me, I'll just talk loudly -- I'll be the only person there without an accent.

LOL, even in the midst of planning for my afternoon student recital, I had to stop and call my MIL in Texas to read -- make that "try to read" -- the "blinkie" posts over the phone.

Dinner and Concert Sans Glitter

Seriously, no blinkies, gold glitter, or special Clay appliques are on tap for our row. Not even the "blue hair" the media seems to think all members of Clay's multi-generational fandom sports! Looking forward to dinner and concert sans the glitter ... though my dress does have a gold design in it. Hmmmm!!!
Brightstar, a fellow North Carolinian, recently summed up how most CA fans feel about this very special man with golden voice and heart:

So many, many good things have sprung from this down-to-earth, wonderful, talented, funny, beautiful man. And, like it or not, "American Idol" gave him the platform from which he reached out and grabbed our hearts. I have to be grateful for that, and I chuckle at the irony that an artificial, programmed "reality" show, which has come to highlight much that is negative in society, was the launching place for something -- and someone -- good and true; someone who highlights, and strives for, and inspires so much that is positive in humanity. A blessing for which I am very thankful.

See y'all in Greensboro. I'll be one of the 99.9% WITHOUT an accent!
PHOTO INTERMISSION: This clickable West Point JNaT interlude features the photographic talents of Fairfield2002 (1, 5) and Scrpkym (2,3,4). Links to more of their photos are provided with their screen names. Many thnx to all the photographers and graphic artists whose work has decorated this blog throughout 2006.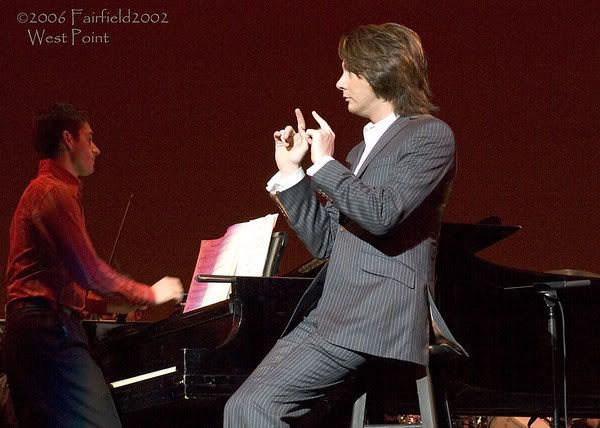 Music Students Impress Teacher
My music students ended the semester with an outstanding holiday recital Thursday. Just as impressive as their performance was the caliber of their 45-minute rehearsal prior to the concert. Several times I smiled at this grownup achievement and thought of Clay's nightly complimentary shtick for the various orchestras backing him during the current JNaT.
Included in each student's holiday gift bag was a pencil; and I have to say the teacher's smartest move of the day was to hit the sharpener a few minutes before they arrived. We spent a tight 45 minutes setting arrangements for a fiddle tune medley, solos, and 10 Christmas carols. These young musicians, aged 9 - 14, were in a "professional" zone of their own, a situation the addition of once-a-month group lessons has helped mold.
Violin and viola solos -- "Devil's Dream," St. Patrick's Day in the Morning," and "Paddy Whack" -- alternated with group renditions of "Arkansas Traveler" during our Irish segment. This was a definite crowd pleaser, even if the audience was comprised of friendly parents and siblings. My fledgling fiddle players are not quite ready to make a CD, but we could hit the retirement home circuit next spring.
Christened Pencils Point the Way
Besides the more advanced Bach, Handel, and Brahms solos, folk tunes and piano duets were played by the younger violin and piano performers. Our seasonal renditions began with easier carols for all to play and progressed through more difficult arrangements, ending with "Masters of the Hall" and "We Wish You a Merry Christmas." Each student was featured in a solo or duo, and all shared harmony assignments in our three-part Christmas carols. Those pencils, royally christened during the rehearsal, repeatedly proved their worth.
I don't know about the students, but their teacher, who accompanied all on piano, was definitely spent by afternoon's end. Later while preparing dinner, I poured some wine over a favorite meat-vegetable combo and decided there was no time like the present. Anyone driving by my kitchen window would have seen the prim, proper music teacher turn the carafe bottom side up and take what she thought was a somewhat-deserved -- and much-needed -- swig.
Perhaps that's the reason I slept through some of the Jacksonville cellcert. I can't wait to hear the Charlotte stream tonight and be there in person for the Greensboro finale to welcome Clay Aiken home!
Have a wonderful Christmas Weekend, Clay Nation!
Caro
RELATED TAGS: Clay Aiken, Christmas Symphony Tour, Joyful Not a Tour, American Idol, Clay Nation