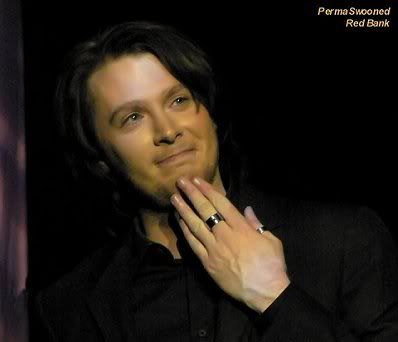 SIGN OF THANKS -- As he has done on several other occasions, Clay Aiken demonstrated appreciation for his fans with this simple thank you gesture during Saturday's Red Bank, NJ, Concert. Photo by PermaSwooned
Not.Just.Us Stories Abound!
New Fans Join the Clay Train
Throughout December's 18-city Joyful Not a Tour concert series, Clay Aiken's fans have celebrated the highs and lows right along with him. The concerts are joyous occasions during which the singer's magnificent voice, accompanied by area symphony orchestras, resounds forth beautiful strains of the holiday season. A surprise to most concert newbies is the humorous, witty repartee this consummate entertainer weaves throughout his set.
An inner ear infection escorted by bouts of dizzying vertigo has been present at the past three concerts, but the illness has yet to stop the show. Clay is a trooper; and he has managed admirably, one night literally hanging onto his mic with one hand and the stool from which he performed with the other.
In subsequent concerts, the thorny vertigo loosened its stronghold for portions of the show only to return near the end. Through it all, Clay has made light of the problem, adding to his nightly shtick the fact that he might at any moment fall into the laps of front row concert goers. At Saturday night's Red Bank, NJ, concert, Clay recognized the audience's support and understanding with the simple, touching sign of thanks captured in the lead photo above.
'The Show Must Go On'
I honor the man's inner strength and determination to adhere to the old adage, "the show must go on." Like most musicians and other performers, I have been there many times, though not as the featured soloist for 90 minutes night after night. Years ago when I had two wisdom teeth removed, I made sure the surgeon only used Novocain because of previously contracted gigs that very week. Recovery time is supposedly minimized if the patient is awake for this procedure. Flute, oboe, sax, and musician made it through the wedding, reception, and concert a couple of days later.
Probably my most difficult performance came the day my father died. Our Nashville trio was scheduled for a noon wedding in which Sen. Lamar Alexander, then the governor of Tennessee, was best man. One of the featured selections was J.S. Bach's "Jesu, Joy of Man's Desiring," one of my father's favorites. That was probably the hardest piece I have ever played in my life. My family was packed and ready to drive to North Carolina the minute the ceremony ended.
In the first two weeks of the tour, countless new "Not.Just.Us" stories have emerged in concert recaps throughout the Internet community. Special thnx to those sharing their experiences with new fans in this blog entry. Hope you enjoy!
Musicians Respect the Voice
Clayzedover: As my group was leaving after the show, we were joined on the elevator by one of the Hartford Symphony musicians, a man in his late fifties. He asked us how we enjoyed the show. We told him it was great and that the symphony was beautiful. He then asked us excitedly:
"Have you ever heard a VOICE like that?"
We looked at each other and smiled, knowingly, back at him, "No. Not lately. Nobody else sings like that today. He was excellent."
The guy agreed wholeheartedly, then told us that he has been around a long time and he was extremely impressed with Clay. He said he was such a nice person even during rehearsal and he was glad to have worked with him. As he walked out the doors of the elevator, he was shaking his head from side to side and grinning, muttering to himself, "AMAZING!"
I just love it when musicians become part of the "Not.Just.Us" contingent.
Angelty: A couple sitting next to me in Wilkes-Barre had previously attended two Clay Aiken concerts and were blown away by this one. They really loved Clay's humor. When it was over, the man asked, "How can we find Clay? Do we just search ClayAiken.com?" I suggested that or the Finding Clay Aiken site. They are ready to become "one of us."
Diamondjake2001: The Easton show was fantastic, and I had an amazing seat. The people all around me were "concert virgins," and they loved the show. A man in his mid 20's sat behind me. After one of Clay's early jokes, he leaned forward and said in a surprised voice, "I had no idea he was so funny."
Humanitarian Endeavors Impresses
vjm: In Williamsport, we were surrounded by local symphony goers. The woman who sat next to me was wearing a long velvet skirt and jacket and clapped with ladylike restraint She knew who Clay was but wasn't at all interested in him. I sympathized with her a bit about being in the midst of a fan fest that was not of her choosing, but assured her that there's more to him than the music and told her of his humanitarian efforts.
She perked up, saying that she works with college students with disabilities. We got into a discussion about our work with in the field, and I wrote my email address and cell phone number in her program. Later when Clay went into his shtick about those who have never been to a concert being wary of those who have because we'd have their contact info by the end of the show and would be driving them to a concert in Detroit, she gave me a sidelong questioning glance. We talked after the concert, and I feel sure that I'll hear from her.
WinkAtMe: In Englewood, there were two couples in front of me. I think one of the women was a huge fan and the others had never been to a concert. When Clay came out on stage and opened his mouth with his very first note, one of the man turned to his pal and said, "WOW!" They were very impressed.
PHOTO INTERMISSION: This clickable interlude features the talents of four graphic artists and photographers. They include Cindilu2, billboard graphic, photo by Scrpkym (1); DeniseBernadette, West Point concert photos, 2 and 4; Scrpkym, West Point concert photo, 3; and Amazing_CA, graphic with photos by DeniseBernadette, 5.


Audience Reaction Channels Elvis
cmbcarab: Our babysitter canceled at the last minute and so my husband had to stay home. My mother-in-law said she would keep me company at the West Point concert. She doesn't watch any TV except PBS and C-SPAN. She had NO CLUE who Clay was or what he looked like. I dropped her off at the entrance while I drove off into the parking maze and was gone about a half hour. I found her chatting with two women when I got back. She apparently had asked them if they had ever seen this fellow before, and they proceeded to fill her in. She never even heard of American Idol, and their conversation must have been hilarious.
Her impressions were great -- she thought he was a "really nice kid," and the audience's reaction reminded her of what Elvis used to get. She also said he was adorable, thought his stage presence was superb, loved the concert, and was anxious to tell her lady friends.
Clayzedover: In Williamsport, I had a conversation with the banquet manager as he watched the pre-party room quickly fill up. He told me that Williamsport has not had that kind of excitement in 14 years. They have had other name acts, but none has sold so well. He was not just talking about the theater. His hotel and others were thoroughly booked because of Clay. Restaurants were filled because of Clay's fans. He seemed genuinely pleased to be a part of it.
CLAY SOLD OUT THE TOWN!!!
Fans Reenact Clay's Shtick
gcd4clay: At the Williamsport concert, I was sitting in front of two couples that had never seen Clay perform before. As we were walking out, I asked how they liked it. They were amazed at his talent, saying, "He is not only a great singer, but we didn't know he was also a stand up comic." I cracked up and told them this is typical Clay in concert; he is not just a singer, but an entertainer.
They are going to look for any other concerts and make sure to get tickets. And I told them all they had to do was go on the Internet. Did I just do what Clay said to watch out for? What's more, I did it without even realizing I was telling them how to get to another concert.
littlec: Friday following a play at our church, directed by Alison Lawrence, Clay's high school chorus teacher, we sang "Silent Night." Afterwards, everyone stood with lighted candles as "All Is Well" was played. As people were leaving, I heard a man say how much it reminded him of when Clay was there singing live and that he was halfway expecting to see him standing there when the lights came back on. Clay wasn't there that night, but one very proud mom was.
Hippoga: I told my boss about the Wilkes-Barre show, and she bought tickets for her mother as a Christmas present. The mother loves all things American Idol but had never seen Clay in person. First thing this morning I asked my boss to call her mother at lunch and see if she liked the concert.
Boss said, "Call her!?! I've already talked to her twice; she called me from the car on the way home! It was the best concert she has ever seen. She loved the songs and thought Clay was really funny. She also said, 'You know, there seem to be groups of people who follow him around.'"
Groups of people who follow him around -- really?!?
Have an awesome week, Clay Nation! You, too, Clay -- the healing vibes headed your way are boundless!
Caro
RELATED TAGS:
Clay Aiken
,
Christmas Symphony Tour
,
Joyful Not a Tour
,
American Idol
,
All Is Well