Clay Aiken PBS Special

Fans Tango with 'Ticketmonster'

Armed with a host of helpful hints, lucky charms, and good wishes from Internet friends, Clay Aiken fans prepared to tackle the unflappable idiosyncrasies of "Ticketmonster," one of the more printable nicknames for Ticketmaster.

The goal: two prime time seats in Memorial Hall of Raleigh's Progress Energy Center for the March 12 PBS taping of "Classic Memories," during which the singer will unveil material from the upcoming "Clay Aiken: Tried & True," his first album with Decca Records.
The one-night-only special event will be a full production filmed for national television. Seating is exclusive and limited.



Clickables of Raleigh's Memorial Hall.
Ticketmaster Downbeat at Noon

Beginning at noon Tuesday, Official Fan Club members were to login into the Clayonline Appearances section to secure the pre-sale ticket code. From there, they began the "Ticketmaster Tango" with multiple degrees of angst, torture, and success.

Early morning message board posts provided a snapshot of pre-sale stress, suggestions, and some very enthusiastic cheerleading encompassing Clay Cyberspace:
I am so nervous that I was almost thinking of buying a ticket to something cheap to see if my account works.

Have Ticketmaster open in another tab. Then when you click on Appearances, you should be already signed in.

I plan to have my desktop computer turned on and ready to go just in case this one crashes. It doesn't happen often, but I was a Girl Scout and do believe in being prepared.

TICKET DAY: Had a dream before I woke up, nightmare of course. Time came to buy, the instructions were confusing, and it was hard to find the code. When I went to Ticketmaster, there were SIX places to enter a code; and it wasn't clear where it should go. Of course, before I woke up, I never did get it figured out or get tickets. I will be glad when this is done!

HEADS UP FROM ME: I plan to log out of everything except the OFC and TM when the time gets close. I don't want anyone here to think either my computer or I died. I'll be back as soon as I have tickets, either to moan about the so-so seats or crow about the great seats!

As soon as y'all get your tickets, get back here and tell us what happened and what you got. I will expect that at 12.01 EST. Okay, maybe 12.02 EST. But no later!

May the ticket gods smile on us today!
Clayonline fan club members have been given the first opportunity to purchase tickets in the pre-sale from 12 noon EST Tuesday (Feb. 16) through 10 p.m. Thursday (Feb. 18). Tickets will be open to the general pubic at 12 noon Friday (Feb. 19).

Pictorial Essay Cheers on Fans

To cheer on fans trying for tickets, Bottlecap prepared a pictorial essay with clickable Clay Aiken concert photos by Kareneh, fivegoldens, and Invisible926.

Fingers crossed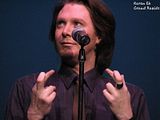 that your ticket search will go well,




that you can successfully bend TM to your will,




and that you emerge triumphant!




Play-By-Play Reveals Trials, Triumphs

Representing three message boards, these posts between noon and 2 p.m. describe a range of "tango" experiences from trauma to jubilation. They also exemplify perseverance, heady excitement, and special friendships as American fans assisted Canadians unexpectedly blocked by a system glitch.
In a nutshell, the Ticketmaster experience is never boring -- but then neither is being a Clay fan ...
12:06 p.m. -- I got my tickets!!!

OMG, this is soooooooooooooo STRESSFUL! I got the WHITE PAGE of NEAR-DEATH at TM for a couple of seconds!!!

My heart feels like it's beating out of my chest.

Me, too, and now my cat wants attention!

Twice I got offered tickets in the balcony, but it won't even let me buy them!

First I put in the max ticket price -- none found.
Second (any price) - got back balcony
Third (any price) - got mezzanine.
I'm in da house!!!

12:46 p.m. There are 802 signed into the OFC right now.

Do you think Ticketmaster wasn't ready for us?

I'm excited, and I'm not even going. Next concert in Raleigh -- I will be there!

EEEEEEEEE -- I'm in da house!!! I got NOTHING AVAILABLE forever, but reentered my code, and it went through!

12:16 p.m. The best laid plans and all that -- eBAY already has a set of tickets in the front for $599.

12:19 p.m. YEAH! I got Orchestra section. I told the guys here at work that I'm taking lunch at noon and not to bother me 'cause I was on a mission.

12:21 Clay says in his latest answer that there's not a bad seat in the house. It's funny he's answering questions while we're all stressing out buying tickets!

If you get "none available," reenter your code.

I was just able to pick up a single ticket in Section B! I phished for half an hour and was offered progressively worse seats. I then went back after a break, phished some more, and a ticket in the Dress Circle came up! I didn't even really plan on going, and now I may have to reconsider!

I agree with Clay. I live in Raleigh and I've been at Progress Energy Center many times. He is right that there isn't a bad seat in the house. I've sat in dress circle, orchestra, mezzanine, and balcony. I've been happy in all those seats. We'll all have a great time, and we are getting to see Clay again!

Ticketmonster more than earned its unprintable nicknames when Canadians could not process a purchase. Passwords were PM'd, and US friends stepped forward and secured seating for many international fans. [TM and the OFC are working on a solution to the glitch for the remaining sale dates.]

BWAHHH! One of my security words to type in was "assesses." I immediately laughed and said to myself that yes, TM is/are asses. At least, that's what it looked like at first glance. How apropos!

We got seats 30 minutes after the frenzy. I am exhausted.

Clay just posted on the OFC and Facebook that the Canadian problem is solved.

In the door and pleased ...
Have a great week, Clay Nation. May the ticket gods smile on Clay Aiken fans throughout the TM adventure!
Caro