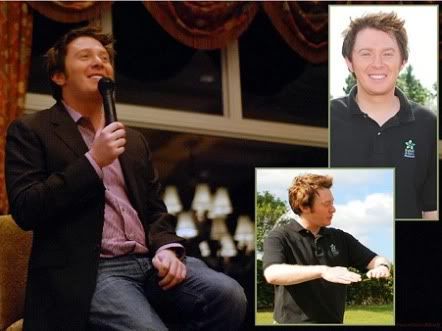 Golfing for Inclusion 2009 - Collage by Fountaindawg.

Poker for Inclusion, Anyone?
Soggy Day Inspires GFI Ad Libs
Leftover icy roads from a weekend winter storm played havoc with Monday music lessons while soggy weather altered the Golfing for Inclusion schedule in West Palm Beach, FL. Co-hosted by singer Clay Aiken and golf pro Wayne Player, the third annual GFI almost turned into "Poker for Inclusion."
According to Kristy Barnes of the National Inclusion Project, golfers played four - nine holes before retiring to the Mirasol Country Club for cards. An indoor swing analyzer was employed during the golf clinic that also moved indoors.
UPDATE

:

Concert mp3's added below!
Like most Clay Aiken fans, I have kept an eye on message boards, Facebook, and Twitter throughout the day for reports from the golfing fundraiser in West Palm Beach. Musicfan is providing updates in the Clay Aiken News Network blog.
Clay Talks Golf, Inclusion, Fatherhood

Leslie Streeter of The Palm Beach Post today posted an excellent interview about the event: Clay Aiken at Mirasol: Golf, Inclusion, and fatherhood, part of which is reprinted here:
In 2008, I had a chat with "American Idol" finalist, Broadway star and all-around big famous sensation during his first annual Golfing For Inclusion benefit at Palm Beach Gardens' Mirasol Country Club, for what was then called the Bubel-Aiken Foundation.

He was there to help raise money for the foundation's goal of providing opportunities for kids with disabilities to attend camp, but not to share his mad golf skills, because he apparently doesn't have any.

And today, at the third annual golf event to benefit what is now called the National Inclusion Project, Clay revealed that after three years and a couple of clinics with golf pro Wayne Player, his game…still has no game.

"I still don't know anything," Clay, chilling in a small room not far from the very rainy golf course where about 75 golfers were to be teeing off. "We do the clinic and I still don't know what (Player) is talking about. I just stand there and make a few jokes."

Still, Clay's willing every year to be the test subject in Player's clinics every year, if it'll inspire people to show up, play golf and contribute to the cause, which has been dear to him since his pre-Idol days as a camp counselor in Raleigh, North Carolina.

There, he remembers, was a little girl – "Let's call her Jessica," he says, who signed up for camp before anyone realized she had disabilities. Upon discovering Jessica's situation, Clay remembers, the camp's director, tried to send her away, "because I think the director and the camp were not educated that it was possible. I almost quit over that. But now, people know that it's possible, easy and effective."

What The National Inclusion Project has done is create a curriculum that can be used by already-existing camps to make their facilities accessible and fun for would-be campers with disabilities. For the third year, the foundation has donated $15,000 to a Florida facility – this year's recipient is the Florida Lion's Camp in Lake Wales.

Clay says the foundation's new name makes plain what its goals are, unlike the old one, named for him and co-founder Diane Bubel, whose autistic son Clay tutored.

"No one knew how to pronounce Diane's name, including our executive director. Make sure you print that! They said Bubble, Babel, Buble'. Plus, no one knew what (the foundation) did, even with the minimal name recognition. But this new name has helped us reach out to a national audience."
The entire article is a must read, so check out the PB Pulse while awaiting news of the evening's live/silent auctions, extraordinary cuisine, and special performance by Clay -- all indoors!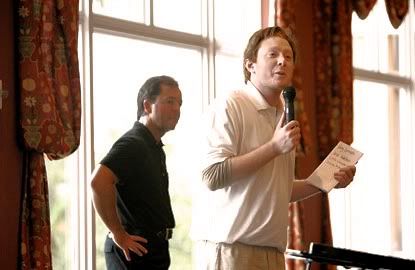 GOLFING FOR INCLUSION - Co-hosts Wayne Player and Clay Aiken
go with the flow of a rainy day in Florida. (Palm Beach Post photo)
Along with the soggy weather, the 2010 event attracted 75 golfers with approximately 200 guests expected for the evening schedule.
With special thnx to

farouche

,

caperkeeper

, and

dancermom2

of Clayversity, here are five mp3 Sendspace downloads from the GFI program:
Can't Take That Away From Me

It's Impossible

Sacrificial Love

Too Good To Be True

What Kind of Fool Am I
Recorded by

Deborah760

, this Sendspace includes the entire
2010 GFI Concert
, including "What Kind of Fool Am I," "Too Good To Be True," "Can't Take That Away From Me," "Lover Alone," "I Will Be Here" (a capella), "Sacrificial Love," "It's Impossible," "Moon River," and much-missed CA banter.

Below are clickables of

Fountaindawg

's GFI collages by from 2008 and 2009:
Have a great week, Clay Nation!
Caro