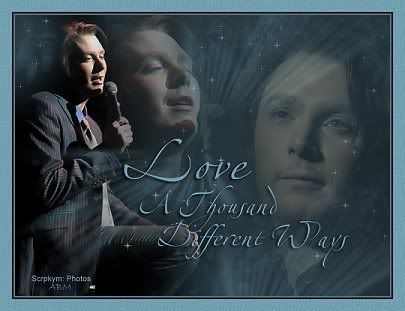 VALENTINES OF NOTE - Previous Clay Aiken-Jimmy Kimmel Valentine Night shows have become rewind favorites among the singer's fans. His second mainstram album, A Thousand Different Ways, is the perfect accompaniment for this weekend. - Graphic by A Beautiful Mind, photos by Scrpkym.
Team Clay Delivers 2010 Valentine
Aiken-Kimmel in Classic Rewind
February 14 traditions centuries old continue throughout the world this weekend, but none closer to the hearts of Clay Aiken fans than the Valentine Nights the singer appeared on the Jimmy Kimmel Live Show.
In the host's words, "Valentine's Day is Clay Aiken Day." Clay and Jimmy celebrated Valentine's 2005 together, and the CA fandom literally took charge of the stage decor, sending flowers, stuffed animals, balloons in the shape of hearts, and enough pizza for the crew and half the audience.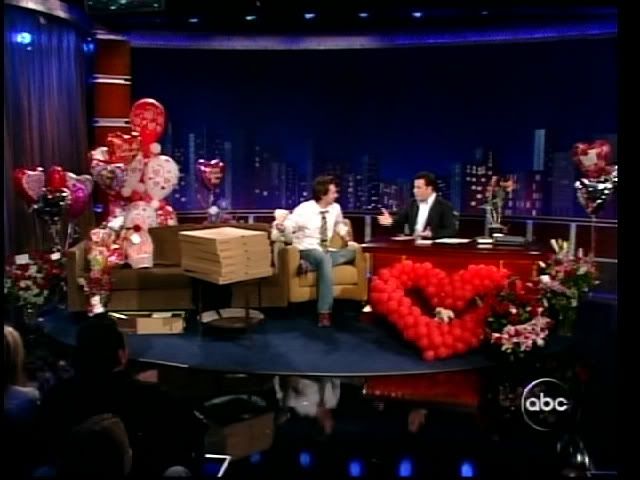 At the heart of the "Climmel" happenings is a special friendship, complimented by a unique chemistry that has developed through the years. In 2008, Clay was performing in Spamalot on Broadway; and in 2009, he was on vacation. With Singer Man putting final touches on an upcoming PBS Special, this Valentine's Day isnt looking very promising.

NEWS BULLETIN: Fan club members, check your inbox! You probably have an email from Team Clay RE the March 12 "Classic Memories" PBS Special that starts like this:



GET READY RALEIGH...

We're happy to be able to put an end to the suspense and the waiting by finally letting you know about the exciting "mystery" event happening on March 12!

After a long wait for all of you, Clay will be "unveiling" the material from his forthcoming album, "Tried & True" in a live concert in his hometown at Raleigh Memorial Auditorium!

This one night only special event will be a full production filmed for national television so seating is exclusive and limited.


LINKS TO INVESTIGATE:

International Media
Progress Energy Center in Raleigh
Ticketmaster
Clayonline/Appearances
Clay Aiken To Perform One-Night Only Concert
Entertainment My NC
Clay Aiken's Raleigh Concert in March

Fan club members will have the first opportunity to purchase tickets in a pre-sale from 12 noon EST Tuesday, Feb. 16, through 10 p.m. Feb. 18. Instructions for the pre-sale code are in the email. Tickets will be open to the general pubic at 12 noon Friday, Feb. 19.

Meanwhile, see Clay's "Non-Scientific Survey" thread in The Man Forum at the OFC to assist with pre-sale ticket count.

If you have HBO, a Bill Maher Special taped this weekend in Memorial Hall of Raleigh's Progress Energy Center, will be televised several times Feb. 13-16.
The Aiken-Kimmel reunion on Feb. 14, 2007, was a classic and worthy of a rewind, which will easily fill this season's Valentine vacuum. Grab your popcorn; it's almost time for Clay's introduction ...
In addition to being a multi-platinum recording artist, the author of a New York Times bestseller, and tireless UNICEF ambassador, our first guest has been my Valentine for two out of the last three years running. Please welcome Clay Aiken!
Clay Arrives Bearing Gifts

As with past appearances, pandemonium greeted Clay as he entered bearing gifts -- a giant heart of red balloons, the Clay face shirt for his host, and special "Aiken 4 Kimmel" M&Ms. Jimmy immediately whipped off his jacket and put on his new shirt.
The two friends chatted about Clay's break, his upcoming UNICEF trip, his "enthusiastic" fans" ("Do you realize you command a larger army than Fidel Castro?"), some recent dental work ("I heard that you got a visit from the tooth fairy yesterday and had some work done on your teeth"), and what not.
Jimmy's hint that Clay had promised to compose a special Valentine's Day song was met with comical and toally convincing bafflement. As a pianist quietly started playing an intro offstage, Clay relented, "Well, I can make one up."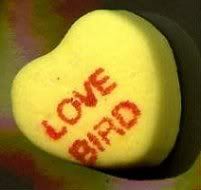 Valentine Song Lyrics
Mischievously eying the bowl of candy beside him, Clay began picking up pastel-colored hearts, improvising a song with the Valentines and tossing them over his shoulder after their usefulness. Miraculously, a microphone appeared; and the improvisational flavor of the song and skit progressed:
Love me ... true love,
Fax me ... got love,
You're so sweet ... yours forever,
You're so sweet ...


(speaking)

I've got Stage 2 diabetes; that's not going to work!


(singing again)

Angel ... dear one.

(chuckles)


You're a tiger ... you're mine, Jimmy!!!
Back on the message boards came reports that, during commercial breaks, Clay picked up the bowl of candy and passed out sweets to audience members. Definitly a Valentine's Night to remember ... again and again!
Yollie950 incorporated these events into her montage Valentine's Day with Aiken & Bacon.


Valentine's Day with Aiken & Bacon
Montage by Yollie950
Throughout the seven Valentines fans have shared with Clay, graphic artists have provided special visual treats. In this artistic 2/14 rewind are clickable designs by Sally, 1; A Beautiful Mind, photos by KarenEh, 2; cindilu2, 3; AmazingCA, photos by Katy4Clay, 4; and A Beautiful Mind, 5.

The most recent Aiken-Kimmel Valentine get-together was featured in the annual My Favorite Things montage by SmartyPantsSuz.
Other events highlighted in the 2007 MFT montage were the Mike and Juliet Show, Clay's UNICEF trip to Afghanistan, another JKL appearance, summer and holiday tours, and his $300,000 win for the National Inclusion Project on Smarter Than a Fifth Grader.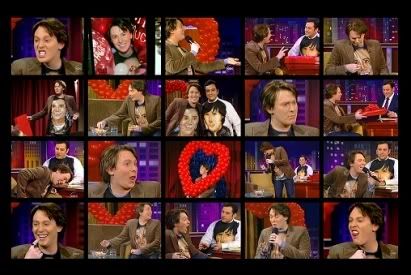 My Favorite Things 2007 by SmartyPantsSuz
JKL grid links to MFT montage on YouTube.
Below is a clickable of A Beautiful Mind's opening graphic: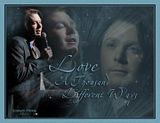 Have a very special Valentine's Weekend, Clay Nation!
Caro