GOLFING FOR INCLUSION - Clay Aiken assisted with the live auction, talked about the National Inclusion Project with co-founder Diane Bubel, and presented a mini-concert during Monday's GFI event. Photo by SmartyPantsSuz.

'No Three Putts' Supports Inclusion

Aiken Fans Adopt Golfer's Blog

When Larry, a golfing blogger, surprised his readers -- and himself -- with a very supportive entry about Clay Aiken and the National Inclusion Project, the singer's fans wasted little time in spreading the link throughout Cyberspace.

Overnight No Three Putts: Clay Aiken's National Inclusion Project Golf Tournament received more than 2,000 hits and numerous comments from the Clay Nation. The next morning a flabbergasted Larry the Golfer, as he has been affectionately tagged by CA fans, blogged again, describing the degrees of his amazement.
Until last weekend's Golfing for Inclusion, Larry only knew Clay as the singer who came in second to Ruben Studdard on American Idol 2. The staggering stream of visitors arrived from a variety of CA websites, which he visited and learned much of what's been happening with Clay since 2003.

In Wednesday's blog, No Three Putts: A Special Message to Clay Aiken Fans, Larry quoted many of the heartfelt comments, asked what "NJU" means, and asked for a couple of song suggestions to download. So far the second blog has received 72+ comments and enough songs -- some specifically for Valentine's Day -- to keep the man quite busy. His golf game may even suffer.


THERE's MORE: In a third entry Friday, the Clay Nation's favorite golfer shares his plans to promote charitable causes and his favorite performance from the 458 links CA fans provided. Larry now knows about Goodsearch and what NJU and "Use Your Voice" mean. Here's the link: No Three Putts: How You Crazy Clay Aiken Fans & a Brief Talk with Mother Inspired Me.
In addition, he has included the National Inclusion Project banner in the golf blog's sidebar so his readers will become aware of the cause, check it out, and possibly make a donation. Larry also plans to advertise and participate in next year's GFI.
So why am I writing about Aiken here? Because I really believe in his cause. It's called The National Inclusion Project and he has created a curriculum that can be used by already-existing camps to make their facilities accessible and fun for would-be campers with disabilities.

It's nice to see a celebrity put his name and valuable time to good use. Nice work Clay Aiken.

Graphic by Ambassador of Love, photos by LynninNJ.
Record Crowds Attend SRHP Concerts
Precedents to Larry's amazement can be found throughout recaps of Clay's tours and the "Spamalot" stints on Broadway. Who can forget the record-breaking crowds at the Soft Rock Hard Place Tour concert in Columbus, OH?

New Fans Join Clay Team in Ohio, Michigan was the headline of the July 23, 2007 Carolina entry chronicling the SRHP Tour through the Midwest:


A whopping crowd of 12-14,000 men, women, and children of all ages picnicking on the sprawling lawn or around one of 300 tables sold at a Chemical Abstract Service event that surpassed previous attendance records could easily have been the headline from Clay Aiken's concert in Columbus, OH, Saturday night.

To CA fans, however, the lead story had to be the number of "Clayversions" among men from multiple generations that occurred during the course of the evening.

Several concert goers, many of them men, left the event and blogged about their SRHP experience.

Dannylion

, who posted

The Coolest Concert I Have Ever Been To on his MySpace site, wrote that he has attended his fair share of concerts -- from Run DMC and the Beastie Boys to Duran Duran and Fleetwood Mac.

Even though Clay was not his cup of tea, he accompanied his wife to the Columbus, OH, concert to make her happy. In addition to the music and banter, Danny was most impressed with the fact that afterwards, Clay walked the enormous bus line shaking hands with his fans:


That was the coolest thing that ever happened at any concert I have been to!

Clay Aiken in Columbus, OH. -- Photo by toni7babe.

From Comedian to Word Poet

In her review for the Columbus Dispatch, Lynn Green cited Clay's entertaining rapport with the audience:


One of Aiken's endearing traits is his gently self-depreciating humor. "We have more gentlemen in the audience than we usually have," he observed. "Either the women in Columbus are strong-willed, or the alcohol tab is very high for the men here."

In complimenting "Lover All Alone," the writer painted a portrait of the scenery change as Clay performed the song for which he wrote the lyrics:
He loosened his grip on the polished, practiced stage manner and truly connected with his own soul. And for those few minutes, the squealing fans, the strong-willed women, the devoted husbands, and the rest of the audience fell absolutely silent in appreciation.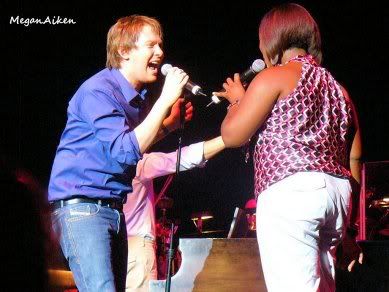 Clay, Quiana Parler in Sterling Heights, MI. (MeganAiken

Impromptu Performance Magical



One of the best examples of Clay's innate ability as an entertainer was the unplanned "Listen" duet he and Quiana Parler performed in Sterling Heights, MI.

Whether seated in the Freedom Hill Amphitheater at Sterling Hills, MI, or connected via a cellcert stream thousands of miles away, fans immediately recognized that the unscheduled duet by Clay and Quiana would long be remembered as one of the most incredible, magical moments in a long line of stellar performances.

Subbing for the ailing Angela Fisher, who nightly sang the "Dream Girls" song in concerts, the unrehearsed duo brought down the house and elicited exclamations that continue to this day wherever fans gather. Totally unrehearsed, the glorious vocals soared with beautifully balanced harmonies.

At the conclusion, music director Jesse Vargas joined the amazed audience in a spontaneous standing ovation.




Montage by Goldarngirl-Luckiest1
Clay and Quiana perform 'Listen' duet.
Goldarngirl

and

Luckiest1

compiled the Sterling Heights Listen Duet concert montage by incorporating several videos of the performance, a split screen of the singers, and much of the banter preceding and following the song.
CA fans are counting the days until the new Decca CD, a PBS Special, and a brand new tour! Meanwhile, no doubt fans will be keeping Larry company at YouTube!
Below is a clickable of SmartyPantsSuz's opening photo:

Have an awesome weekend, Clay Nation!

Caro