Clay Aiken in Columbus -- Photo by Toni7babe
Ohio Concert Breaks Records
Men Rave About Clay's Show
A whopping crowd of 12-14,000 men, women, and children of all ages picnicking on the sprawling lawn or around one of 300 tables sold at a Chemical Abstract Service event that surpassed previous attendance records could easily have been the headline from Clay Aiken's concert in Columbus, OH, Saturday night.
To CA fans, however, the lead story had to be the number of "Clayversions" among men from multiple generations that occurred during the course of the evening.
Bloggers Write About Concert
On Sunday, Dannylion blogged about the event at MySpace: The Coolest Concert I Have Ever Been To.
Having attended his fair share of concerts -- Beastie Boys, Duran Duran, Fleetwood Mac, etc. -- this man accompanied his wife to the Columbus event to make her happy.
It isn't that I didn't want to go; it's just that I wasn't enthusiastic about it. I actually think Clay is a great singer, but he isn't really my cup of tea. My wife, however, was very excited about going.
If you haven't already seen the blog, go read his story. MySpace members can also leave comments. In addition to the music and the banter, Dannylion was very impressed with the fact that after the concert, Clay walked the enormous bus line shaking hands with his fans.
The entry concludes with this statement: That was the coolest thing that ever happened at any concert I have been to!
Another blogger exclaimed about the huge crowd and posted videos of the bus line in his journal: Hundreds and Hundreds and Hundreds of Clay Aiken Fans.
I took my wife to Columbus, Ohio, Saturday night to see her favorite singer, Clay Aiken, in concert. It was a "Picnic With The Pops" concert, and it was the largest crowd this program has ever seen.
Fans Recap 'Clayversion' Stories
A stroll through concert recaps at several message boards provides many more examples of male fans "getting it" where Clay is concerned. There were female first-timers, too. Special thnx to the fans quoted for sharing their "Clayversion" observations.
Buckeye4Clay: In front of us was a table filled with non-Clay fans who, as Columbus Symphony subscribers, said they attend all of the Picnic With the Pops Concerts. One man said he had never seen anything like the crowd last night for Clay. He said that the only concert receiving similar attendance is when the Ohio State Marching Band plays.
Young professionals in their early 30's, they were amazed at our devotion to Clay. They couldn't get over the fact that so many had traveled so far to see him. They compared us to the followers of Jimmy Buffet, the Grateful Dead, and Phish. We told them that they were in for quite a treat.
I was happy to hear them chatting among themselves at intermission: "He has a tremendous voice." and "Yes, isn't he awesome?" After the concert, one of them turned and said "You all were right; he is very good!"
At another table, the attractive 30-something males went from a facetious "Oh, boy, I can't wait" attitude prior to Clay's appearance to "standing with the rest of us, arm in arm, swaying to the music with big smiles on their faces" during the closer, "Because You Loved Me."
'That Guy Is an Entertainer!'
Laughnoutloud: During intermission, a complete stranger in his late 20's turned and said to me, "'Man, this is a great show, isn't it?' I smiled and agreed. He said, "That guy is an entertainer! I always thought he had the best voice. My wife made me go to the American Idol show when it was here, but I haven't seen him since. This guy is great!!'
He was very excited and animated, and he wanted to talk about the show. The man was Clay gushing right in front of me.
Cath6: The workers and the caterers were all lined up watching the show during the second half and really enjoying themselves. They also showed the orchestra musicians on the jumbotron, and they were having such fun. It was a great experience, and I think Clay made a lot of new fans in Columbus!
Bestillmyheart: One of the funniest things was sitting at a table with a lady who was at her first ever Clay concert. She stood up and cheered with us as he came on stage; but when everyone sat down to listen, I noticed she was still standing and looking at Clay through binoculars. I knew right then she was GONE!

OHIO PHOTO INTERLUDE: Thank you to Toni7babe for this clickable pictorial recap of the Columbus Concert. Enjoy!

Reviewer Cites 'Lover All Alone'
In her review for the Columbus Dispatch, Lynn Green noted Clay's entertaining rapport with the audience:
"One of Aiken's endearing traits is his gently self-depreciating humor. 'We have more gentlemen in the audience than we usually have," he observed. "Either the women in Columbus are strong-willed, or the alcohol tab is very high for the men here."
Though she seemed to think the cellist was a guitarist, she also spotlighted one of the evening's most memorable segments:
"Aiken's strongest moment was his performance of "Lover All Alone," for which he wrote the lyrics. In spite of jarring intonation problems from his guitarist, he loosened his grip on the polished, practiced stage manner and truly connected with his own soul.
And for those few minutes, the squealing fans, the strong-willed women, the devoted husbands, and the rest of the audience fell absolutely silent in appreciation."
A Magical Performance
Fans described Clay's "Lover All Alone" performance in Columbus as "magical" ... "a masterpiece." Rowdy picnickers became so quiet you could have heard a pin drop on the grass or as Sugarpie311 said: So quiet I could hear crickets chirping ... everyone just taking in those beautiful words straight from Clay's heart.
Bottlecap summarized the moment like this: "Lover All Alone" was just gorgeous, and to see it live is just indescribable. I give Jesse mad props on his piano playing and his scoring for the whole concert, but I think this song really gives him a chance to shine, right along with Clay. The arrangement is spectacular, and the duet with the cello just resonates down to your toes. What a beautiful, rich, and warm tone the combination of Clay's voice and the cello achieve.
There were standing ovations, not just for the rip-roaring, crowd-pleasing "Classics" and TV medleys, but also for the quieter, more reflective songs -- "Lover All Alone," "Measure of a Man," and others.
For Clayneil, the concert was truly a family gathering. Surprised to see an old friend there, my middle son, asked, "And your wife picked this concert?" The reply was, "No, I did because this guy has a great voice!"
Below is a clickable of Toni7babe's lead photo: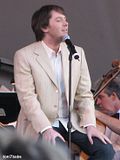 The Columbus Symphony Orchestra has a blog in which concert goers can leave comments about the show with Clay. Sounds tailor made for Clay Aiken fans!
Michigan Loves Clay!
Recaps are still coming in; but even on the cellcert, fans at home could tell the highlight of Monday's Sterling Heights concert was the impromptu duet by Clay and Quiana Parler as they performed "Listen" for the ailing Angie Fisher.
Huskerfalcon's video of Listen can be viewed at YouTube and downloaded at Clack Unlimited. Here is a Sendspace for the audio: Listen.
The Freedom Hill Amphitheater website is showcasing "An Evening with Clay Aiken," concert day photos by Larry Garcia accompanied by a medley of CA songs in the background.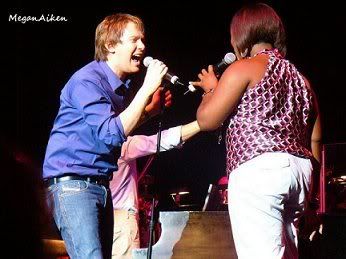 Photo by MeganAiken links to Sterling Heights Slide Show
The Michigan slide show features photos by ClayIzzaQT, LynninNJ, FiveGoldens, Shamrock, and MeganAiken.
MICHIGAN PHOTO INTERLUDE

:
A preview of the slide show is provided by these clickables from Monday's concert at the Freedom Hill Amphitheater. Special thnx to photographers LynninNJ, 1, 4, and 5; and

FiveGoldens

, 2 and 3.
Symphony Tour Rolls On
Next on the schedule are concerts with the Nashua Symphony Orchestra at 8 p.m. EDT Wednesday at the Meadowbrook Musical Arts Center in Gilford, NH, and the New Jersey Symphony Orchestra at the New Jersey Performing Arts Center Saturday night.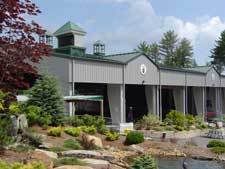 Meadowbrook Musical Arts Center, Gilford, NH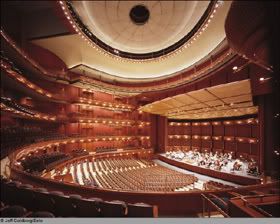 New Jersey Performing Arts Center, Newark, NJ
Claystruck's clickable calendar graphic is a beautiful way to keep an accurate concert/cellcert schedule for Clay's Summer Symphony Tour ... and all its many "handles."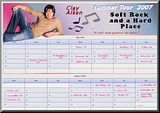 Have an awesome week, Clay Nation!
Caro
RELATED TAGS: Clay Aiken, A Thousand Different Ways, Measure of a Man, 2007 Summer Symphony Tour, An Evening with Clay Aiken, Lover All Alone, Chemical Abstract Service, MySpace, Columbus Dispatch, Columbus Symphony Orchestra, Freedom Hill Amphitheater, Meadowbrook Musical Arts Center, New Jersey Performing Arts Center, cellcert, bus line, Official Fan Club, Clay Nation