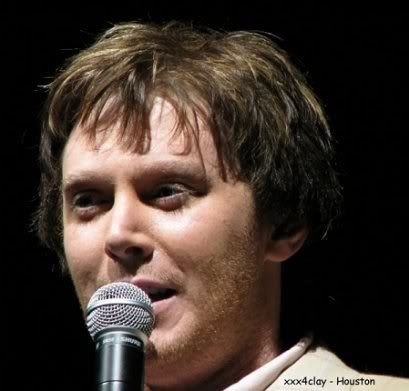 ON TO PHILLY -- The curtain rises on "An Evening with Clay Aiken" in Philadelphia's Mann Center for the Performing Arts this Tuesday. -- Houston photo by xxx4clay.
Only Two More Sleeps (Now None)!
Philly Fans Achin' for Aiken
"Three more days ... two more sleeps until July 17!" are some of the salutations and headlines resounding in Philadelphia threads throughout Clay Cyberspace. BOD & HEART actually thought the hoopla was for their birthday, but readers surviving the Houston intermission can read how LAP & LACIE set them straight.
Following a week's hiatus, Clay Aiken's Summer Tour 2007 hits the road again with an 8 p.m. concert Tuesday at the Mann Center for the Performing Arts in Philadelphia.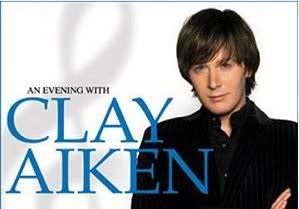 Promo at Mann Center Site
Below is an excerpt from Marty Franzen's piece in the weekend's Philly Blurbs:
Clay Aiken has been doing a lot of charity work for UNICEF, but he still manages to tour once or twice each year. Tuesday night, the "American Idol" TV show runner-up will be backed by the Mann Festival Orchestra at the Mann Center for the Performing Arts to sing tunes from his mostly-covers album "A Thousand Different Ways" and his debut CD "Measure of a Man."
In other publicity, Philadelphia Daily News/Philly.com ran this in the week's events:
Clay Aiken: One of the biggest success stories from "American Idol" (and he didn't even win!) performs with the lavish Mann Festival Orchestra. Mann Center for the Performing Arts, 52nd and Parkside, 8 p.m. Tuesday, $39-$69, 215-893-1999.
Tuesday's concert will take place at the Mann Center, pictured in a clickable below.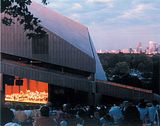 The Philly concert is sandwiched between the tour opening "Texahoma Three-fer" July 4-7 and the fan-dubbed "New York Three-fer" July 18-20: Mulroy Civic Center Theater, Syracuse, NY; Constellation Performing Arts Center, Rochester, NY; and Chautauqua Institution Amphitheater, Chautauqua, NY.
N&O Features 'Idol: The Musical'
Matt Ehlers of the News&Observer posted a story about "Idol: The Musical" in the Raleigh newspaper Sunday. In my opinion, An off-off Broadway Clay is worth the read. Below are some excerpts:
For years, there have been those who think Clay Aiken could kill 'em on Broadway. [snip]
Aiken, the Raleigh native and "American Idol" runner-up, has yet to appear in a Broadway musical. But his fame is such that his physical presence is not needed to produce a play about him. At least one of the off-off-Broadway variety. [snip]
Aiken has a reverential fan base, says [Bill] Boland, the writer, and in a way, there's reverence in producing a musical about it. "If you have a musical written about you, and so many people are investing their time and money in it, I guess it says that your fame has exploded beyond a normal level," he says.
Las Vegas Radio Interviews Clay
On July 10, Sunny 106.5 FM Las Vegas ran this story on the station's website: 'Idol' Star Sets the Record Straight on Airline Altercation. Listeners and readers clicking on the article can view Clay's "A Thousand Days" video.
Stay tuned to the Las Vegas site for possible audio of a Saturday interview conducted with Clay regarding the plane incident, as well as the upcoming taping of the ice-skating special. Descriptions of the interview were provided by Eleid of Clayversity:
They talked about what happened on the plane, and he basically said it was only his toe that wandered. They spoke about how the story got so blown up in the media and how surprised he was at that.
Asked if he always wanted to be in the business, he said that it was never anything he thought about. Are there times he wishes he hadn't pursued this career because of the media? Clay replied, "Honestly, there have been days I have felt that."
Show biz is not as glamorous as people perceive it to be -- limos, parties, etc. He added that he was home in Raleigh sitting on his kitchen counter in his pajamas.
They talked about the skating show, tickets for which went on sale Saturday. Clay believes the show will be very special with the skaters, whose artistic and athletic ability he admires, performing to beautiful Christmas songs.
These Digital Scapbooks
As a personal aside, my mother's cousin, still living life to the fullest in her 80's, emailed me this week asking why Clay had put his foot on a woman's armrest and his hand over Kelly Ripa's mouth. Apparently, the coverage in eastern North Carolina revived the latter story, too.
The incident was discussed in depth in the July 9 blog -- 'Aiken Fog' Captivates Fans -- so I sent her the Blogspot link and an explanation about last fall's Handgate. This was her reply:
I'm glad you enjoy Clay Aiken's music. I used to love his hair standing up; now his hair is flat on top. Years ago I had a crush on Ronald Reagan when he was a movie star and married to Jane Wyman. I had one or two scrapbooks of information and pictures on him. Naturally, I voted for him when he became president!
I reckon these hard drives filled with CA photos, links, and Clack are digital kin to her scrapbooks.
PHOTO INTERLUDE: This clickable interlude features some of the many handsome photos fans took during the Houston concert, including Toni7babe, 1 and 4; NoFancyClothes, 2; "Lover All Alone" graphic by Cindilu2, photo by Scrpkym, 3; and KSChristian4Clay, 5.

Some Early Birthday Celebrations
LAP and LACIE, resident laptop and external hard drive, respectively, have been known to take over writing duties, too ...
LAP: For anyone who survived that lethal Houston interlude, here's our story. Caro will officially notch another calendar year the day of the Philly concert, so every time we come across the "three more days ... two more sleeps" countdowns, we naturally think of a reason closer to home.
LACIE: Actually, the birthday celebration received a jump start weeks ago when Margaret5328 graciously offered Caro two tickets for Clay's Knoxville Concert. With a "thumbs up" from a June cath procedure and thanks to Margaret's generosity, she and good friend Sally plan to be there Aug. 12.
LAP: On Saturday, Sally zapped us right out of our collective "Aiken Fog" with a surprise package that will keep my DVD player warm for months to come. Sally, whom we suspect has DVR's in every room and a plethora of channels via Direct TV, decided the perfect gift would be to add to our movie library.
LACIE: So three days before the calendar toss, a box of 30 movies -- with "Little Miss Sunshine" to be taped later this week -- landed on our doorstep. Among the titles are "The Da Vinci Code," "Mickey Blue Eyes," "The Sisterhood of the Traveling Pants," "Elizabeth 1," "The Story of 1900," "Monster-in-Law," and "Annapolis." We're thinking that 31 new movies IS a library!
Surprise Intact Despite Daily Hints
LAP: We were all most surprised, even though Miss Sally has enjoyed dropping daily hints the past two weeks. Of course, the reporter saved many of them:
The gift is comprised of more than one piece ... I started the project because I was in pain [monster tooth-pulling about a month ago] ... There was definitely a learning curve with lots of mistakes along the way ... I mastered techniques I didn't know before ... I worked on the project right up until I mailed it.
LACIE: We pay attention enough to their phone calls and email to know that several months ago Sally expanded her photographic and graphic arts skills to the creation of videos. Naturally, we assumed she was making a super-dooper Clay Aiken montage.
LAP: She busted that theory when she dropped a later hint: "It has nothing to do with Clay."
LACIE: Come to find out, first thing each morning, Sally has been reading through various TV listings for movies and then scheduling her DRV's accordingly.
Movie Madness on the Horizon
LAP: There were occasional setbacks -- such as power failures, programming AM instead of PM, or setting the wrong amount of time. Not to mention, "Little Miss Sunshine" isn't set to air until after the 17th; so that will be a P.S. addition.
LACIE: You can see why the ole girl is feeling very blessed days before her birthday.
LAP: Guess that means when the tour fog fades, we'll be diving head first into around-the-clock movie madness!
A friend is someone who knows the song in your heart and can sing it back to you when you have forgotten the words.
In this corner, we are not counting days or sleeps -- just celebrating special friendships and life's seasons. Many thnx to Sally and Margaret for their amazing gifts and to the many CA fans who also recognize the song in my heart.
Below is a clickable of xxx4clay's lead photo: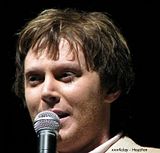 Have a wonderful week, Clay Nation!
Caro
RELATED TAGS:
Clay Aiken
,
A Thousand Different Ways
,
Measure of a Man
,
2007 Summer Symphony Tour
,
An Evening with Clay Aiken
,
Summer of Love
,
Soft Rock and a Hard Place
,
Lover All Alone
,
Mann Center for the Performing Arts
,
Idol: The Musical
,
Sunny 106.5 FM Las Vegas
,
Birthday
,
Friendship
,
Official Fan Club
,
Clay Nation