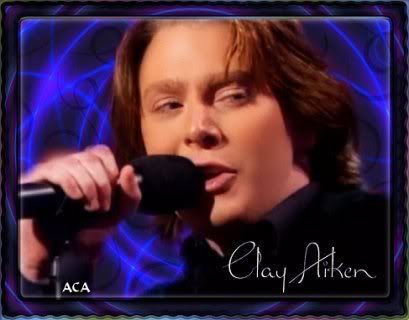 IT'S FINALLY JULY! -- Canada and the USA celebrate national birthdays this week, and Clay Aiken launches his Summer Symphony Tour with July 4 festivities in Frisco, TX. Graphic by Amazing_CA.
Fireworks, Festivities, and a Tour!
Clay Aiken Fans Welcome July
We hold these truths to be self-evident, that all men are created equal, that they are endowed by their creator with certain inalienable rights, that among these are life, liberty, and the pursuit of happiness.
July 4, 1776, is the birth date of the United States of America. On that day in Philadelphia, the Second Continental Congress adopted the final draft of the Declaration of Independence.
President John Adams said the Fourth of July should be celebrated with, among other events, "pomp, parade, games, and illuminations from one end of this continent to the other."


The week is filled with festivities in North America, as both the US and Canada commemorate the birthday of their respective unions. Originally "Dominion Day," July 1 officially became "Canada Day" in 1982; and today Canadians celebrate their country's heritage, history, and achievements from coast to coast.
Fans Focus First on Frisco
For Clay Aiken fans, the week's main focus will be Freedom Fest in Frisco, TX, opening concert of the singer's 20-city summer tour. The festivities promise food, fun, fireworks and plenty of red, white and blue on Independence Day.
The agenda will include an FC Dallas - Chivas USA soccer game, Clay Aiken and Philharmonic Orchestra Concert, Children's Expo, Community Stage, Taste of Frisco, Hometown Heroes Exhibit, Party in the Plaza, concluding with a spectacular view of the biggest fireworks show in North Texas!
Billed as quality entertainment for the entire family, the Frisco Freedom Fest is expected to draw 20,000 attendees.
CLICKABLE FIREWORKS: From seasons past and present, the fandom's visual artists have created many patriotic graphics for this week's celebrations in Canada and USA. Included here are designs by A Beautiful Mind, photo by Invisible926, 1; Claysmelody, photo by Mad4Clay, 2; A Beautiful Mind, 3; Claysmelody, 4; and Claystruck, 5.
Tour Heralds New Clack
The Summer Tour 2007 -- a.k.a. "An Evening with Clay Aiken," "Summer of Love," "Soft Rock and a Hard Place" -- has received excellent promotion in the media and on the Internet, including this paragraph from Men's News Daily:
This week, pop singer Clay Aiken will launch a six-week tour in Dallas, Texas. He'll perform with local symphony orchestras in each city as he supports his latest album, "A Thousand Different Ways." The 20-city tour wraps up on August 19 in Orlando, Florida.


Besides celebrating America's birthday on July 4, the highly-anticipated opening concert signifies the rejuvenation of fan Clack coffers in the forms of new video, audio, and photo components. There is no limit to the excitement new Clack holds for the Clay Aiken fandom.
Houston To Link Podcast Interview
In Houston, site of the second concert, Clay fans await several exciting announcements this week. The Houston Press will announce the winner of a Clay-related art contest Monday and publish the entry on Thursday.
The recipient of concert tickets for a child and his/her parent donated through the Make a Wish Foundation will be announced this week. In addition, a 15-minute podcast interview with Clay will be linked.
The Summer Symphony Tour heading below is a tee-shirt design by SmartyPantsSuz and Coopersgirl. You can order a shirt by contacting them at the OFC or Clayversity. Coop's OFC screen name is bejams.
Exciting times are definitely just around the bend in these locations!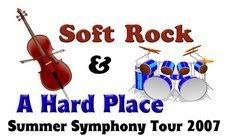 July Dates

4 Frisco, TX - Pizza Hut Park
6 Houston, TX - Jones Hall
7 Tulsa, OK - The Brady Theater
17 Philadelphia, PA - Mann Center for the Performing Arts
18 Syracuse, NY - Mulroy Civic Center
19 Rochester, NY - Constellation Performing Arts Center
20 Chautauqua, NY - Chautauqua Institution Amphitheater
21 Columbus, OH - Chemical Abstract Service
23 Sterling Heights, MI - Freedom Hill Amphitheater
25 Gilford, NH - Meadowbrook Farm Arts Center
28 Newark, NJ - New Jersey Performing Arts Center

August Dates

2 San Diego, CA - Embarcadero Marina Park South
3 Pala, CA - Pala Casino Starlight
4 Los Angeles, CA - Greek Theatre
5 Indio, CA - Fantasy Springs Casino
10 Cary, NC - Koka Booth Amphitheater
11 Asheville, NC - Biltmore Estates
12 Knoxville, TN - Tennessee Theater
15 Atlanta, GA - Chastain Park Amphitheater
16 Fort Myers, FL - Barbara Mann Performing Arts Center
17 Tampa, FL - Tampa Bay Performing Arts Center
18 West Palm Beach, FL - Kravis Center for the Performing Arts
19 Orlando, FL - Hard Rock Cafe


SUMMER TOUR: This clickable interlude features tour graphics representing eight visual artists. They include Amazing_CA, photo by Karen Eh, 1; Claystruck, photo by Snix, 2; Shireen, 3; A Beautiful Mind, photo by Invisible926, 4; and MNmeesh, 5.
I think Brightstar's post at Clayversity effectively summarizes CA fandom sentiments on the arrival of July 2007:

Happy Sunday!
Happy Canada Day!
Happy first day of July!
Happy beginning of concert month!
Happy beginning of cellcert month!
Happy anticipation!
Happy planning!
Happy packing!
Happy (and safe) travels!
Happy meeting new friends!
Happy reunions with old friends!
Happy pre-parties!
Happy concerts!
Happy cellcerts!
Happy bus lines!
Happy clack sharing!
Happy post-parties!
Happy concert reports!
Happy afterglows!
Happy travels to the next one!

On the Cutting Edge
Clay Aiken was right in the middle of the Apple iPhone fever sweeping the nation this past weekend.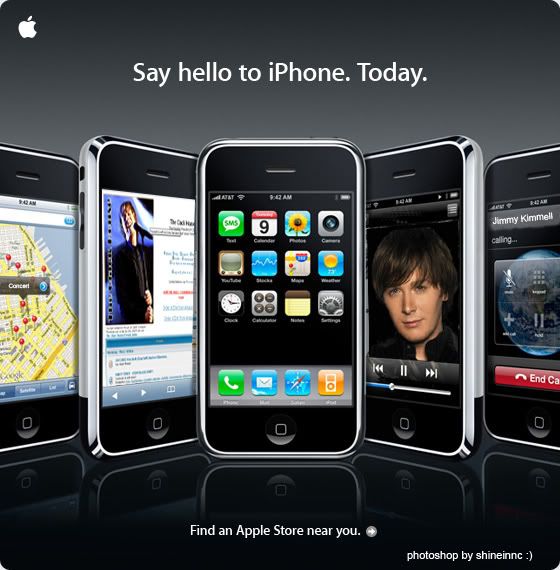 Clickable adjusted ad - Shineinnc
This is the Night, Clay blogged to his devotees at the Official Fan Club as he counted down the hours to 6 p.m. Friday when doors opened nationwide for the sale of the $600 phone that plays music and videos, accesses the Internet, and sports an intelligent keyboard with built-in dictionary capable of predicting the next word and offering suggestions as one types.
Which our singer did soon after his purchase: Is it cool to anyone else that I am writing this blog from my iPhone?!?!?!?!
That it was! We look forward to many more such entries, Singerman!
Below is a clickable of Amazing_CA's opening graphic: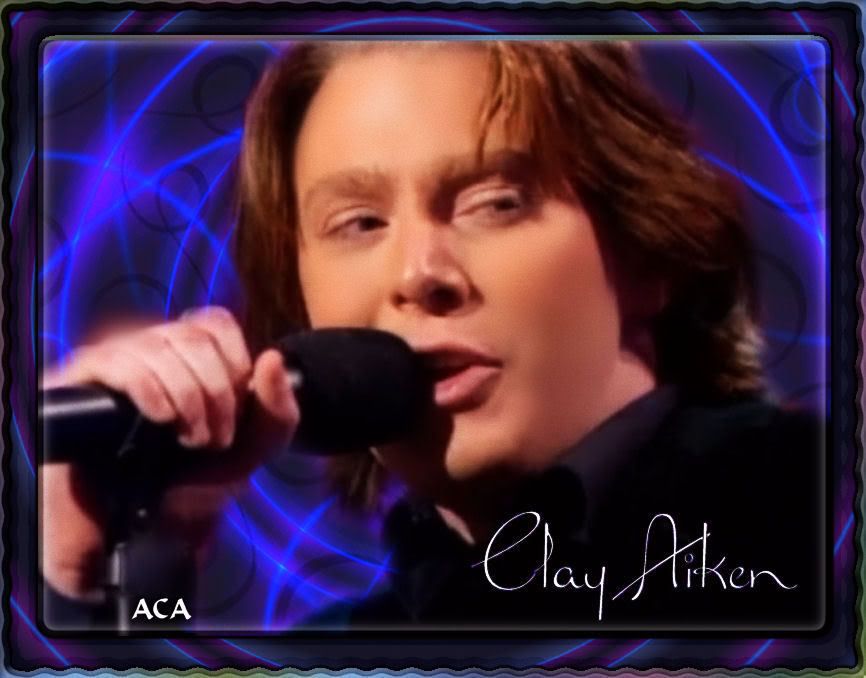 Have an awesome week of festivities, Clay Nation!
Caro
RELATED TAGS: Clay Aiken, A Thousand Different Ways, 2007 Summer Symphony Tour, An Evening with Clay Aiken, Summer of Love, Soft Rock and a Hard Place, Frisco Freedom Fest, Canada Day, Independence Day, Men's News Daily, The Houston Press, Apple iPhone, Official Fan Club, Clay Nation