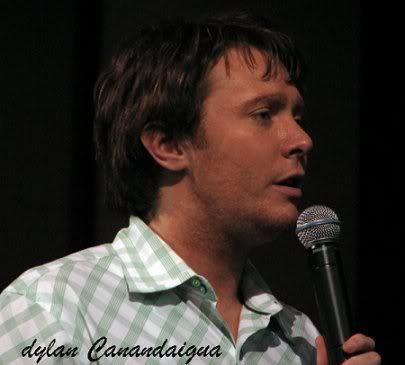 Clay Aiken in Canandaigua -- Photo by Dylan
Chautauqua a Colossal Success
Canandaigua Entry a Surprise
Clay Aiken proved this weekend he really, really knows how to make an entrance. In the second and third performances of the Summer Tour's "New York Three-fer," he surprised Canandaigua and Chautauqua audiences filled with fans who know his concert set list as well as he does and -- at times -- the lyrics even better.
On both evenings, the entertainer's normal casual stroll onto the stage while singing "Here You Come Again" took decidedly ingenious twists. Friday Chautauqua concert goers watched Clay circle a high walkway behind the stage and eventually make his way down an aisle to center stage, all the while singing the opening number with the orchestra.
During the Canandaigua entrance Thursday, the singer encountered a few unexpected turns himself. In a report at the Clayboard, Imsnoqueen described the concert's opener this way:
Clay surprised everyone by entering through the crowd. It was pretty funny because there are box seats in Canandaigua. He later explained that Jerome told him there were steps going down from the box seat sections, but he was trapped because there were no steps down from that area.
So Clay kept going into a box seat section and turning around almost immediately. He did this three times. Finally, we could see Clay and Jerome running -- yes, running! -- across a walkway, making his way down the center aisle, still singing all the while.
PHOTO INTERLUDE: Clickables by three photographers replay portions of Friday's Chautauqua concert. Included are photos by WNYClayFan, 1, 4, 5; Mom4Clay22, 2; and ClayFaninMN, 3.

Stupendous Evening at Chautauqua
Anyone listening to the concert cellstream Friday knew before reading recaps or viewing video clips that "An Evening with Clay Aiken" at Chautauqua was a huge success loaded with excitement and energy between Clay & Co. and from fans who have followed the singer for years and those who were introduced to his talent that night.
ClayFanNC (CB), whose hometown is about an hour from Chautauqua, took several relatives and friends to their first CA concert. They were seated among Chautauqua "members" who also had never seen Clay perform. These are abbreviated excerpts from her report:
Before the concert, they [the newbies] had tons of questions for me. Someone mentioned Clay's being on "Idol," and one woman said, "Oh, he didn't win????" ... I just loved that!
The man next to me has seen many performers there, asked lots of questions, and loved the concert! He said, "I see why you like him so much; he has a beautiful voice." He also commented about how kind, caring, and gracious Clay is and was impressed with how he handled the whole easel/card mishap in such a humorous and calm way.
He loved the way Clay bantered and interacted with the audience and said he is a great entertainer. It was fun watching all the "members" dance and sing through the entire "Classics" segment.
Since this was the first concert for my hometown friends, they took their cue from me. The whole row jumped and screamed right along with me!


Chautauqua Institution
Recaps Replay Cananadaigua
Many of Thursday's concert attendees also made the trek to Chautauqua for Friday's concert, but some shared their thoughts in quick recaps before they left.

Also included below are random reactions by cellstream posters who listened to the Canandaigua performance. Whenever possible, the fan's screen name and message board are given.



All in all, it was a great concert. Clay seems to be having so much fun with it, that it's hard not to smile right along with him.





Most sublime moment for me: "Lover All Alone" with piano, cello, and the rain coming down hard. Magical!

--

Dylan

(Clayversity)



My friend couldn't believe the "network" of people and how we know each other, but never have met in person until the concert.





I've watched tons of clack from last night and just loved it! Clay is so funny and engaging and I sure noticed the women, especially, in the orchestra, loving his banter. I think Clay had a lot of fun too and that always translates to the audience and their enjoyment.

--

Canuck2010

(CV)

PHOTO INTERLUDE: These clickables by three photographers recall memorable scenes from the Canandaigua concert. Included are pictures by LynninNJ, 1; KarenEh, 2, 3; and Fivegoldens, 4, 5.


Bus Line Impresses Security
Good posts travel from board to board, and this description came from CB's buscert three times removed:
A security guard came out and asked why everyone was standing around. The fans explained to him that Clay would come out to shake hands. When Jerome came out, the guard couldn't believe all the fans were calling him by name.
The security guard, who spoke to us on the cellcert phone, said he enjoyed the show and that he was trying to keep the crazy Clay fans in line out there. The security guards took pictures of Jerome with the fans.
Here's the story about Jerome's new hat: My daughter and I gave Jerome a cap with "LINE UP" printed on it. We told him that those are our favorite two words from him. He wore it the whole time. -- ClayFanNC (CB)
Earlier Concerts Still in 'News'
Previous tour concerts are still in the "news" throughout Clay Cyberspace. These remarks, memories, and blog notes relate to performances in Syracuse, Philadelphia, and Tulsa.
Word from the Syracuse Symphony via my friend is that they are "very very happy" with the concert attendance and the way everything went. -- SnarkyStripes (CV)
AileenEP (Clackhouse) reported this observation from the Philadelphia concert: I had so much fun watching two 20-something girls having the time of their lives. They totally loved Clay, and they also loved the show!
During the TV medley, it was like "Name That Tune." Each one knew every TV show, and it was a race to see which one screamed out the title first. During the "Classics" portion, they were up dancing along with each and every song. They knew the them immediately.
During intermission, three of their friends came over, and they were all gushing. They all put on their just purchased concert tee shirts and took numerous pictures of each other. Watching them made me happy.
Below is a clickable of Dylan's lead photograph: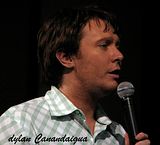 Two Excellent Blog Reads
If you are a member of the Official Fan Club, look up the current blogs by Vibajajo and Nance.
In the first, Vibajajo relates an experience in Philadelphia during which she was among several who met Clay after the concert. She was there to push the wheelchair of a friend invited to join the singer for a few minutes before he departed for Syracuse. Among those present was a woman who had flown from Iceland for the show.
In her blog, Vibajajo wrote: Clay was very nice to my friend, and I see why God gave him a job to 'use his voice.' He speaks for the people who can't speak for themselves and takes the time to talk to 'special' people, who most people just walk away from.
Be prepared to laugh out loud when you read Nance's entry. This lady, who spends much of her time in a wheelchair, received her first cellcert ever from OFC member SOUTHERNAIKEN during the Tulsa concert.
Anyone who has listened to a cellstream knows that at times you feel as if you are in the same arena with Clay & Co. while other moments, Singer Man sounds like he's under water.
As the reception varied, Nance ended up playing her own version of the game Twister. She was on the floor trying some of the most hilarious positions I've ever read described ... and in walked her husband.
Go read both of these blogs. I think you'll be glad you did!
Have a wonderful weekend, Clay Nation!
Caro
RELATED TAGS:
Clay Aiken
,
A Thousand Different Ways
,
Measure of a Man
,
2007 Summer Symphony Tour
,
An Evening with Clay Aiken
,
Here You Come Again
,
Lover All Alone
,
Canandaigua
,
Chautauqua Institution
,
cellcert
,
buscert
,
Official Fan Club
,
Clay Nation