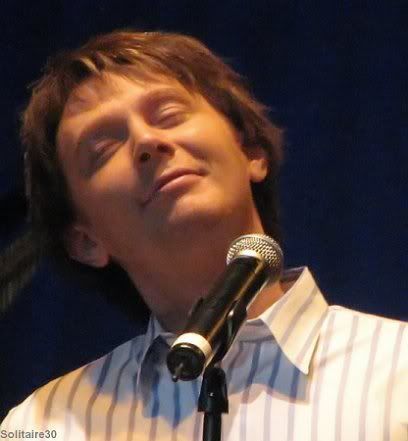 Reflections from Philly -- Photo by Solitaire30
Philadelphia Welcomes Clay
Curtain Rises on New York 3-Fer
With Clay Aiken's Summer Tour embarking on five consecutive concerts, my three-day blogging routine may have finally met its match trying to stay current, partake of all available cellcerts and clack, as well as teach this week's music student schedule.
A look back at Tuesday night's concert by Clay & Co. at Philadelphia's Mann Center for the Performing Arts plus early recaps from Wednesday's shindig in Syracuse have already propelled this blog into a revamp royale.
Below the Philly coverage are a Syracuse slide show, reviews from The Post Standard/Syracuse.com and a new male fan, as well as a Sendspace download and links for "The Classics" medley.
Comfortable Chat With Music
Several fans have summarized the Philadelphia concert experience as a comfortable chat among friends interspersed with the sharing of music -- old and new favorites, some easily categorized as "Clay Aiken music," some that is not, but all of which he has proved he can sing.
Through it all, Clay is the consummate entertainer, ably interacting with audiences in any given situation, some planned and some not. Below are memories from the Mann Center performance Tuesday night. Most were taken from cellcert replays; however, some reflections are credited to fans.
To the delight of the Philly concertgoers, Clay used the catwalk or circular walkway on several songs and got close to many in the audience.
Throughout the night, there were several references to the FBI, one to someone near the catwalk: "If you hit my foot one more time, I'm going to call the FBI on you."

* * *
He was in fine voice -- very strong and powerful. The "snarkometer" was off the charts.The show flies by so fast -- it leaves you truly wanting more.
I love Clay Aiken -- he is not afraid to be himself, and he loves us enough to let it all hang out. The orchestra seemed to enjoy being up there with Clay, smiling and laughing at his jokes. -- Jars9022

* * *
Following "Lover All Alone," Clay's speaking voice was cracking a bit, so he drank quite a bit of water, saying, "I'm going through puberty (spreads his arms) ... FINALLY!" Eyes slightly down, he added in a very deep voice, he added, "Now I'm a man." Looking at his audience, he said, "And you were all here to see it." The place went crazy!

* * *
Describing the origins of the popular Classics medley, Clay said, "I called Jesse and told him I wanted to do "Sexy Back."
About 30 minutes later after he stopped laughing, he called me back and went to work on the arrangements. Give him another round of applause!"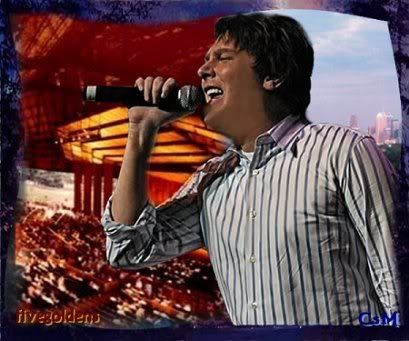 PHILADELPHIA SLIDE SHOW -- Link to a slide show of images from the Philly concert by clicking on this graphic by Claysmelody, photo by FiveGoldens. The slide show features photographs by Solitaire30, Invisible926, and FiveGoldens.
Clayversion at the Mann
We were sitting next to a husband and wife. She said she heard Clay was coming to the Mann a few weeks ago on tv. She jokingly said to her husband that it would be a nice anniversary present. He went on Ebay and got the tickets for her as a surprise.
They had never been to one of his concerts before. She just loved it and he said he didn't know Clay was sooooooooo funny. He was also in awe of his voice, how powerful it was. They both said they would Love to go to another show whenever Clay comes close again. -- JUDYL

* * *
The show ended with Clay singing a "song love" to his fans. "I'm everything I am because you love me." I felt this was so appropriate because we as his fans have been behind him in every triumph and every crisis.We follow and care for him as a singer, entertainer, a man of great personality and character, and a sincere, loving benefactor. He is our friend, our brother, our lover, and our role model. -- Romys

* * *
It was a wonderful concert, and I was thinking of you and gave you a birthday toast! -- Marlyne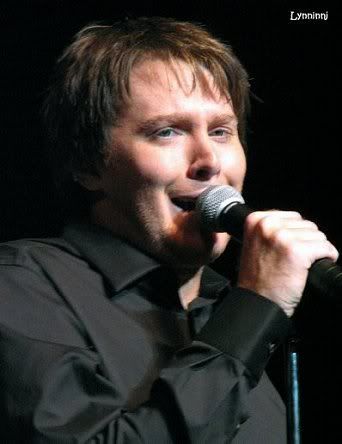 SYRACUSE SLIDE SHOW -- Link to a slide show of photos taken by LynninNJ and Shamrock-Pat at the Summer Tour Concert in Syracuse Wednesday night. The above photo is by LynninNJ.

New York 3-Fer Opens in Syracuse

From early fan reports, the Syracuse concert Wednesday night was another awesome performance by Clay & Co. Glowing descriptions about the acoustics, the lighting, and Singer Man, were, unfortunately, tempered by the perseverance of the venue's camera security.
Setting for the performance was the Crouse-Hinds Concert Theater, the largest of three halls in the John H. Mulroy Civic Center.
Below are highlights from a review by Chuck Klaus appearing in The Post Standard/Syracuse.com: Decent Set with SSO Thrills 'Claymates'. The full review can be read at the Syracuse.com. link.
[Mr. Aiken] has an interesting voice, fairly well-used within his chosen field of pop ballad singing. There's an interesting combination of elements making up his style: a touch of blue-eyed soul, a bit of modern country, some strains of soft rock and, perhaps the most dominant influence of all, contemporary Broadway.
His voice is on-pitch, he treats most of his material in a fairly spacious manner, and his work is pleasant and fairly polished, in an extremely informal way.
This ease on stage, as well as a constant barrage of self-deprecating humor, may be one of the secrets of his success. Aiken, forever putting himself down, can hardly be seen as a threat to his female audience, and they evidently love him for that. He is the beloved singing teddy bear placed near a young girl's flouncy canopied bed. [snip]
Aiken had the chance to perform a ballad for which he served as lyricist, which offered the SSO's cellist, Lindsay Groves, the chance to contribute a sonorous solo. Here was one instance where the Clayemotion of the audience paused long enough to allow Aiken to truly be heard, which turned out to be a source of further Clayelation.
New Male Fan Recaps Syracuse
The review below is by a male who watched his first Clay show in a "cheap balcony seat" and emailed a friend with this report:
I DEFINITELY enjoyed the show. And, he is a FUNNY guy! Those comments about the plane incident and the 'hand over the mouth of a yakkity woman" were priceless!! It seemed to me that Clay and the two girls really, REALLY enjoy doing the show. It was loose, relaxed, and just plain fun.
The singing was wonderful. loved hearing those big notes again -- and in person for the first time! The fact that he covers just about any genre you can think of was also great fun. The TV themes -- Michael Jackson and Madonna??? Unbelievable! He did some GREAT MJ singing there.
I just wish the boy would get the beat into his feet! If he had done the moonwalk on those MJ songs, that place would have come crashing down! The screams and noise -- I thought Elvis had just appeared on stage!
All in all, a GREAT time! I really enjoyed it and definitely hope he comes through here with the Christmas show! I'm kicking myself NOW for not seeing it the last time!
Syracuse 'Classics' a Must See
In case you haven't seen "The Classics" medley a la Syracuse, small and large wmv files by ClayFaninVA and Scarlett are available at Clack Unlimited. Here is a Sendspace download for the smaller version.

The above photo of a Syracuse billboard has been shared throughout Clay Cyberspace by the photographer, ClazyChristina.
Among the excellent promotion for the concert was an interview by BoNhia Lee that ran in The Post-Standard/Syracuse.com on Monday: Clay Aiken To Perform with SSO.
Rochester, Chautauqua Next
The New York Three-fer is off and running. Excitement level is high, both among the many planning to be present in the three locales and those who will be in touch via cellcerts, cellstreams, and clack recaps.Remaining concerts in the New York Three-fer include:
July 19 Rochester, NY

- Constellation Performing Arts Center


July 20 Chautauqua, NY

- Chautauqua Institution Amphitheater



Below ares clickable of
Solitaire30's lead photo, as well as the image by

LynninNJ

linking to the Syracuse slide show:
Have a wonderful week, Clay Nation!

Caro
RELATED TAGS: Clay Aiken, A Thousand Different Ways, Measure of a Man, 2007 Summer Symphony Tour, An Evening with Clay Aiken, Summer of Love, Soft Rock and a Hard Place, Lover All Alone, Mann Center for the Performing Arts, Crouse-Hinds Concert Theater, John H. Mulroy Civic Center, Syracuse Post-Standard, Syracuse Symphony Orchestra, Official Fan Club, Clay Nation