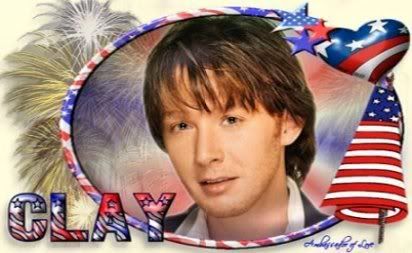 INDEPENDENCE DAY 2007 -- -- Today the United States commemorates its 231st birthday. In addition, the Clay Nation celebrates the opening concert of the Summer Symphony Tour. Graphic by Ambassador of Love.
Past Clack on Parade
Aiken Fans Await Tour Opener
If you're not tearing down a Texas highway to Clay Aiken's opening night concert at Frisco Freedom Fest or throwing clothes into a suitcase for the Houston-Tulsa leg of the Summer Symphony Tour, then perhaps you are twiddling your thumbs and watching the clock slowly tick its way towards cellcert time.
The house is white-glove clean, eggs are bedeviled, and the barbeque grill stands ready to serve your Independence Day guests. For sure, the evening will be a juggling act, but you've carefully scheduled patriotic events around the much anticipated first tour concert. The only problem is the hands on your wall clock appear to be standing still or -- worse! -- inching backwards.
UPDATE: The July 4 opening concert is in the books, and everywhere you turn Clay fans are sharing experiences and Clack from the event. I'm still gathering, but here is a beautiful clickable blend by Amazing_CA, photo by Farouche, from Wednesday night's performance with much more to come.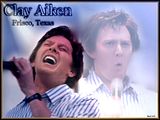 So before the cellstreams and concert reports start cascading through Clay Cyberspace, this blog has compiled some entertaining ways to pass the time. Note that these options could prove useful for later concerts as well, but there should be a whole new stack of Clack in the coffers by then.
Not all fans have been around since American Idol 2, and the OFC membership rolls now boast many who happened upon Clay long after that fateful spring of 2003. One of the fandom's newest members is Anja of Dusseldorf, Germany; and in her second blog, she expounded on how she stumbled onto our singer.
For Anja and everyone who wasn't on the message boards from the beginning, Fountaindawg has designed 92 graphics that recreate Clay's story from the Atlanta audition to the MTV New Year's Eve Show of 2003. The photos can be viewed separately or as a slide show. To link, click on the opening frame below.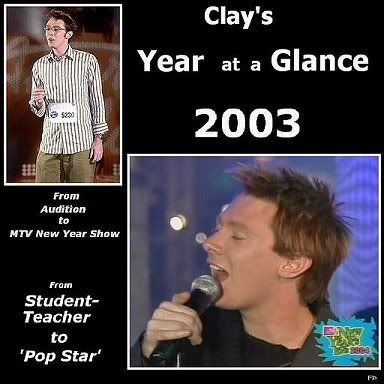 Link to 'Year at a Glance 2003' by Fountaindawg
Looking forward to future compilations!
Morphing Into the Present
Along similar lines, Cindilu2 recently created several morphs in which Clay traverses several concerts and/or seasons. The one on the right moves from "Idol" to "All Is Well." Wonder if this could work in reverse to shave a few inches, wrinkles, and years?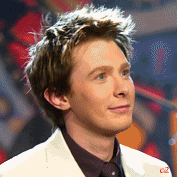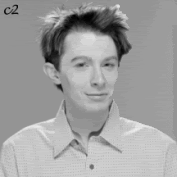 Morphs by Cindilu2
Lose Yourself at YouTube

Clay fans know they can temporarily get lost in the stacks of You Tube for hours, even days. A fun place to begin is "My Favorite Things 2006" by SmartyPantsSuz, an overview of the special moments fans shared with Clay last year. You can view the montage here or at YouTube.
My Favorite Things 2006
If you have never seen the original "My Favorite Things" or would like a review, here is Suz's first MFT montage, which begins with Clay's initial appearance on AI2. Enjoy!
My Favorite Things
Other montages to explore or review are Fallin' by Goldarngirl and Black Velvet by Cindilu2. Hot off the press today is a new creation by Aspiegirl: Clay's 'Tour of the Day'.
Want to hear Clay sing "Broken Wings," "Lover All Alone," "Touch" or other songs from A Thousand Different Ways and Measure of a Man in a montage? Just search at YouTube by song, singer, or montage maker. Also, click on the "more by this user" button, and, believe me, concert and cellcert time will be here before you know it!
Happy Birthday, America!
PARTY TIME -- It's time to light 231 candles as we celebrate the founding of the United States of America. Included in these clickable festivities are designs and photos by seven visual artists. They include Claystruck, 1; Amazing_CA, photo by Karen Eh, 2; Katt45, photo by Karen Eh, 3; Claysmelody, photo by Karen Eh, 4; and BettyJean, photo by ClayCounty, 5.

Frisco Freedom Fest
A final detour is a sneak peek at the Frisco, TX, concert venue with these two clickables of Pizza Hut Park. Clay and the Philharmonic Orchestra will perform from 8-9:45 p.m. after the FC Dallas - Chivas USA soccer match. The evening festivities close with a fireworks extravaganza.

Before the opening curtain, there's just enough time to create your own fireworks display. This picture links to a site on which you can stage your very own show. The more you click, the more you get. Enjoy!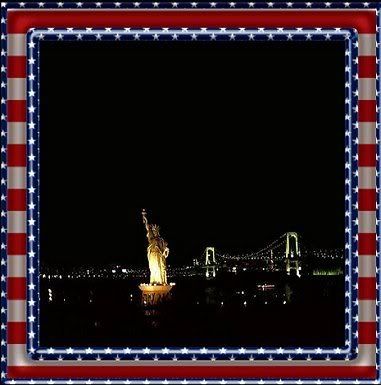 Happy Fourth of July and Summer Tour Opener, Clay Nation!


Caro
RELATED TAGS: Clay Aiken, A Thousand Different Ways, Measure of a Man, 2007 Summer Symphony Tour, An Evening with Clay Aiken, Summer of Love, Soft Rock and a Hard Place, Frisco Freedom Fest, Independence Day, American Idol, YouTube, Official Fan Club, Clay Nation