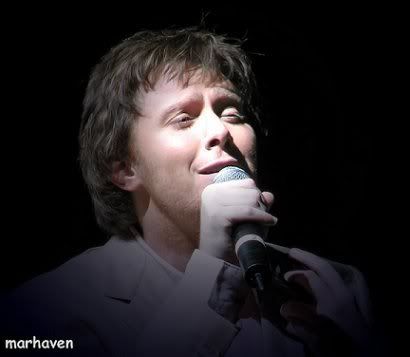 TEXAHOMANS APPLAUD SHOW -- Clay Aiken performing with the Houston Symphony Friday during the first leg of his Summer Tour 2007. Photo by Marhaven.
Fond Memories of 'Texahoma'
Aiken's Symphony Show Sizzles
While the Clay Aiken Summer Tour 2007 is on hiatus through Tuesday, the Texahoma Three-fer is alive and well in riveting replay of video, audio, and photo Clack. As you might expect, the Aiken Fog has escalated to near epidemic levels throughout the Clay Nation.
Even LAP and LACIE, ghostwriters of the previous entry while yours truly was similarly affected, have succumbed to non-stop concert replays. They were coherent long enough to send "thank you's" for all your kind comments.
Nothing like an inadvertently wandering foot, referenced as Toegate or Footgate, to make headline news with every imaginable media outlet. According to the interactive graph at Topix, there were more searches for Clay Aiken this past weekend than the Handgate raucous with Kelly Ripa last November.
Between his hands and feet, Clay is a very well-researched celebrity. On the plus side, fans have noted that ticket sales for future concert venues have taken a noticeable spike.
Media 'Inadvertently' Prints Wrong Photo
Besides Clay's inevitable snark about the airline incident during Saturday night's Tulsa Concert, mass media's frenzy to sensationalize the episode yielded a little comic relief when news sites "inadvertently" ran a 2003 photo of the singer with two totally different stories.
Both have been corrected, but below are clickables of the websites with Clay's photo accompanying these very odd headlines: "US Congress returns, ready to battle Bush over CIA leak case, executive privilege" and "Bush's ex-aide refuses to answer questions about attorney firings." Sloppy journalism strikes again!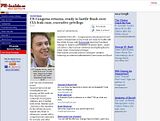 'Inadvertent Photos' - Clickable
Houston Writer Shares Unpublished Excerpts
Clay fan Stripedshirts thanked writer Joey Guerra for the candid interview he compiled for the Houston Chronicle last week.In her email, she also wondered if there were more to the interview than had appeared in the paper; and the reporter graciously sent her four excerpts to share with other fans. Here are the gems that did not make the Chronicle article:
On today's music: If it doesn't have a melody or a hook, I really can't get into it. If it's just people screaming, I get confused. It reminds me of my childhood too much.''
The first preset on my radio is the top 40 station, and I try my best to listen to it. But I find myself switching away and going to the AC station or the country station or the Christian station. There are so few real songs on top 40 anymore. And so few real singers. I'd love to try to find a middle ground between songs that are great, hopefully good singing and production that's current.
I think nowadays radio doesn't care how good someone sings. They just care whether or not people can fake having sex while standing up dancing to it. That's all they want.
On being roommates with Kimberley Locke: She and I became really good friends. I think she was probably a better roommate than I was. I was lazy and kind of messy. She's very meticulous and likes to get her stuff done on time.
She would wake up at 6:30 in the morning. By the time she was back from the gym, I was just rolling out of bed, sitting in my pajamas watching TV. She would say, 'Clean up this kitchen! Leaving dirty dishes in the sink.
On 'Idol The Musical': I just heard about it not too long ago. I don't know what to think about it. I think it's kind of flattering, a little bit. Someone put some money into it. They think people are going to show up. I kind of want to see it. That way if they do make fun of me, they'll have to deal with me sitting right there. And then I will boo them loudly.
On his Broadway aspirations: When you grow up in North Carolina, you don't really think about being a pop singer. Maybe you might be a country singer. But when you sing in school, the thing that you do is theater.
I never really had any aspirations to do Broadway. But I'd never really seen a real Broadway play until after I got off Idol. When I watch them, I'm like, "Wow, people think I can do this?" I've seen 'Wicked,' and I'm like, 'Whoa!'''
About his conversation with Clay, the reporter added, "He was warm, funny, and sincere. This recent interview was particularly entertaining. I often laughed out loud, as did he."
Love Songs, VH1 Reality Voting
Residing in the the CA fandom are totally unblemished concert virgins, semi-virgins who have allowed themselves to view small doses of Clack, and those of us who partake of all varieties coming down the pike. Wherever you fall in the spectrum, there are two places -- besides Lycos and GoodSearch -- that fans can cast votes for our singer.
Clay's surprise appearance on the AI 5 Finale is in the running for VH1' "Number 1 Reality TV Moment." The results will be broadcast on VH1's 40 Greatest Reality Moments 2 beginning Aug. 10. Vote for American Idol "And the Winner Is ... " as often as possible.
Once daily fans can vote for "A Thousand Days" at Favorite Love Songs Not on the Radio. Currently, Clay's "ATD" is trailing Barry Manilow's "When I Fall in Love."
PHOTO INTERLUDE: Six photographers and graphic artists are featured in this first clickable interlude. They include Farouche, Houston, 1; Amazing_CA, photos by Huskerfalcon, Frisco, 2; xxx4clay, Houston, 3; Claystruck, photo by xxx4clay, Houston, 4; and Invisibleson, Houston, 5.


Fans Share Not.Just.Us Stories
Clay Aiken fans are among the best at taking the pulse of concert audiences and reporting back to the many message boards devoted to the singer. These are some of the many stories from the past week:
KAndre: The Frisco venue frankly was totally typical of a Texas Fourth of July. I was impressed by the number of what seemed to be eight-year-old girls whose only reason to be there was Clay. A couple were there with their father, who was clearly a serious soccer fan; and it was also clear that the girls prior to this had had no interest in attending a game.
The older one explained to her Dad that there was some sort of law that they MUST go on the field - FIRST. He would have to RUN, and he would have to hold her up all night so she could SEE. This was the most important thing in the WORLD. Dad was teasing her and us.
These girls had to have been no more than three or four when Clay was on American Idol, but he still managed to acquire them as fans.
Marhaven: During the Houston intermission, a couple of gals were chatting in line. It was obvious this was their first Clay concert, and they had come on a whim. One of them glanced back at me and asked if this was my first concert and I said "No, actually it is my 31st."
They proceeded to gush about how great Clay was and how much they were enjoying the concert. They were youngish, late 20's-early 30's, and I am sure they left there as Clay fans.
Another lady, upon hearing about my 31 concerts (I usually don't admit this to random strangers) wanted to know if I was the lady on GMA with the Claymobile. Wrong show, but at least she had seen it!
Huuugs: A lot of people around us at the Houston concert were only there for the symphony. The woman next to me, along with her friend, didn't know who Clay Aiken was. She teared up when he sang "Measure Of A Man" and again on "Lover All Alone."
She loved hearing about his foundation, as she is a teacher for children with learning disabilities herself. She said she was going to look for his CDs on Saturday. I hope she can find them!
The man behind me laughed so hard and just kept saying "Wow!" He was won over. As we went out the door, another man was heard saying, "Why haven't I heard of this guy? He can sing anything. What a voice!" He just kept on and on! It was a great feeling!
dksfriend: I met a 20-something fan from Mexico at the Houston pre-party who posts under the name Nallelyp at the Clayboard. Nallely had taken a 12-hour bus trip from Monterrey, Mexico, to see Clay in concert for the very first time.
Idol wasn't shown in Mexico, but a friend of hers was living in Georgia during AI5. The friend saw Clay during his brief AI5 appearance and fell in love. They went online to find out more about who this guy was, and the rest was history!
Nallely showed me some hilarious pictures of her three fellow Clay fan friends in Mexico. They threw a party on his birthday last year, complete with macaroni and cheese and hot pineapple salad. They played a somewhat "adult" version of "pin the tail on Clay"; and they threw darts with a board covered with pictures of Simon Cowell, Perez Hilton, and Kelly Ripa. They sure learned all the important stuff about Clay quickly, didn't they?
Nallely was so excited to see Clay in concert for the first time. At intermission we were able to bring her down to join us in the 5th row center since there was an empty seat next to us. Watching her being mesmerized and enthralled by Clay was a wonderful experience, and it made the concert extra special for me.
PHOTO INTERLUDE: These clickables are among the many pictures taken by the CA fandom's photographers at the first three concerts. Included are photos by Farouche, Houston, 1; KCChristian4Clay, Frisco, 2; Fivegoldens, Houston, 3; Jtgranny, Tulsa, 4; and dc4clay, Houston, 5.
Summer Clay Receives Thumbs-Up
As you will see, the experiences below encompass concert reactions in a variety of venues.
PKMiller emailed Johnny Buschardt to thank him for booking Clay at the Historic Brady Theater. At his request, she has shared his reply with CA Cyberspace:
It was a great show. It didn't sell out; but like I told Clay on the phone yesterday, every person there had the time of their lives. Normally it isn't that hot in the Brady, but I think the combination of a hot summer stretch and 2000 screaming, ecstatic women may have raised the temperature a bit.
I can honestly say that, in the hundreds on concerts I've done, I have never seen so many fans wait (and wait so patiently) for a quick handshake after a show. That was a pretty cool sight to see. I am sure we will bring Clay back in the future.
Raleighlady: Just before lunch Wednesday, Diane Ramsey, the midday DJ at MIX 101.5 WRAL, announced in a sweet honey voice: "He can put his size 13 foot on my armrest anytime he wants. Here's Clay Aiken with "Invisible."
PKMiller: I talked with a female DJ from KBEZ today. She said she, another DJ, and her husband went to the Brady to see Clay. I asked if she enjoyed it, and she said she loved it! She especially liked the "Classics."
She added that Clay is totally underestimated and under-appreciated and she would see what she could do to get him played on the radio. Not one radio station in Tulsa plays Clay, but perhaps we can win them over one DJ at a time. She was absolutely gushing.
Champion: My 18-year-old son saw all the pictures from Texas/Oklahoma concerts and said, "That's how I want my hair cut!" It's been really long for awhile, so we printed off a few Clay pix and headed to my hairdresser.
He really thinks it is the perfect summer do -- short enough not to be too hot but long enough to be styling. That Aiken guy is a trend setter!
Below is a clickable wallpaper of Marhaven's handsome opening photograph: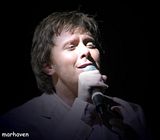 Have an awesome weekend, Clay Nation!
Caro
RELATED TAGS:
Clay Aiken
,
A Thousand Different Ways
,
2007 Summer Symphony Tour
,
An Evening with Clay Aiken
,
Summer of Love
,
Soft Rock and a Hard Place
,
Houston Symphony Orchestra
,
Historic Brady Theater
,
Houston Chronicle
,
Favorite Love Songs
,
VH1 Greatest Reality Moments 2
,
Airplane Incident
,
Clack
,
Official Fan Club
,
Clay Nation