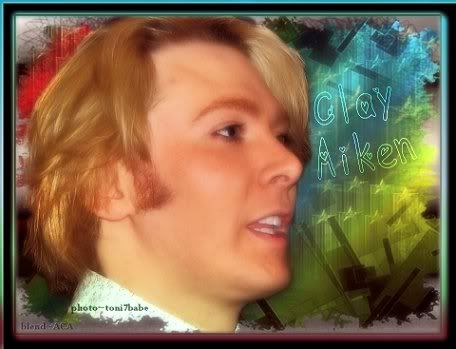 Stage Door Design - A Shubert Alley photo by Toni7babe inspired this graphic by Amazing_CA.
'Spamalot' Marks 3rd Year
Clay Talks 'Tap' for UNICEF
He sings, he dances ... he drinks tap water.

Longtime UNICEF Ambassador Clay Aiken is urging New Yorkers to participate in The Tap Project — a US campaign to help UNICEF provide safe drinking water to children around the world.
That's the lead for the
Ecorazzi
website's story,

"Clay Aiken: Drinking One for the Team."



Last year, hundreds of restaurants and thousands of customers supported
The Tap Project
on March 22, United Nations official World Water Day. This year the Tap Project has been expanded nationally for an entire week.

At thousands of restaurants across America during March 16-22, patrons can donate a minimum of $1 for the tap water they normally receive at no charge. For every dollar donated, a child in a Third World country will have 40 days of clean drinking water.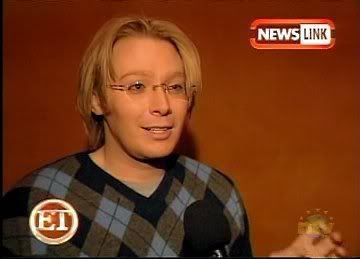 Clay Talks 'Tap' on ET - Screencap by Gerwhisp
Clay also discussed the project with ET this week. The Clay Aiken Talks 'Tap' video can be viewed at ETonline. Also participating in the campaign is UNICEF Canada.

UNICEF estimates over 1 billion people worldwide have little or no access to safe water. Every 15 seconds a child dies from thirst or water-related disease. That's nearly 6,000 every day.

Drought Causes Unexpected Problems

Ironically, I am having water problems right here in the USA. Because of the extreme drought in my area, tree roots desperately seeking water have infiltrated the terra cotta pipes leading from my house to the main sewer line at the street.

For months, my plumber and I have been on a first name basis. To the tune of a backhoe, replacement pipes, and some big bucks, Good Friday will mark the emancipation of my home's water problems, as well as a chunk of my bank account.
Surely there's a winning lottery ticket in my future!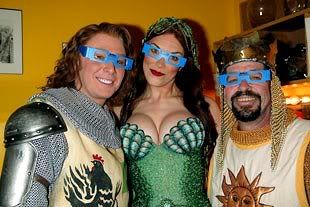 'Spamalot' cast celebrates in style.
Photo by Joseph Marzulo/WENN
'Spamalot' Anniversary Goes 3-D
The madcap Broadway cast of "Spamalot" celebrated its third anniversary in fashion by going 3-D on March 18. The sold-out audience members were given special glasses for the event, along with a special edition collectible certificate of achievement.

According to a story at
Playbill
, two milestone markers are ongoing:


Theatregoers can get one free ticket with every two tickets purchased at regular prices through April 11 by calling (212) 947-8844 or by visiting www.broadwayoffers.com and using the code SPAM3PK.

For a limited time, all triplets get in free when all three attend the show together.
Anniversary photos are featured at Broadway World, Broadway.com, and Theater Mania.

PHOTO INTERLUDE: This clickable interlude spotlights stage door moments of Clay and his fans from the past three weeks. Fountaindawg's three graphcis (1, 3, 5) feature a variety of photographers while Amazing_CA's designs (2, 4) include photos by ClayChristina, 4, and Toni7babe, 5.


Audience Accolades Fill Recaps

Like most Clay Aiken fans, I read lots of "Spamalot" recaps at the message boards, parts of which find their way to my running stash to share in blogs. These vignettes cover everything from AI Clay fans to brand new aficionados plus a "mid term" observation from one who has attended several shows.

LJPARISMAMA: I sat beside a a NYC woman who I don't think had any idea what the show was about. I didn't say anything about Clay; but when he first came on, I overheard her inform her friend on the other side, "Look! That's him!" I think maybe they came because of Clay.

The 30'ish man on the other side of my daughter seemed like he was going to "soil his pants" he was laughing so hard. It really was a Broadway crowd, much different from a Clay concert crowd. Clay was wonderful and really sold the role.

CRAZYABOUTCLAY: After the show, we grabbed some dinner at Juniors. We left the restaurant around 6:45 and were walking up 44th street when we saw very large groups of high school students coming towards the theater.

I'm not sure if they were going to see the show, but as they walked past Clay's picture displayed outside the theater, all of the girls kept pointing at it, saying, "Ooh, there he is!" and "Oooh, I can't wait to see him!" They were very excited.

RANDOM BLOG NOTE: My friend Pat and I decided to see Spamalot; I had forgotten how much I enjoyed the completely silly humor of Monty Python. Trust me when I say that I'm surprised to admit this: I totally enjoyed Clay Aiken's performance! The guy was really GOOD! Actually, everybody was really good. See it, see it, see it!!!

Aiken Charm, Talent Win Fans

AMAZED_IN_NJ: My daughter and I had seen "Spamalot" the previous weekend before; she loved it and wanted to go again. She asked if I could get seats for her and her friend. I happened to have amazing seats for Saturday's show, so I gave them my third row center seats.

At intermission, the friend, who only knew Clay from AI, said she was loving the show. She was very surprised by Clay's height and how wide his shoulders are.

The stage door was packed, but both my daughter and her friend got autographs. They couldn't stop talking about the show the entire bus ride home. Later, the friend said to tell me that if Clay has a summer tour, she wants to go. That Aiken charm does it again!

LINDYGAL: Sitting next to me was a lovely couple, who had driven up for the show from from Washington, DC. The woman was so excited. She had only seen Clay at Wolf Trap, as her work prevents her from traveling to shows.
She is not a member of the fan club or on the boards. She is just a fan who loves Clay and has bought all his albums and watches him on TV. She did not know about the new album, but she does now!

SCARLETT: What a joy it's been to watch Clay/Sir Robin grow by leaps and bounds over the last two months! Opening weekend was impressive; and if things had stayed that way, I would have been simply happy and proud of his being on Broadway.

But more than that, these past couple of months Clay/Sir Robin wasn't just learning; he was coming into his own. It was like watching Harry Potter after he realized that he was a wizard. Clay tinkers, experiments, explores his characters. Sir Robin started off as an innocent sweetheart of a knight and now is more of an enthusiastic, though still easily scared, performer.

For an interesting first person peasant account, see Suereu's Blogspot entry -- "On Stage with Clay!!!!!" -- at Clay Aiken Journey.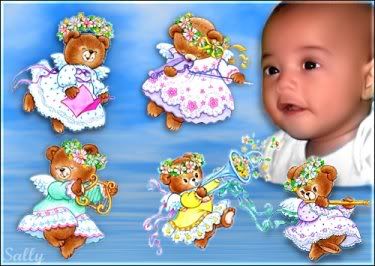 Kai ponders place in family band. - Graphic by Sally
Musicians are the norm in our family. Many can sing; four have taught band/orchestra; one is a minister of music; and the majority have performed in orchestras, bands, and various ensembles.
Our instruments include flute, piccolo, oboe, clarinet, saxophone, trumpet, cello, string bass, piano, organ, and all matter of percussion.

Kai's great-grandmother, Mama Mac, was a choral music teacher who loved singing harmony all her life. She also played the trombone.

Already, Kai enjoys playing his grandfather's marimba. Whatever instrument he chooses, there is bound to be a "cousin" nearby.

Below is a clickable of Amazing_CA's opening graphic: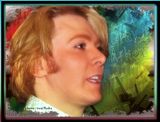 Have an
Eggstra Special
Easter, Spring, and March Madness Weekend, Clay Nation!

Caro
RELATED TAGS:
Clay Aiken
,
Spamalot
,
Broadway
,
UNICEF
,
World Water Day
,
Tap Project
,
3-D Anniversary
,
Official Fan Club
,
Clay Nation