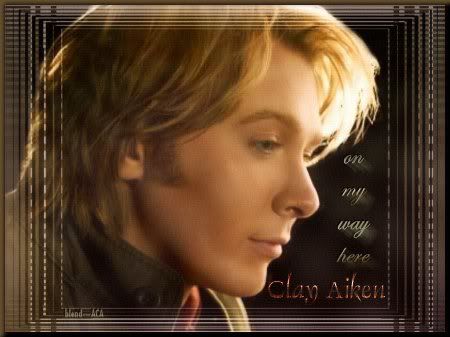 ON MY WAY HERE -- The cover art for Clay Aiken's upcoming CD is the basis for Amazing_CA's handsome graphic.
OMWH on its Way!
Fans Embrace New CD Promos
The escalation of new video, photo, and media promotions for Clay Aiken's upcoming CD, On My Way Here, turned a normal spring day into Christmas morning on many fan message boards Tuesday, March 25.
"On My Way Here" is definitely on its way!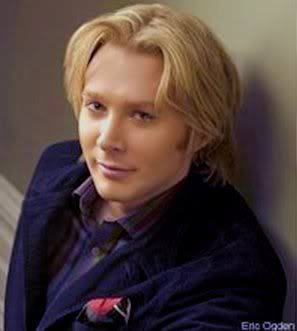 New photo by Eric Ogden links to webisode.
Edited by Sally, the above photo by Eric Ogden links to a webisode of Clay discussing the search for and ultimate selection of Kipper as producer for OMWH. The brief video can also be viewed at AOL and PopEater.

New RCA Bio Includes CD Notes

RCA/19 Entertainment posted an outstanding biography of Clay with lots of information about his upcoming CD, On My Way Here. In addition to background on the new album, the singer's achievements in the music industry and through his charitable endeavors are outlined. A high resolution photo accompanies the article.
CLAY AIKEN: On My Way Here

When Clay Aiken and his executive producer Jaymes Foster began the search for songs to record for Aiken's first album of original material since his 2003 chart-topping debut Measure of A Man, they both fell in love with a song written by OneRepublic front man Ryan "Alias" Tedder called "On My Way Here."

The message of the lyrics — how the lessons we learn while growing up shape us into who we become as adults — struck such a deep chord with Aiken that it wound up inspiring the theme (and title) of his new collection.

"I thought if we could find songs along those lines, that deal with my life over the past five years and what I've learned from my experiences, it would be a great concept for an album," Aiken says. "Since I got into this business, I've learned so much about myself and about life and the world. I'm nowhere near an expert, but this album has taken on the form of addressing how far I've come in those five years and how I feel like I've found myself."

Top Five Debut Distinction

As Aiken's millions of devoted fans around the world already know, it's been a whirlwind journey. Since shooting to stardom on the second season of American Idol, the 29-year-old Raleigh, NC native with the powerhouse voice has become an international pop phenomenon who has sold six million copies of his three best-selling albums ... that earned Aiken the distinction of being the fourth artist ever to have his first three albums debut in the Top 5 on the Billboard chart. [snip]

"What's powerful about a lot of the new songs is that they can mean different things to different people," he says. "It was really important to me that they be interpretable in all kinds of ways, so as not to cloud someone's ability to find their own meaning in them."

One example of this is the evocative ballad "The Real Me," written by singer/songwriter Natalie Grant, which is a poignant story about the experience of being in the public eye. "The song really spoke to me about the necessity of having someone in your life who knows you and doesn't really care about the fact that you're a celebrity," Aiken says. [snip]

Album To Open Up-Tempo

Though he's known for his signature ballads, Aiken chose to open On My Way Here with an up-tempo, pop-rock tune, "Ashes," which begins with the following lyric: "Someone told me what doesn't kill you only makes you stronger / Sets you free from all that held you down."

"That's a great opening line for an album," Aiken says. "My mom used to say that if things come easy they're not worth having; that there can't be a sunrise with a night. So, to me, that song is about how the most important lessons I've learned in my life have come out of less-than-rosy experiences, and that I'm stronger because of them."

To musically represent the album's lyrical theme, Aiken and Foster enlisted Grammy-Award winning British songwriter and producer Kipper, who has worked with Sting, Chris Botti, and Julia Fordham, marking the first time Aiken has recorded an entire album with one producer.

"It's made for a very collaborative environment in the studio," Aiken says. "Every song has been scrutinized by Jaymes, Kipper, and me to make sure it's exactly what we wanted it to be." [snip]
The bio is in a Word (.doc) format, and the full article can be read at the RCA site or by linking to this special entry at the
OFC
.
Billboard Article Makes the Rounds

One of the best articles about the new CD appears in Reality TV World. Here is an excerpt from Clay Aiken's New Album To Be Released May 6:


Clay Aiken's new album is on its way.

The American Idol second-season runner-up's fourth album -- "On My Way Here" -- is scheduled to drop May 6 via 19 Recordings/RCA, Billboard confirmed Friday.

With his role of Sir Robin in Monty Python's Spamalot at the Shubert Theatre scheduled to conclude May 4, Aiken had previously stated he was "hoping" the album would be out May 6.

"On My Way Here" is being produced by Kipper, a U.K.-based producer best known for working on Sting's Grammy-award winning "Brand New Day" album.
The Billboard article (see March 22 entry) was picked up by Reuters and has been popping up on sites all day. Some of them include The Insider Online, OK! Magazine, and ET Online -- all with a different picture!
OMWH is one of two albums featured at the top of the music site Pause & Play.


The countdown to May 6 is on. With all the new media promo, song clips cannot be far behind!

PHOTO INTERLUDE: Featured in this clickable collection are OMWH and Spamalot graphics by these visual artists: j4clay, 1; Claystruck, photo by Ogden, 2; Amazing_CA, 3; Amazing_CA, photos by NCClayFan, 4; and Ambassador of Love, 5.


Warren-Sedaka Songs on AI2 Rewind

Fountaindawg

's anniversary wallpapers provide excellent recaps of Clay's performances on American Idol and are great complements to the AI Rewind series. The entire set can be viewed in the
Clay on AI
section of the
Clay Aiken Kids
site.

During Dianne Warren Week, Clay sang "I Could Not Ask for More." Randy's comment to Clay was most memorable: "We're trying to find the best in America, and every week you come up with it. You are definitely one of the best in America."

With all the added sports programming, American Idol Rewind was bumped to unusual hours by many carriers. In case you missed the program, here is a Sendspace download of Clay's portion of the Top 6 show in which he sang
I Could Not Ask for More
.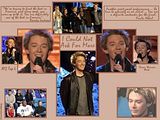 Dianne Warren Week
I Could Not Ask for More
This week's Saturday-Sunday episode of AI2R revisits the Neil Sedaka/60s Show in which Clay performed "Solitaire" and "Build Me Up, Buttercup."

CA fans remember that on this episode, guest judge Sedaka told Clay, "You sing like Andre Agassi plays tennis - PERFECTION, PERFECTION! And I would kill to write and produce your first CD. I have lost my song forever to you. It will always be a Clay Aiken song."

Sedaka/60s Week
Build Me Up, Buttercup
In case you missed them, here are downloads for the Top 8 performance, At This Moment, and the Top 7 show, Tell Her About It.
March Madness Steers Schedule
In the past few days, I have watched Sports Center more than anytime in my life, and that's saying a lot because I really enjoy college basketball. When games don't fit my teaching schedule, I usually call my basketball buddy Terri to check afternoon scores between lessons.
March Madness resumes full speed Thursday and Fridaywith the NCAA Sweet Sixteen games. The high-powered offense of the Carolina Tar Heels, who scored an average of 110 points in their opening two victories, will meet defense-oriented Washington State on Friday.
Around here, the big story last weekend was the "David and Goliath" wins by tiny 10th-seeded Davidson College over established powers Gonzaga and Georgetown University. The small NC liberal arts college of 1,700 students is located near Charlotte.
Led by sophomore Stephen Curry, who averaged 35 points in his team's two victories, Davidson and its sharpshooting guard have been a major topic in the sports media most of the week. My nephews lucked into a couple of tickets and spent part of Sunday cheering for the Carolina teams in person.
As the Davidson squad entered the arena to watch the Carolina game, they were given a standing ovation by thousands of blue-clad Tar Heel fans - in Raleigh, as well as living rooms across the state.
It was a great weekend for Wildcat and Tar Heel fans. Here's hoping this one is, too!
Below is a clickable of Amazing_CA's opening graphic: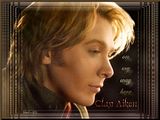 Have a wonderful week, Clay Nation ... and Go, Carolina and Davidson!!!
Caro
RELATED TAGS:
Clay Aiken
,
On My Way Here
,
Spamalot
,
Broadway
,
Eric Ogden
,
webisode
,
RCA/19 Entertainment
,
Kipper
,
Ryan Tedder
,
The Bubel/Aiken Foundation
,
UNICEF
,
Billboard
,
Dianne Warren
,
Neil Sedaka
,
American Idol2 Rewind
,
Clay Aiken Kids
,
March Madness
,
Carolina Tar Heels
,
Stephen Curry
,
Davidson College
,
Official Fan Club
,
Clay Nation