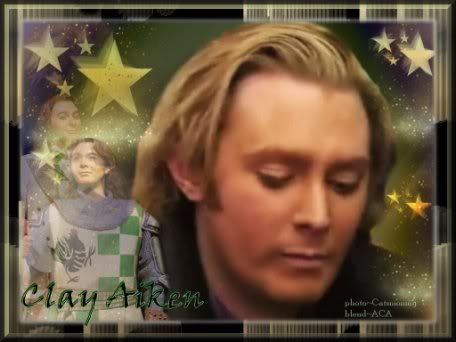 BROADWAY STAR - Clay Aiken triumphs in "Spamalot," as pre-orders for his new CD top Amazon's charts. Amazing_CA's graphic features a photo by Catsmomsny.
Amazon Pre-Orders Roll

Aiken's 'TBD' Album Tops Charts

Within hours of becoming available for Amazon pre-orders on March 6, Clay Aiken's new CD, currently titled "To Be Determined," was ranked #1 among New Releases.

Since then, TBD has stayed in the #1 position or among the top 10 in various Amazon categories, including Best Sellers in Music, Hot New Releases, and Movers & Shakers.
The Best Sellers listing changes hourly, and Movers & Shakers every 24 hours. TBD hit the pinnacle of the M&S list on March 6 with these figures: Up 1,635,300% ... Sales Rank in Music: 1 (was 16,354).

Price of the album at Amazon is $9.99. Clay's new CD is also listed at Amazon.ca, Barnes&Noble, Best Buy, Borders, CD Universe, and Target. The CD has also been added to the Pause & Play site.
ORDER VIA GOOD SHOP: Pre-order Clay's new CD through Good Shop and a percentage of the purchase will be donated to The Bubel/Aiken Foundation. For example, pre-orders with these stores yield the following donations: Amazon, 1.5 %; Barnes&Noble, 2.5 %; and Target, 3.5 %.

Be sure to select TBAF as your charity before shopping. Since inception, supporters have raised $7,677.25 for TBAF through Good Search and Good Shop.

Hannah 'Orders' New CD, Too

In Spamalot news, Hannah Waddington is profiled in the Fresh Face feature at Broadway.com. The daughter of British opera singer, Melodie Waddingham, the "Lady of the Lake" no doubt was born with musical theater in her genes.

In the interview, she was very complimentary of Clay:
By the time Waddingham's visa came through, her debut was set to coincide with Clay Aiken's as Sir Robin. "He's a triumph in the show," she says of the American Idol runner-up. "His accent is flawless and his voice is beautiful. In fact, I said to him, 'You must get this all the time, but I'm your colleague now, so can I have one of your CDs please?'"

As for herself, "Coming out of that floor [as the Lady of the Lake] and thinking, 'I'm on Broadway,' is everything I dreamed it would be."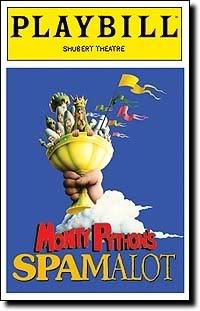 Clay Fans 'Spam' Playbill
CA fans are keeping the Spamalot Playbill staff extremely busy with mail orders for the colorful memento. Following a shipping inquiry,

Sweet Carolina Girl

received an email with the info that a staff of five had taken eight hours to label, pack, and send more than 1,000 orders on their way.

To place an order, go to
Playbill Store
. The March 2008 issue with color photo and CA feature article sells for $10.

In addition to the headline article about Clay, the singer-actor is billed on the title page of the production credits section. A headshot and bio are also included inside the booklet.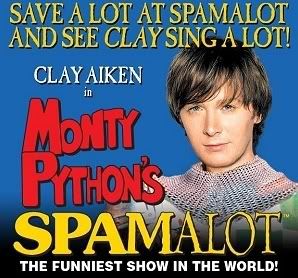 Broadway Box Alert

Tickets for a number of shows through April 27 can be purchased at a reduced rate at Broadway Offers. This is the info about Spamalot:

Don't miss your chance to save on Clay Aiken in Monty Python's SPAMALOT. The international singing sensation has joined those legendary knights of the round table in their quest taking on flying cows, taunting Frenchmen and a killer rabbit! Come see why audiences LAUGHALOT at SPAMALOT!


$70 Orchestra & Mezzanine Seats! $45 Balcony Seats!
Tue. - Thurs. at 8; Sat. at 2; Sun. at 2 & 7
Valid for performances now through April 27
Visit the Broadway Offers link and enter the code SPBBX25, or call Telecharge.com 212-947-8844 and mention code SPBBX25.

Australian Writer Cites 'Spamalot'

Kelly, an ABC Australia reporter, includes props for Clay and "Spamalot" in her March 10 travel log. Her favorite show, however, was "Mary Poppins":
I have visited Broadway many a time since I arrived, and honestly New Yorkers are spoiled for choice (although I get the feeling the tourists fill the seats not the locals). I saw a wonderful production of a musical called "Curtains" starring David Hyde Pierce and Debra Monk, "Spamalot" starring Clay Aiken - an American Idol winner and huge over here ...
PHOTO INTERLUDE: This clickable interlude features the talents of six visual artists including Amazing_CA, photo by PermaSwooned, 1; Amazing_CA, photos by Catsmomsny, 2; ABeautifulMind, 3; Claystruck, photo by Catsmomsny, 4; and Amazing_CA, photo by Toni7babe, 5.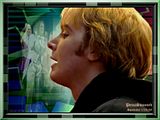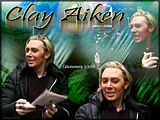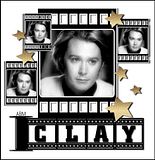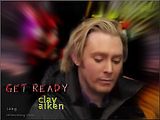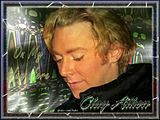 Claying It Forward on Broadway

When Clay says he has the best fans in the world, he's not kidding -- and he's right. Everyone in the fan community has either participated in or read about the "Claying It Forward" incidences that take place almost daily. Sometimes it's a CD or a DVD of performance clack; other times it's passing along an extra concert ticket.

You may have read about just such an incident at Spamalot in February. After seeing a nutshell of the chain of events, I looked up the original post at the OFC. With permission, this is the extraordinary experience of Canadian fan Mariedrummond:


On my birthday weekend, Feb. 16-17, I saw Spamalot four times. While I was waiting for the Sunday matinee, I met several Clay fans, and one introduced me to Scarlett. I just discovered Clay last December, and I thanked her profusely for all the great clack that has allowed me to reconstruct Clay's journey of the last five years.

Incredibly, Scarlett invited me, a total stranger, to sit with her for the evening show in seat A111. The ticket had originally belonged to Toni7babe, who had to fly home before the show that night.

I gave my E6 ticket to Michelle, a fan I met that weekend and who had a row K seat. Then I met Nikki, who had a row Q ticket, so I gave her the K seat.

Still holding the Q ticket, I went back to the SRO (standing room only) section and asked a mother and her young son if they would like to share the seat. It turned out that this was her son's 12th birthday, and he became very excited and started jumping up and down.
"Spamalot" on Feb. 17 turned out to be one amazing "Claying It Forward."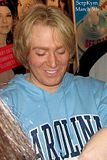 Photos by Scrpkym and ClazyChristina
Carolina Wins ACC Title
Wearing Carolina blue in many stage door appearances this week, Clay certainly did his part to inspire the Tar Heels to victory in Saturday's Tobacco Road victory over Duke, 76-68. The win made the team in powder blue the Atlantic Coast Conference regular season champions.

Eve Carson, UNC's student body president killed last week in what authorities are calling a random act, was remembered in a pre-game moment of silence and with Carolina blue ribbons worn by students of both campuses.

Following an afternoon rehearsal and facing an 8 a.m. call early Sunday (actually 7 a.m. on the first morning of Daylight Savings Time!), I wondered if I could even stay awake for the much- anticipated rematch.

Silly me -- it was getting to sleep afterwards that was the problem!
Early Wake-Up Call

A little sleepy, my oboe and I arrived at the 8 a.m. call in 28-degree temps. I didn't need the Weather Channel to tell me this 28 felt like 21.
The beautiful Lenten cantata -- Come, Let Us Anew Our Journey -- planned by my brother-in-law, the music director, warmed things up a bit. Also playing in the orchestra were my sister and my niece, so this was once again a family affair.

On the program were selections by Bach, Beethoven, Sibelius, Holst, and Monteverdi along with American hymn melodies arranged by John Rutter and Mack Wilberg, some of which were "Come, Thou Fount of Every Blessing," "Deep River," "Bound for the Promised Land," and the very moving "Come, Let Us Anew."

On a lighter note, this graphic of grandson Kai by Sally should up the degrees on any thermometer. For all who screamed "foul" when I left him out last week, here's the PG version from Margaritaville.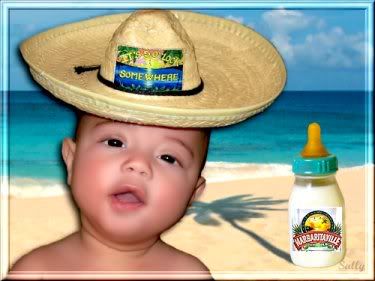 Wonder if Jimmy Buffet likes milk? - Graphic by Sally
Below is a clickable of Amazing_CA's opening graphic: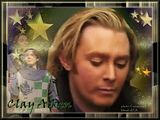 Have a wonderful week, Clay Nation!
Caro