On My Way Here - Cover art enhanced by Sally
Album in the News
Clay Nation Celebrates CD Cover
It's official -- Clay Aiken's new CD is "On My Way Here," and the date of arrival is currently set for May 6.

The initial step towards "officaldom" came at 12:20 p.m.Friday when Jonathan Cohen posted his Billboard story: Clay Aiken Heads 'Here' On Next Album.


Just as his stint starring in the Broadway hit "Spamalot" concludes, Clay Aiken will return with his first album of entirely new material since 2003's "Measure of a Man."

Due May 6 via 19 Recordings/RCA, Aiken's "On My Way Here" was produced by Kipper, best known for his work with Sting and Chris Botti. The album will likely include the title track and a song called "Ashes," but no other details about the project have yet been made available.

Aiken is expected to tour the U.S. this summer, beginning in July. He will also be visible on TV shows such as "Good Morning America" and "The View."

"Measure of Man" debuted at No. 1 on The Billboard 200. Aiken has since released 2004's "Merry Christmas With Love" and 2006's all-covers "A Thousand Different Ways."
Excitement was already escalating when members noticed the new album cover had supplanted "image unavailable" at Amazon. Within nanoseconds, word bounded from board to board, site to site, throughout Clay Cyberspace. In no time, banners for most CA websites reflected the new CD cover.

PHOTO INTERLUDE: The handsome album cover has already become a favorite motif for many graphic artists. Below are clickable designs by Amazing_CA, Artquest, BettyJean, Claystruck, MNmeesh, Ambassador of Love, and Clayquebec1.



EEEEEEE's Express Elation

Dancing emoticons and EEEEEEE-filled posts dominated message boards across the Net, no doubt stretching band width to capacity. Some fans waxed poetic about Clay's journey, while others maintained a close vigil on Amazon's best-selling listings.

Since Friday's announcement, OMWH has led several tabulations and remains near the top of Hot New Releases and Movers and Shakers.

A late night screen cap by SmartyPantsSuz shows the CD at the top of the bestselling new and future releases in Vocal Pop:



Clay's page at Amazon displays his complete discography of CD's, DVD's, and books. This compilation by Goood Baby Brush displays the singer's four main albums in chronological order: Measure of a Man, Merry Christmas with Love, A Thousand Different Ways, and On My Way Here.
Berkeley Captures Moment
Amidst all the festivities, berkeley, one of the CA fandom's master wordsmiths, encapsulated the pulse of the moment. With permission, here are her thoughts:
"On My Way Here" --- having sold 6 million CDs, won an AMA and a BMA, set sales records that still stand, toured eight times to around $30 million in box office, made friends with some powerful people who really count and remained friends with people who knew him before this whirlwind of fame, graduated from college, established his own foundation, selected to be a UNICEF Ambassador, maintained his integrity, his sense of humor and his faith, survived being forged in the fire, become a star on Broadway, and is now about to release his fourth album with a Grammy-winning producer and featuring the best song Clay has ever done --- the one he wrote? Five long years that have passed in an instant.

And in the process of becoming this incredible man, he hasn't lost ...

Clay Aiken.
A very Happy Easter to you and yours! Have a wonderful week, Clay Nation!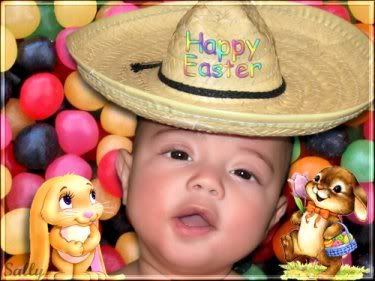 Caro
RELATED TAGS: Clay Aiken, On My Way Here, Billboard, Spamalot, Broadway, The Bubel/Aiken Foundation, UNICEF, Official Fan Club, Clay Nation