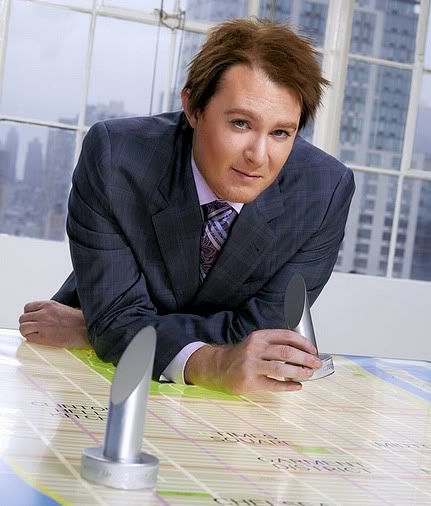 Clay Aiken joins 2012 Celebrity Apprentice cast.
Clay, Cast on Promo Trail
Celeb Apprentice Debuts Feb. 19
From the moment Donald Trump officially presented the new Celebrity Apprentice cast on Wednesday's

Today Show

, the 18 candidates have whirled through a continuous, sometimes crazy, merry-go-round of multimedia promos.
Through individual videos,
NBC
provided a brief intro to each candidate.

Mashable Entertainment

picked up the videos and tabbed the line-up as the
Most Connected Cast Yet
.
To stay connected to Clay and read the latest about
Celebrity Apprentice
from his perspective, follow the singer at
Twitter
and
Facebook
.
The series, which debuts on NBC on Feb. 19, is also being advertised through interviews on every show and site imaginable. The screen cap below links to a TV Guide interview of Clay Aiken and Lisa Lampanelli.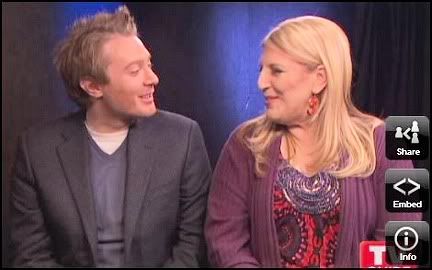 Clay Aiken, Lisa Lampanelli in TV Guide interview.
Click on screen cap to link to video.

Just Jared
provided individual photos of the 18

Celebrity Apprentice

candidates. Follow the link to read the complete story:
Clay Aiken, Aubrey O'Day, George Takei, and Real Housewives of New Jersey star Teresa Giudice will be vying for the title while competing for each of their charities.

"Being in front of [Donald] Trump is more intimidating than [being in front of Simon Cowell]. That's because you realize his success is real outside of TV. Whereas with Cowell, I don't deny him his value – but singing is not his expertise," Clay, who once was runner-up on American Idol, told

Today

.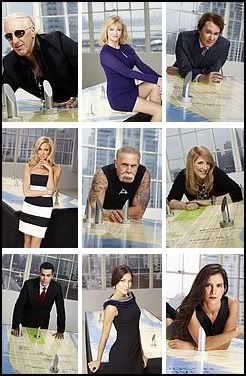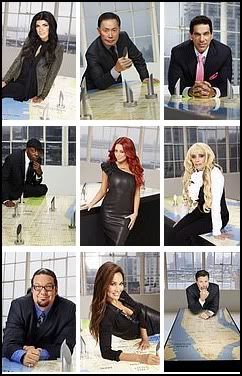 2012 Celebrity Apprentice Cast
How many can you name?
For a quick reference, here are the 18 cast members and the charities for which they are playing as listed in The Hollywood Reporter:
Former American Idol

Clay Aiken

, National Inclusion Project




Retired race car driver

Michael Andretti

, Racing for Cancer




Talk show host

Adam Carolla

, Catholic Big Brothers Big Sisters




Actor/bodybuilder

Lou Ferrigno

, Muscular Dystrophy Association




Actor/TV personality

Arsenio Hall

, Magic Johnson Foundation


Magician/TV personality

Penn Jillette

, Opportunity Village


Former Twisted Sister singer

Dee Snider

, March of Dimes/Bikers for Babies




Star Trek's

George Takei

, Japanese American National Museum




American Chopper's

Paul Teutul Sr

.

, Make-A-Wish Foundation



Actress

Tia Carrere

, After-School All-Stars




Singer

Debbie Gibson

, Children International




Real Housewives of New Jersey's

Teresa Giudice

, The NephCure Foundation




Growing Up Gotti's

Victoria Gotti

, Association to Benefit Children




Comedian

Lisa Lampanelli

, Gay Men's Health Crisis




Miss Universe 2008

Dayana Mendoza

, Latino Commission on AIDS




Singer/actress/model

Aubrey O'Day

, Gay, Lesbian and Straight Education Network (GLSEN)




Model/actress

Cheryl Tiegs

, The Farrah Fawcett Foundation




Model/actress

Patricia Velasquez

, Wayuu Taya Foundation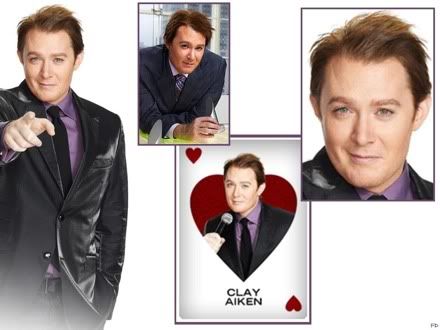 Clickable Celebrity Apprentice graphic by Fountaindawg.

An excellent introductory story running in the

International Business Times

answers the question Who Are Clay Aiken, Teresa Giudice and the Other Contestants? Brief bios of the 2012 line-up are included.

Not to be missed is

The Dead Bolt

interview: Adam Carolla Surprised by Clay Aiken

.

The Inclusion Project received excellent publicity in the CBS story:

Clay Aiken's National Inclusion Project To Benefit from His Celebrity Apprentice Appearance.



For Clay Aiken fans, the most appealing paragraph in Friday's
Astrochicks
story is -- appropriately -- the second:
... the rumor is Clay Aiken is the one to watch this season. Hollyscoop talked to several cast members Wednesday, and it seems everybody is raving about Aiken.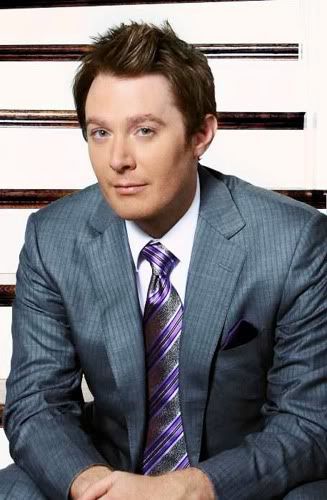 Clay Aiken: New Facebook photo

The photo above links to the Root Music Player on Clay's Facebook page. Once there, you can listen to "Unchained Melody," "Bring Back My Love," "Suspicious Minds," "Misty," "The Way," and "Invisible."

Here is one for the Clay Nation from Highlight Hollywood:
When Highlight Hollywood reported last week that handsome and talented singer Clay Aiken would be on Donald Trump's "Celebrity Apprentice," which airs on NBC, we had no idea there would be such a magnificent reaction.

[snip]



We try to focus on everyone, who has something positive going on in their lives, and we also hit hard news.

[snip]

But it is very rare that a celebrity has such a huge following, and yet their fans are so genuinely gracious, kind and supportive, generous in spirit and all around awesome! Clay Aiken has such fans.





His fans embraced his decision to appear on "Celebrity Apprentice" and they all believe as we do, that he'll be the winner of the competition. Donald Trump is a great showman.

[snip]



But it's great when he picks someone as charismatic, talented and genuinely kind as Clay Aiken to appear as a contestant on his highly-rated series "Celebrity Apprentice," which thanks to Clay's wonderful fans will be even higher rated than any previous season.





Thanks, Aiken fans, for showing Highlight Hollywood and the world, that you back the right guy, and that you all have as much class he Clay does! You do him proud!
Set your Tivo and other recording devices for 9 pm ET Feb. 19-May 27. If this week's publicity, Twitter and Facebook social networking activities are any indication, the Clay Nation and the National Inclusion Project are in for one heckuva ride this spring.

Hold onto your hat, and have an awesome week, all!

Caro