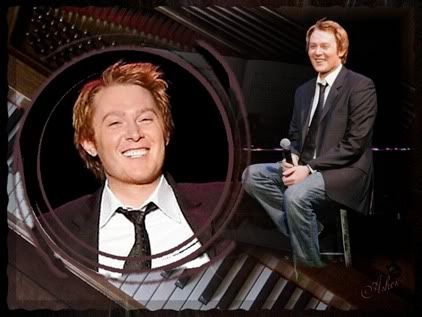 Expandable graphic by Ashes, photos by Ethan Miller.
With Well-Rounded Resume
Clay Aiken Heads to Apprentice
You're Hired! Clay Aiken Joins Celebrity Apprentice



Clay Aiken will be joining Season 5 of Celebrity Apprentice, reports People. The American Idol Season 2 runner-up will join Real Housewives of New Jersey star Teresa Giudice, funny man Arsenio Hall, and '80s sensation Debbie Gibson.





The leader of Clay Nation will no doubt put up a tough fight in the boardroom. As a top-selling recording artist, proud dad, and one of the only contestants with a college degree, Clay's resume is the most well-rounded of the bunch.





Don't let the sun go down on Clay, Donald Trump!
A facsimile of the

WetPaint

story headlines hundreds of sites, including
People

,

TV Examiner, Access Atlanta

,

Playbill

,

and Entertainment Weekly. EW puts Clay's chances of winning at 2-1 while TV Line projects 4-1 odds.

In the process, the Carolina singer will raise awareness as well as funds for the National Inclusion Project, the charity he co-founded with Diane Bubel in 2003 to promote inclusion of children with special needs in activities with their non-disabled peers.

Whole segments of the population are about to learn what the Clay Nation has known for years. The Aiken is intelligent, witty, talented, personable, snarky, and very dedicated to his cause. Coming in second is not on his radar.

The show, which begins taping Monday, will be televised in 2012.
Carolina Site Changes Pace
To complete a fall project, I recently pushed the pause button on the Carolina's every- three-days-no-matter-what blogging routine and, to my surprise, I liked it!


Since July 2005 when my friend

Sally

talked me into writing a blog at the OFC and then a year later when the articles were also re-coded for the

Carolina On My Mind

site, I have spent much of my free time gathering info, editing art, and penning these installments.
But I have learned there are other things I want and need to do during my day. In addition to teaching 16 music students weekly, I look forward to reading again. In November, I am finally purchasing a Kindle like everyone else.


I began reporting for the
Wilmington Star-New
s papers when I was 16 and have worked on several newspaper staffs since. Writing is an important part of me, so I will still blog -- just not on such a rigid schedule.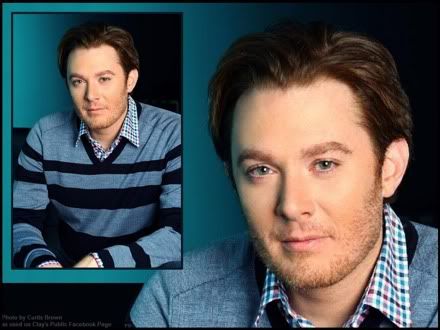 Expandable graphic by Fountaindawg, photo by Curtis Brown.
Carolina Blog Topics Inclusive
Since its inception, the Carolina blog has embraced a number of my passions -- family, music, Clay Aiken, the National Inclusion Project, Tar Heel basketball, movies, recipes. Now I look forward to adding reading to that list.
For five years, I have appreciated the response from readers all over the world. At last count, you represent 170 countries. I especially thank those who stop by and leave comments not only for the writer but also for the visual artists featured.
Among the graphic artists spotlighted during the five-year Blogspot run are

Sally

,

Fountaindawg

,

AmazingCA

,

cindilu2

,

A Beautiful Mind

,

claystruck

, and

Ashes

.

The site has spotlighted videos and montages by countless CA fans, some of whom are

Scarlett

,

Aspiegirl

,

SueReu

,

LovesClaysVoice

, and

Hope

.

Countless fan photographers are represented in the Carolina editions. You can always search for visual artists and topics in the rectangle next to the orange B at the top of the blog.

The original OFC blog in 2005 was short and sweet:




Hello, Clay Nation!





It's opening night, and the curtain is going up. Just this much feels like a four-movement symphony. Much more to come as I study the score ... I mean the blog tutorials.





Have a great day, all!





Caro
First Post Parallels 'Real Rebels'


A year later, the initial Blogspot entry outlined the personal and professional parallels of Sonny James and Clay Aiken:
The Real Rebels of Country and Pop Music
.

The headline was inspired by my husband's declaration following an early road trip as Sonny's drummer in the 1970's. The real rebel of country music, he said, was the "southern gentleman," not the Nashville rabble-rousers in the newspapers.

Thank you for stopping by through six years of 600+ blogs. I hope you will continue to do so as the discussion explores an array of topics on a slightly different schedule.

Have an awesome weekend!

Caro