HOME FOR THE HOLIDAYS - Clay Aiken performed "My Grown Up Christmas List" during the True Colors benefit concert Sunday. View video by bigappleforclay full screen at YouTube.
Pipes, Calendar Peaks, Pepsi P.S.
'MGUCL' Defines Benefit Purpose

Clay Aiken's incredible pipes, a simple keyboard accompaniment, and the sublimely relevant "My Grown Up Christmas List" epitomized the purpose of Sunday's benefit concert for LGBT homeless youth in the New York City's Beacon Theatre.

For many, the North Carolinian's exquisitely nuanced vocals were the performance highlight of the

Cyndi Lauper & Friends Home for the Holidays Concert

last weekend.

Clay was accompanied by pianist-arranger Ben Cohn.

Double clickable graphic by Fountaindawg. Photos by Scarlett.
The evening also featured musical and comedy routines by the host, Norah Jones, Amy Lee,
Cassandra Wilson, Rosie O'Donnell, Wanda Sykes, Jon Secada, Carson Kressley, Chely Wright, Skylar Grey, Vanessa Carlton, Angelique Kidjo, Harvey Fierstein, Deluka, Debbie Harry, Alan Cumming, and Randy Fenol.
Below are two clickable photos by

Scarlett

from Sunday's concert and the widescreen graphic by

Fountaindawg

. View the photographer's
True Colors Home for the Holidays
collection here.
2012 Calendars Top Past Record
A total of 129 Clay Aiken Calendars (58 desk and 71 wall) were ordered by fans this season, breaking previous sales records. Proceeds from the calendars, which have been shipped, will be donated to the National Inclusion Project.

Produced annually by
Rosaratana
with photos by
toni7babe
, the 2012 calendar features images predominately from the 2011 Tried & True Tour and is again being published in desk and wall versions.


Hippoga
, also part of the 2012 team, helped select the photos and coordinated the inclusion of 20 calendars in the silent auction for the Champions Gala, this weekend's annual event of the National Inclusion Project in Raleigh, NC.

Below are clickables of the wall and desk calendar covers:
Printed on premium glossy card stock, the calendars can still be ordered through
Rosaratana with delivery after Christmas. Costs are $12 for the desk size (8.27" x 3.74") and $25 for the wall version (11" x 8.5").
To place calendar orders, Paypal or email Rosa at rosash@comcast.net. Checks are accepted, and she will email you the address. Process time between orders received to calendars printed and shipped is approximately 3-4 weeks.
"I'm thankful to everyone for the support they have given to the NIP every year," said Rosaratana, coordinator of the annual project.


The 2011 calendar project generated a foundation donation of $965.62 through sales plus an additional $650 in Gala auctions.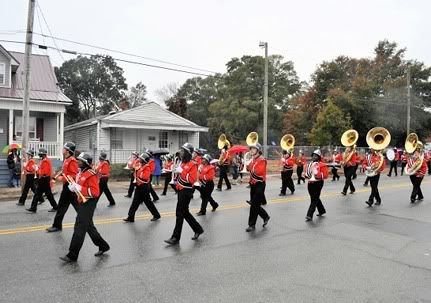 New Hanover High School Band on Parade.
Pepsi Campaign Still in Progress
About 15 minutes before I left to teach Monday's lineup of music lessons, I received an email from my brother Chuck in Wilmington: "Yo! How about another Pepsi Refresh?"
Turns out our Alma mater, the New Hanover High School Band, is in the running for a $25,000 grant.

Having applied for the competition since June 2010, the band finally gained entry into the December 2011 campaign. A quick glance at the
NHHS Pepsi Page
and the
band website
on Monday and I knew these folks were in dire need of a crash course.
NIP Team To the Rescue
In four days, countless NIP supporters and charities with whom the foundation has partnered have come back from a long-awaited "Pepsi-less" existence and not only educated the NHHS coordinator,

Dana Ward

, and her troops but also introduced the novice team to possible causes for forming reciprocal alliances.
This is a sharp team, now fully functioning thanks to

Royalle

, who literally compiled a Pepsi Syllabus Monday afternoon. Countless NIP supporters and previous NIP partners are also helping the fledgling group.
On Monday, the NHHS Band was ranked in the 40's for the $25k grant. At "press time," they had marched to #20 with a Top 15 goal set for midnight Dec. 31. Please revive your voting techniques, use the Thank You/NC Widget in the sidebar, and help this group and the other causes listed.
Maximize: Vote 5 Charities 3 Ways
Most people reading the Carolina blog can't help but know the drill: Vote 3 ways for five charities daily: via a Pepsi ID (register if you haven't already), a Facebook ID, and a daily text of
110575 to 73774
(PEPSI).

Voting instructions and suggested comments are in the

VOTE

panel of the sidebar widget.
Next Time: Gala, Holiday Concerts
Almost every Clay Aiken fan I know is headed to Raleigh for this weekend's National Inclusion Project Champions Gala. I'll be playing oboe at Jamestown United Methodist Church Saturday/Sunday and planning student holiday concerts ... but more on all that next time!

Have a wonderful weekend, Clay Nation! Thank you for joining the NHHS Band and other NIP partners still vying for Pepsi funds!

Caro