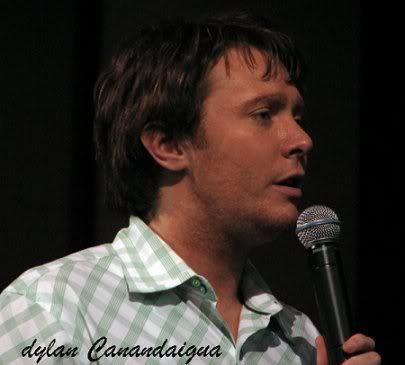 Clay Aiken performs at Canandaigua Concert -- Photo by Dylan.
Here He Comes Again
Entry Becomes Obstacle Course
Taking off to the tune of "Here You Come Again," the Clay Aiken Virtual Tour Bus could only be headed to upstate New York where the singer surprised Soft Rock Hard Place audiences with his concert entrance but ran into a few unexpected turns himself.
This was the Carolina blog's lead on July 20, 2007:
Clay Aiken proved this weekend he really, really knows how to make an entrance.

In the second and third performances of the Summer Tour's "New York Three-fer," he surprised Canandaigua and Chautauqua audiences filled with fans who know his concert set list as well as he does and -- at times -- the lyrics even better.

On both evenings, the entertainer's normal casual stroll onto the stage while singing "Here You Come Again" [from the new 'A Thousand Different Ways' album] took decidedly ingenious twists.

Canandaigua concert goers watched Clay circle a high walkway behind the stage and eventually make his way down an aisle to center stage, all the while singing the opening number with the orchestra.
The unexpected turns in this concert entrance are played out in the video compiled by goldarngirl and luckiest1. The talented duo have created concert montages from several CA tours that can download at their Goldarngirl & Luckiest1 Productions website.


'Here You Come Again' concert montage
from SRHP Canandaigua performance.
Imsnoqueen of the Clayboard described the concert's opener this way:
Clay surprised everyone by entering through the crowd. It was pretty funny because there are box seats in Canandaigua.

He later explained that Jerome told him there were steps going down from the box seat sections, but he was trapped because there were no steps down from that area.

So Clay kept going into a box seat section and turning around almost immediately. He did this three times.

Finally, we could see Clay and Jerome running -- yes, running! -- across a walkway, making his way down the center aisle, still singing all the while.
PHOTO INTERLUDE: SRHP 2007 tour graphics featured in this clickable collection include Amazing_CA, photos by toni7babe, 1; cindilu2, photos by cameocat and Tangerine, 2; opening photo by Dylan, 3; Ambassador of Love, photos by LynninNJ, 4; and cindilu2, photos by Kareneh, 5.

July 6-7 mark the anniversaries of the Houston and Tulsa Concerts of the 2007 SRHP Summer Tour. To rewind all the performances, see the July and August 2007 archive entries in the sidebar. The earliest dates will be at the bottom of the column, so you will need to scroll up.
Logging a request for "Here You Come Again," Singerman! Have an awesome week, Clay Nation!
Caro
TECHNORATI TAGES:
Clay Aiken
,
A Thousand Different Ways
,
Here You Come Again
,
Soft Rock Hard Place Summer 2007 Tour
,
concert montage
,
Goldarngirl & Luckiest1 Productions
,
Canandaigua
,
Chautauqua
,
Official Fan Club
,
Clay Nation